Search London wiki and Pub wiki history sites
All public house, restaurants, bars etc closed for the forseeable future from 20th March 2020, but this is a history site.
Rose Inn, 80 West Smithfield, St Sepulchre EC1
St Sepulchre index
West Smithfield directory for 1832 and 1842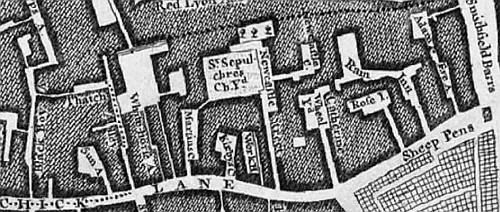 The 1746 map showing the Rose & Ram
Historical London public houses, Taverns, Inns, Beer Houses and Hotels.
Residents at this address.
John Folder was the landlord of the Rose Inn in 1808, according to the Innholders Hall record. *

Thomas Walker was here from 1813 according to the Sun Fire Office Records (May 3 1813) *

Thomas Walker married a Jane Folder in 1812 so there is a likely to be a family connection with predecessor John Folder. *

Thomas Walker was still there on 15 August 1815 from the baptism record of his son Thomas. *

April 1827/Peter French/../../../Licensed Victuallers Association

1832/William Bunney, Rose Inn, 80 West Smithfield/../../Robsons Directory

1841/William Stevens/../../../Post Office Directory

1841/William Stevens/Publican/40/../Census
1841/Charles Collins/Male Servant/18/../Census
1841/Jasper Hunt/Male Servant/15/Middlesex/Census
1841/Mary Liberton/Female Servant/12/Middlesex/Census
..

1832/William Stevens, Rose, 79 & 80 West Smithfield/../../Robsons Directory

1851/Alfred Banyon Gibson/../../../Kellys Directory

1851/Albert Gibson/Victualler/43/Middlesex/Census
1851/Ann Gibson/Wife/43/Middlesex/Census
1851/John Gibson/Son/5/London/Census
1851/Elizabeth Jones/Servant/17/Herts/Census
1851/Emelia Russell/Visitor/22/Surrey/Census
1851/Elizabeth Merle/Servant/23/Ireland/Census
1851/John Flackleak/Servant/21/Bedford/Census
1851/John Russell/Visitor, Salesman/40/Kent/Census
1851/William Manning/Visitor, Salesman/37/Essex/Census
1851/Charles Ballard/Visitor, Salesman/38/Surrey/Census
1851/John Chesmunt/Visitor, Salesman/34/Hants/Census
1851/John Gates/Visitor, Salesman, Widow/67/Herts/Census
1851/William Price/Visitor, Merchant/38/Middlesex/Census
1851/John Price/Visitor, Merchant/25/Middlesex/Census
1851/John Robord/Visitor, Messenger/34/Wales/Census

1856/Alfred Banyon Gibson/../../../Post Office Directory

1861/Albert B Gibson/Licensed Victualler/52/Twickenham/Census
1861/Ann Gibson/Wife/52/Brentford/Census
1861/Emily Banyard/Bamaid/13/London/Census
1861/Sarah Summer/Cook/29/Felton, Norfolk/Census
1861/Isaac Warren/Potman/18/Middlesex/Census
1861/Levi Taylor/Lodger, Ostler/27/South Mims, Middlesex/Census
+ Lodgers



* Provided By Shaun Jones

** Provided By Stephen Harris