Search London wiki and Pub wiki history sites
All public house, restaurants, bars etc closed for the forseeable future from 20th March 2020, but this is a history site.
Three Compasses, 66 Cowcross Street, St Sepulchre EC1
This pub was established in 1723 and rebuilt, probably in the 1950s. **
St Sepulchre index
Historical London public houses, Taverns, Inns, Beer Houses and Hotels.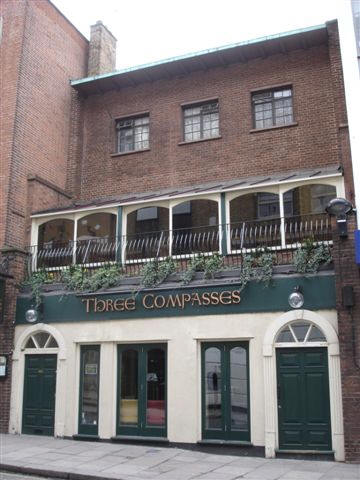 Three Compasses, 34 Cowcross Street EC1- in March 2007
Kindly provided by Stephen Harris
Residents at this address.
1842/A Hunt/../../../Robsons Directory

1843/Allen Hunt/../../../Post Office Directory

1848/Allen Hunt/../../../Post Office Directory

1851/Allen Hunt/../../../Kellys Directory

1851/Allen Hunt/Publican, Widow/59/St Pauls, Shadwell/Census
1851/William Hunt/Son, Assistant/28/St Sepulchre, Middlesex/Census
1851/Harriet Hunt/Wife/27/St Sepulchre, Middlesex/Census
1851/Elizabeth Hunt/Daughter/23/St Sepulchre, Middlesex/Census
1851/William Hunt/Son/2/St Sepulchre, Middlesex/Census
1851/Isaac Brewer/Potman/30/St Sepulchre, Middlesex/Census
1851/Mary Elard/Servant/26/St Sepulchre, Middlesex/Census

February 1854/executors of Allen Hunt/ Outgoing Licensee /../../The Era

February 1854/Anthony Folkard/ Incoming Licensee /../../The Era

1856/Anthony Folkard/../../../Post Office Directory

1862/Anthony Folkhard/../../../Post Office Directory **

March 1866/William Higgs/License renewal/../Clerkenwell News

1869/William Higgs/../../../Post Office Directory

1879/John Geo Bishop/../../../Post Office Directory **

1881/Harry Gill/Licensed Victualler/40/Wrington, Somerset/Census
1881/Maria Gill/Wife/42/Alfreton, Derby/Census
1881/Lucy Gill/Niece, Barmaid/22/Southwark, Surrey/Census
1881/Henrietta M Meyer/Barmaid/22/St Georges, Middlesex/Census
1881/Caroline P Sancto/Barmaid/20/Faversham, Kent/Census
1881/Andrew Kinghorn/Waiter/22/Southwark, Surrey/Census
1881/Elizabeth Algar/Housemaid/25/Bermondsey, Surrey/Census
1881/Charlotte Luff/Cook/31/Hilsea, Hampshire/Census

1882/Harry Gill/../../../Post Office Directory

1884/William Wheatley/../../../Post Office Directory

1885/William Wheatley/../../../Post Office Directory **

1891/Wycliffe Edward Barker/../../../Post Office Directory

1891/Maud A Barker/Step Daughter/16/Lambeth, London/Census
1891/Alfred Norton/Barman/45/Lambeth, London/Census
1891/Mary A Cox/Cook, widow/45/Wisbech, Cambridgeshire/Census
1891/Ellen Hambury/Domestic Servant/26/Langford, Devon/Census
1891/Gussie Cox/Barmaid/27/Aldgate, London/Census

1895/John Byford/../../../Post Office Directory

1899/Frank Newton/../../../Post Office Directory

1900/Frank Newton/../../../Post Office Directory **

1910/John Jones/../../../Post Office Directory **

1916/Thomas Webb/../../../Post Office Directory **

1919/John James/../../../Post Office Directory **

1921/John Jones/../../../Post Office Directory

1934/Mrs Doris Margery Daltrey/../../../Kellys Directory

1938/Mrs Doris Margery Daltrey/../../../Post Office Directory

1971/M J Henney/THREE COMPASSES: 66 Cowcross Street, EC1/../../Pub Directory

1983/../THREE COMPASSES: 66 Cowcross Street, EC1 Trumans/../../Pub Directory

1991/../THREE COMPASSES: 66 Cowcross Street. (B2/88) Grand Met-Trumans. The change in beers since the last guide in 1986 reflects the lack of brewing commitment by Grand Met. Live Jazz and Blues piano has continued at this smart pub. Cooked meals available lunchtime and cold snacks at all times. Open Monday to Friday 11-11. Saturday 11-3 and 5.30-11 with normal Sunday hours. Restaurant doubles as a function room./../../Pub Directory

2017/../Three Compasses, 66 Cowcross Street, Islington, London, EC1M 6BP : Star UK/../../Pub Directory



** Provided By Stephen Harris