Search London wiki and Pub wiki history sites
All public house, restaurants, bars etc closed for the forseeable future from 20th March 2020, but this is a history site.
Globe Tavern, 83 Moorgate, St Stephen Coleman EC2
St Stephen Coleman index
at 30 Finsbury Pavement in 1874 and earlier, then at 11 & 13 Finsbury Pavement. At 83 Moorgate EC2 by 1934
Historical London public houses, Taverns, Inns, Beer Houses and Hotels.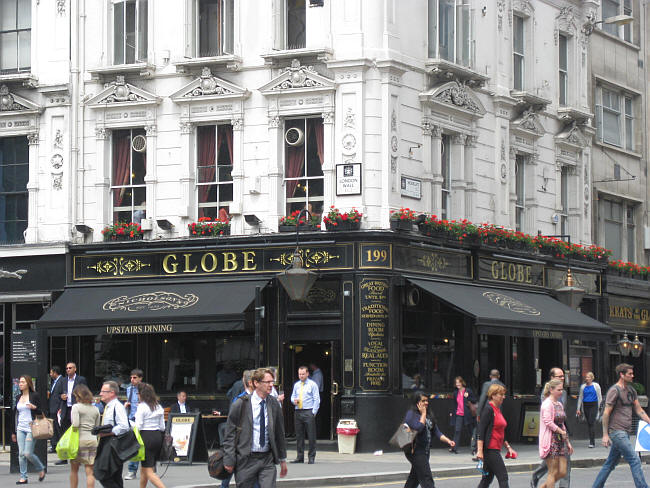 Globe Tavern, 83 - 85 Moorgate, London - in July 2013
Kindly provided by Dolores Dilley
Residents at this address.
1848/William Wells/../../../Post Office Directory

1851/William Wells/../../../Kellys Directory

1851/Martha Heyburn/Licensed Victualler, Widow/42/St Lukes, Middlesex/Census
1851/Archibald Dodds/Lodger, Upholsterer/50/Scotland/Census
1851/Charles Fisher/Lodger, Traveller/31/St George Southwark/Census
1851/Thomas Skogle/Cellerman/28/Finsbury, Middlesex/Census
1851/Henry Brasefield/Waiter/21/City of London/Census
1851/Robert Greathead/Waiter/16/Dudley, Worcestershire/Census
1851/Elizabeth Carter/Housemaid/18/Ipswich, Suffolk/Census
1851/Ann Williams/Kitchenmaid/20/Marcham, Devon/Census

October1853/assignee of Thomas Chivers, bankrupt/Outgoing Licensee/../../Era

October 1853/John Young, senior/Incoming Licensee/../../Era

1856/John Henry Leggott/../../../Post Office Directory

1869/John Henry Leggott/../../../Post Office Directory

February 1870/J H Leggatt/Outgoing Licensee/../../Era

February 1870/E Estall/Incoming Licensee/../../Era

1874/B Thorley/../../../Licensed Victualler & Hotelier Directory

1881/William White/Manager Employing 10 Servants/34/Stratford, Essex/Census
1881/Sarah Ann White/Wife/34/Chatham, Kent/Census
1881/James Murrell/Barman/36/West Ham, Essex/Census
1881/Emma Murrell/Housekeeper/36/Stratford, Essex/Census
1881/William F Filbee/Barman/22/Oxford/Census
1881/Sarah J Thomas/Barmaid/22/Wales/Census
1881/Ellen Chambers/Barmaid/25/Halesworth, Suffolk/Census
1881/Louisa Handley/Barmaid/17/West Ham, Essex/Census
1881/Mary Campion/Cook/36/Notting Hill, Middlesex/Census
1881/Elizabeth Williams/Kitchenmaid/24/Bermondsey, Middlesex/Census
1881/Sophia Chaming/Chambermaid/19/Islington, Middlesex/Census
1881/Charles White/Waiter/21/Stratford, Essex/Census

1882/William Charles White/../../../Post Office Directory

1884/William C White/../../../Post Office Directory

1891/Showell & Probyn/../../../Post Office Directory

1891/George Elliott/Licensed Victualler/32/St Pancras, London/Census
1891/Rebecca M Elliott/Wife/27/Islington, London/Census
1891/Kat Grout/Barmaid/23/Gt Eastern, Essex/Census
1891/Alice M Hobson/Barmaid/21/Bow, London/Census
1891/William C H Giles/Barman/26/Enfield, Middlesex/Census
1891/Thomas James/kitchen Porter/19/Kingston, Surrey/Census
1891/Emily Dawson/Barmaid/21/Coventry, Warwickshire/Census
1891/Harriet Jarman/General Servant/24/Ipswich, Suffolk/Census
1891/Stanley J Elliott/Son/2/Islington, London/Census
1891/Elizabeth Harris/Barmaid/28/Stanbury, Bucks/Census

1895/Showell & Probyn/../../../Post Office Directory

1899/Charles Showell/../../../Post Office Directory

1921/Levy & Franks Ltd/../../../Post Office Directory

1934/Levy & Franks Ltd/../../../Kellys Directory

1938/Levy & Franks Ltd/../../../Post Office Directory