Londesborough Arms, 36 Barbauld road, Stoke Newington N16
Stoke Newington pub history index
At 40 Broughton Road in 1878, and also At 20 Broughton Road, Stoke Newington by 1896. The address changes to 36 Barbauld Road, Stoke Newington N16 by 1944. Now known simply as the Londesborough (2014).
Historical London public houses, Taverns, Inns, Beer Houses and Hotels.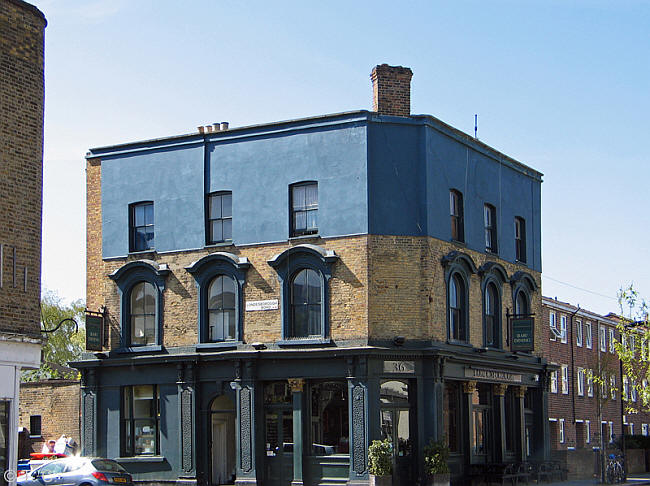 Londesborough Arms Tavern, Londesborough Road, N16 - in April 2014
Kindly provided by Tris
Residents at this address.
1871/Thomas White/Beer House Keeper/43/Abingdon, Cambridgeshire/Census
1871/Ann White/Wife/34/Rickmansworth, Hertfordshire/Census
1871/Susan White/Daughter/7/Stoke Newington, Middlesex/Census
1871/Thomas Alfred White/Son/2/Stoke Newington, Middlesex/Census
1871/Florence Ada White/Daughter/7 months/Stoke Newington, Middlesex/Census
1871/Caroline Tomkins/Servant/23/Stoke Newington, Middlesex/Census
1871/William Flint/Visitor/46/Bletchingley, Surrey/Census
1871/Eliza Flint/Visitor/47/Marylebone, Middlesex/Census

1878/Thomas White/../../../Post Office Directory

1881/Thomas White/Licensed Victualler/53/Abbington, Cambridge/Census
1881/Ann White/Wife/45/Rickmansworth, Hertford/Census
1881/Susan A White/Daughter, Book Keeper/17/Stoke Newington, Middlesex/Census
1881/Thomas A White/Son/12/Stoke Newington, Middlesex/Census
1881/Florence A White/Daughter/10/Stoke Newington, Middlesex/Census
1881/Walter E White/Son/8/Stoke Newington, Middlesex/Census
1881/Ethel B White/Daughter/2/Stoke Newington, Middlesex/Census
1881/Elizabeth Scott/General Domestic Servant/42/Stepney, Middlesex/Census
1881/James Short/Potman/39/Maiden Newton, Dorset/Census

1890/Thomas White/../../../Stoke Newington Petty Sessions

1891/Thomas Alfred White/../../../Stoke Newington Petty Sessions

1891/Thomas White/Publican, Widow/63/Abington, cambridgeshire/Census
1891/Thomas A White/Son, Assistant/22/Stoke Newington/Census
1891/Florence A White/Daughter, Assistant/20/Stoke Newington/Census
1891/Walter E White/Son, Assistant/18/Stoke Newington/Census
1891/Ethel B White/Daughter/12/Stoke Newington/Census
1891/Ethe Canter/Barmaid/22/Whitechapel/Census
1891/Elizabeth Scott/Cook, Widow/58/Stepney/Census

1892/Thomas Alfred White/../../../Stoke Newington Petty Sessions

1893/Thomas Alfred White/../../../Stoke Newington Petty Sessions

1894/Thomas Alfred White/../../../Stoke Newington Petty Sessions

1895/Thomas Alfred White/../../../Stoke Newington Petty Sessions

[Thomas Alfred White convicted at North London Police Court for diluting beer and ordered to pay £5 and 2 shillings - 12th December 1894] Petty Sessions

1896/Thomas Alfred White/../../../Post Office Directory

1896/George Frederick Ryde/../../../Stoke Newington Petty Sessions

1897/George Frederick Ryde/../../../Stoke Newington Petty Sessions

1898/George Frederick Ryde/../../../Stoke Newington Petty Sessions

1899/George Frederick Ryde/../../../Stoke Newington Petty Sessions

1900/George Frederick Ryde/../../../Stoke Newington Petty Sessions

1901/John Harris/../../../Stoke Newington Petty Sessions

1901/John Harris/Licensed Victualler/39/Whitechapel, Middlesex/Census
1901/Elizabeth Harris/Wife/46/Whitechapel, Middlesex/Census
1901/Alec Harris/Boarder, Traveller Commercial/40/Whitechapel, Middlesex/Census
1901/Samuel Harris/Manager of Public House/32/Whitechapel, Middlesex/Census
1901/Annie Flack/Servant/32/Teddington, Middlesex/Census
1901/Rose Carter/Barmaid/27/Mile End, Middlesex/Census
1901/Maud Drew/General Servant/13/Tottenham/Census

1902/John Harris/../../../Stoke Newington Petty Sessions

1903/John Harris/../../../Stoke Newington Petty Sessions

1904/Jn Harris/../../../London Trade Directory

1911/Jn Harris/../../../London Trade Directory

1919/John Harris/../../../London Trade Directory

1938/Arthur Harris/../../../Kelly's

1944/Timothy Brown/../../../Post Office Directory

1988/M D Banks/../../../Trumans Watney List ***

1990/Gentlerose Ltd/../../../Trumans Watney List ***



*** Provided By Alex Wilkinson