Pub history, pubwiki and London
Manor House, 316 Green Lanes, Stoke Newington
It was rebuilt in 1931. The underground station opposite is named after this pub.
Stoke Newington pub history index
Historical London public houses, Taverns, Inns, Beer Houses and Hotels.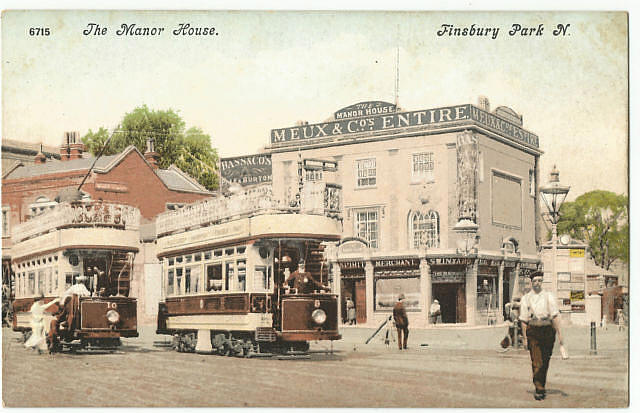 The Manor House, Finsbury Park
Kindly provided by Colleen
At 316 Green lanes, Finsbury Park by 1919; This pub was extensively re-built and converted to retail use in 2004. **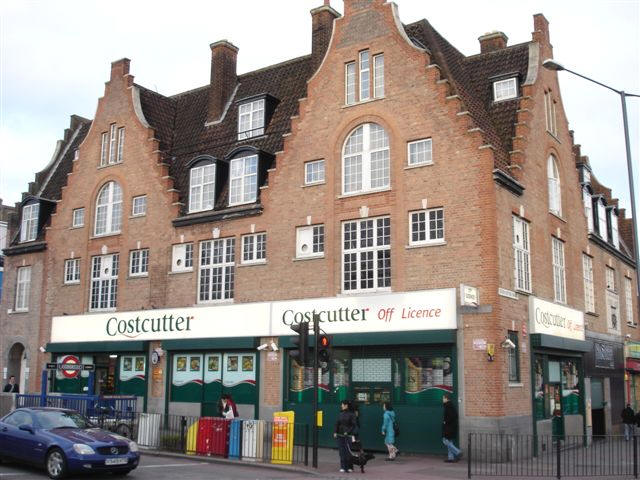 Manor House, 316 Green Lanes - in January 2007
Kindly provided by Stephen Harris
Residents at this address.
July 1849/Catherine Harris/Outgoing Licensee/../../Era

July 1849/William Burnell//Incoming Licensee/../../Era

1851/James Toomer/../../../Middlesex Directory

1855/J Toomer/../../../Essex, Herts, Kent ...Post Office Directory

1861/James Toomer/Licensed Victualler/50/Wells, Somerset/Census
1861/Jane Toomer/Wife/52/Cuckfield, Sussex/Census
1861/Elizabeth Toomer/Visitor, Dressmaker/19/Glastonbury, Sussex/Census
1861/Maria Kemp/Barmaid/36/Barham, Norfolk/Census
1861/Hannah Braden/Servant/23/Horncastle, Lincolnshire/Census
1861/Henry Marsh/Servant/21/Billericay, Essex/Census
1861/William Marsh/Servant/17/Billericay, Essex/Census
1861/Jabez Marsh/Servant/15/Billericay, Essex/Census

1862/James Toomer, Manor House, Green lanes, Stoke Newington/../../Licensed Victuallers Association

1866/J Toomer/../../../Middlesex Post Office Directory

1871/John Charles Ray/Licensed Victualler/52/Shoreditch, Middlesex/Census
1871/Emma Elizabeth Ray/Wife/50/Stoke Newington, Middlesex/Census
1871/John Ray/Son, Clerk/25/Shoreditch, Middlesex/Census
1871/Anne Ray/Daughter/20/Shoreditch, Middlesex/Census
1871/Henry Ray/Son/18/Shoreditch, Middlesex/Census
1871/Alfred Ray/Son/16/Bethnal Green, Middlesex/Census
1871/Frances Jennings/Barmaid/24/Slough, Buckinghamshire/Census
1871/Polly Cushing/Domestic Servant/25/Norfolk/Census

1874/S Perrin/../../../Post Office Directory

1878/Stephen Medcalf/../../../Middlesex Post Office Directory

1881/Stephen B Medcalf/Licensed Victualler, Widow/44/Bethnal Green, Middlesex/Census
1881/Lotte Medcalf/Daughter/20/Staines, Middlesex/Census
1881/Harrietta M Medcalf/Daughter/16/Bethnal Green, Middlesex/Census
1881/Gertrude M Medcalf/Daughter/9/Brighton, Sussex/Census
1881/Ernest W Medcalf/Son/7/Brighton, Sussex/Census
1881/Grace L Medcalf/Daughter/6/Finsbury, Middlesex/Census
1881/Harriet Hudson/Barmaid/30/Thurning, Norfolk/Census
1881/Benjamin Johnson/Barman/20/Mile End, Middlesex/Census
1881/Kate Cahill/General Servant/34/Ireland/Census
1881/Elizabeth Nicholls/Nurse/18/Pentonville, Middlesex/Census

1890/J Swinyard/../../../Post Office Directory

1890/James Swinyard/../../../Stoke Newington Petty Sessions

1891/James Swinyard/../../../Stoke Newington Petty Sessions

1891/Richard Smith/Licensed Victuallers Manager/34/Clerkenwell, London/Census
1891/Louisa Smith/Wife/39/Bermondsey, London/Census
1891/Helena Smith/Daughter/12/Finsbury Park, London/Census
1891/Clarissa Smith/Daughter/7/Finsbury Park, London/Census
1891/Ellen Le Grys/Barmaid/33/Norwich, Norfolk/Census
1891/Amy Goates/Barmaid/20/Islington, London/Census
1891/Charles Powell/Barman/18/Islington, London/Census
1891/Richard Weeks/Barman/23/Sidmouth, Devon/Census
1891/Ellen Blythe/Barmaid/26/Norwich, Norfolk/Census

1892/James Swinyard/../../../Stoke Newington Petty Sessions

1893/James Swinyard/../../../Stoke Newington Petty Sessions

1894/James Swinyard/../../../Stoke Newington Petty Sessions

1894/James Swinyard/../../../Post Office Directory

1895/James Swinyard/../../../Stoke Newington Petty Sessions

1896/James Swinyard/../../../Stoke Newington Petty Sessions

1897/James Swinyard/../../../Stoke Newington Petty Sessions

1898/James Swinyard/../../../Stoke Newington Petty Sessions

1899/James Swinyard/../../../Stoke Newington Petty Sessions

1899/James Swinyard/../../../Post Office Directory

1900/James Swinyard/../../../Stoke Newington Petty Sessions

1901/James Swinyard/../../../Stoke Newington Petty Sessions

1902/James Swinyard/../../../Stoke Newington Petty Sessions

1903/James Swinyard/../../../Stoke Newington Petty Sessions

1904/James Swinyard/../../../London Trade Directory

1911/Amelia Catherine Swinyard/Proprieteress Public House, Widow/63/Westminster, London/Census
1911/Ellen Barwick/Bar Work/28/Stratford, Essex/Census
1911/Thomas Howard Swinyard/Son, Manager/28/Islington, London/Census
1911/Sydney Joseph Ellis/Bar Work/18/Westminster, London/Census
1911/Maud Elizabeth Shuter/Bar Work/32/Peckham, Kent/Census
1911/Ellen Thurman/Bar Work/29/Wellington, Northamptonshire/Census
1911/Francis Ronald Fitzwilliam/Bar Work/20/Islington, London/Census
1911/Robert Charles Burrows/Bar Work/24/Islington, London/Census
1911/Ethel Furner/Kitchen Work, Widow/38/Torquay, Devon/Census

1919/Mrs Amelia O Swinyard/../../../London Trade Directory

1938/Clarke, Baker & Co/../../../Kelly's

1944/Clarke, Baker & Co/../../../Kelly's



** Provided By Stephen Harris