Search London wiki and Pub wiki history sites
All public house, restaurants, bars etc closed for the forseeable future from 20th March 2020, but this is a history site.
Public Houses, Inns & Taverns of St Mary le Strand, London
Historical London public houses, Taverns, Inns, Beer Houses and Hotels.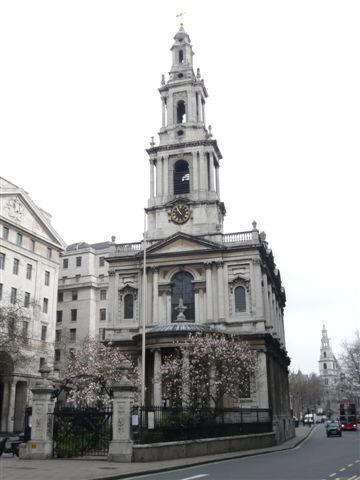 St Mary le Strand - in March 2008
Kindly provided by Stephen Harris
You may also wish to take a look at the St Clements Danes parish, which is coming soon.
| | | |
| --- | --- | --- |
| Premises | Pic? | Text? |
| Coach & horses, 323 & 324 Strand, St Mary Le Strand WC2 | No | Yes |
| Cock & Magpie, 88 Drury Lane, St Mary le Strand WC2B | No | Yes |
| Duke of Wellington, 92 Drury lane, St Mary Le Strand WC2B | Yes | Yes |
| Edinburgh Castle Tavern, 322 Strand, St Mary Le Strand WC2 | No | Yes |
| Gaiety Restaurant, 343 & 344 Strand, St Mary Le Strand WC2 | No | Yes |
| New George, 18 Drury Court, St Mary Le Strand WC2 | No | Yes |
| Old Red Lion, 339 Strand, St Mary Le Strand WC2 | No | Yes |
| Old Turks Head Tavern, 142 Strand, St Mary le Strand WC2 | No | Yes |
| Oxford Stores, 315 Strand, St Mary Le Strand WC2 | No | Yes |
| Printers Arms, 23 New Church court, St Mary le Strand WC2 | No | Yes |
| The Somerset, 162 Strand, St Mary Le Strand WC2 | No | Yes |
| 166 Strand, St Mary Le Strand WC2 | No | Yes |
| 329 Strand, St Mary Le Strand WC2 | No | Yes |
| Strand Hotel & Tavern, 333 Strand, St Mary Le Strand WC2 | No | Yes |
| Sun & Apple Tree / Shamrock, 32 White Hart Street, St Mary Le Strand WC2 | No | Yes |
And Last updated on: Tuesday, 25-Feb-2020 16:53:27 GMT