Spread Eagle, 71 High Street, Wandsworth SW18
Wandsworth pub history index
Historical London public houses, Taverns, Inns, Beer Houses and Hotels.
The Spread Eagle Tavern and Assemblty rooms in the 1849 license transfer. Address formerly given as 37, or 35A, High Street. This pub was present by 1745 **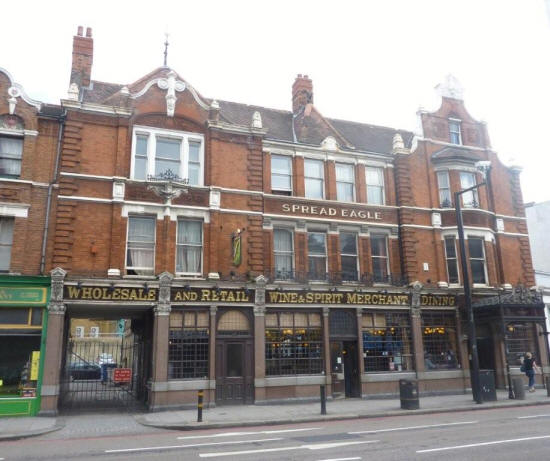 Spread Eagle, 71 High Street, Wandsworth - in July 2010
Kindly provided by Stephen Harris
Residents at this address.
1797/John Grint / Innholder/../../../Sun Fire Office records held at Guildhall Library **

1825/Mr Harvey, Spread Eagle, Wandsworth/../../Licensed Victuallers Association

November 1849/William Crowhurst, decesed/Outgoing Licensee/../../Era Newspaper

November 1849/Martha Crowhurst, his widow/Incoming Licensee/../../Era Newspaper

May 1852/William Newton/Outgoing Licensee, Eagle tap, /../../Era Newspaper

May1852/Thomas Scott/Incoming Licensee, Eagle tap, /../../Era Newspaper

1855/Hezekiah Stansbie/Spread Eagle tavern, High streett/../../Post Office Directory

1855/Thomas Scott/Eagle tap, High street/../../Post Office Directory

1858/James Sheppard / Licensed Victualler/../../../London Gazette, 5 April 1859 **

Spread Eagle Hotel :
1861/John H Dew/Hotel Keeper/45/London/Census
1861/Mary A Dew/Wife/40/London/Census
1861/Catherine Dew/Daughter/20/London/Census
1861/Eliza Dew/Daughter/18/London/Census
1861/Maria Dew/Daughter/8/London/Census
1861/Harry Dew/Son/6/London/Census
1861/Julia Graham/House Servant/28/London/Census

Eagle Tap :
1861/Samuel Scott/Licensed Victualler/41/Shenfield, Essex/Census
1861/Elizabeth Yexley/Housekeeper, Widow/62/Kirkland, lancashire/Census
1861/Lydia Worrel/Barmaid/22/Merton, Surrey/Census
1861/William Gilpies/Lodger, Millwright/53/Stepney, Middlesex/Census

1867/Joseph Bridge Bell/Spread Eagle Hotel, assembly rooms & posting house/../../Surrey Post Office Directory

1867/J Chiles/Spread Eagle Tap, 35 High Street/../../Surrey Post Office Directory

Spread Eagle, 37 High Street :
1871/Thos hammond/Hotel Keeper, widow/57/Enfield, Middlesex/Census *
1871/Mary A Clay/Niece, House Keeper/41/Barnet, Hertfordshire/Census
1871/Eliza E Potts/Barmaid/22/Hackney, Middlesex/Census
1871/Mary Arkell/Barmaid/28/St Lukes, Middlesex/Census
1871/Sophia Mersion/Domestic Servant/45/London, Middlesex/Census
1871/Sarah Jefferies/Domestic Servant/22/London, Middlesex/Census
1871/Henry Hernold/Waiter/19/Lambeth, Surrey/Census

Spread Eagle Tap, 35 High Street :
1871/James Easton/Publican/29/Wandsworth, Surrey/Census *
1871/Rachel Easton/Wife/27/Wandsworth, Surrey/Census
1871/Harriett Easton/Daughter/7/Wandsworth, Surrey/Census
1871/James Clark/Potman/24/Clay Hinton, Devon/Census
1871/William Eaton/Hostler, widow/53/St Marys, Nottingham/Census

1873/James Easton/Landlord of the Spread Eagle/19/Lambeth, Surrey/Old Bailey Online *

1878/Henry Dougherty/Spread Eagle Hotel, assembly rooms & posting house/../../Surrey Post Office Directory

1881/Henry Dougherty/Hotel Keeper/64/Lucan Co. Dublin/Census
1881/Selina Dougherty/Wife/54/Loboro', Leicester/Census
1881/Clara Dougherty/Daughter/15/Loboro', Leicester/Census
1881/Percy Sandilands/Son/12/Loboro', Leicester/Census
1881/Fanny Pickering/Cousin, Barmaid/24/Ansty, Leicester/Census
1881/Eliza Pike/Barmaid/36/London, Middlesex/Census
1881/Elizabeth Jane Males/Kitchen Maid/30/Coventry/Census
1881/Helen Rollason/Kitchen Maid/18/Coventry/Census
1881/Thomas Holland/Potman/19/Fleet, Hampshire/Census

1896/Miss Annie M Mudd/../../../Post Office Directory

1901/Henry Stuart/Publican/53/Esxeter, Devon/Census
1901/Frances Stuart/Wife/37/Windsor/Census
1901/Harry J Stuart/Son/14/London, Middlesex/Census
1901/Marie Stuart/Daughter/5/Richmond, Surrey/Census
1901/Elizabeth Selman/Mother in Law, Widow/73/Yarmouth, Norfolk/Census
1901/Walter Selman/Visitor, Publicans Manager/42/Staines, Middlesex/Census
1901/Albert Selman/Brother in Law, Publicans Manager///Census
1901/Minnie Lee/Cook/29/Windsor/Census
1901/Edith Bushill/Housemaid/19/London, Middlesex/Census
1901/Sarah Tilley/Barmaid/22/Sunbury, Middlesex/Census
1901/Annie Ledbetter/Barmaid/21/London, Middlesex/Census
1901/Charles Gillham/Barman/21/Durham/Census
1901/Marion Edrupt/Barmaid/28/Portsmouth/Census

1902/Henry Paice Stuart / Licensed Victualler/../../../London Gazette, 10 October 1902 **

1908/Mrs Frances Elizabeth Stuart/../../../Post Office London Suburbs Directory **

1934/Francis Henry Collins, Ernest Pearce and Leslie Philip Pearce, trading as E Pearce & Co. / Victuallers/../../../London Gazette, 11 December 1934 **



* Provided By Mike Easton

** Provided By Stephen Harris