Blue Anchor, 1 The Highway, Stepney E1
Wapping index
At 43 Parsons Street, Ratcliff in 1839 & 1843; and at 43 St George Street in 1851 & earlier; and at 1a Dock Street in 1871; by 1940 the address is the Blue Anchor, 1 The Highway.
Historical London public houses, Taverns, Inns, Beer Houses and Hotels.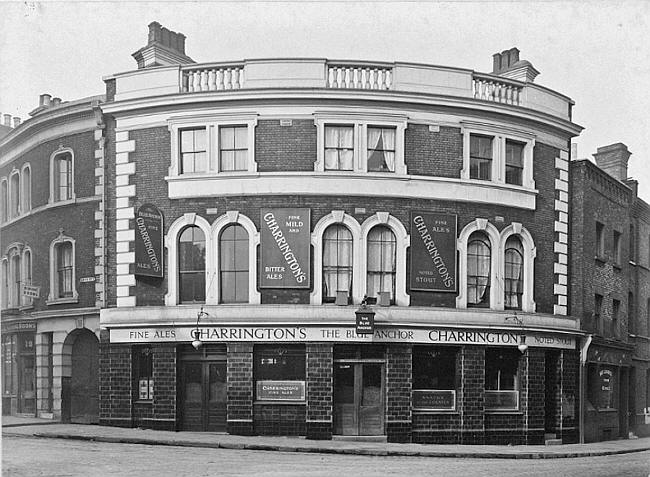 Blue Anchor, 21 Dock Street, Upper East Smithfield E1 - in 1931
Kindly provided by Vincent O'Loughlin
Residents at this address.
1825/Mr. Robert Tuffs, Blue Anchor, Upper East Smithfield/../../Licensed Victuallers Association

1833-34/Robert Tuffs/../../../Pigots Directory

1839/Joseph Sanders/../../../Pigots Directory

1843/Joseph Sanders/../../../Kelly's Directory

1848/Joseph Sanders/../../../Post Office Directory

1851/Joseph Sanders/../../../Kellys Directory

1856/Joseph Sanders/../../../Post Office Directory

September 1857/Joseph Sanders/Outgoing Licensee/../../Era

September 1857/Edward Jones/Incoming Licensee/../../Era

1861/Edward Jones/Licensed Victualler/28/Samford, Suffolk/Census
1861/Sarah Jones/Wife/24/London/Census
1861/John Bates/Cousin, Barman/19/Stonehouse, Devon/Census
1861/Alice Moody/General Servant/35/Hatfield, Herts/Census
1861/Allice Moody/General Servant/14/Portsmouth, Hants/Census
1861/Frederick Neuyle/Visitor, Dock Labourer/42/City London, Middlesex/Census
1861/Samuel Butcher/General Servant/48/Sheerness, Kent/Census

26th January 1867/Edward Jones/Outgoing Licensee/../../East London Observer +

26th January 1867/Edward Harris/Incoming Licensee/../../East London Observer +

1871/Edward Harris/Licensed Victualler/35/Wapping, Middlesex/Census
1871/Isabel Harris/Wife/19/Whitechapel, Middlesex/Census
1871/Eliza Vickers/General Servant/27/Shoreditch, Middlesex/Census
1871/William Burr/Barman/24?/Bedford, Beds/Census

1881/Henry Bose/Licensed Victualler/38/(British Subject), Germany/Census
1881/Anna Bose/Wife/38/(British Subject), Germany/Census
1881/Henry Bose/Son/12/Whitechapel, Middlesex/Census
1881/Ludwig Bose/Son/11/Whitechapel, Middlesex/Census
1881/Anna Bose/Daughter/9/Whitechapel, Middlesex/Census
1881/Carl Bose/Son/6/Whitechapel, Middlesex/Census
1881/William Bose/Son/11 months/Wapping, Middlesex/Census
1881/George Brown/Barman/26/Wapping, Middlesex/Census
1881/Minnie Mays/General Servant/21/Kent/Census
1881/Laura Dodd/General Servant/16/Poplar, Middlesex/Census

1882/Henry J William Bose/../../../Post Office Directory

1884/Henry Bose/../../../Post Office Directory

1891/Henry J William Bose/../../../Post Office Directory

1891/Henry J W Bose/Licensed Victualler/48/Germany/Census
1891/Anna Bose/Wife/48/Germany/Census
1891/Louis Bose/Son, Barman/21/Whitechapel, London/Census
1891/Anna Bose/Daughter/19/Whitechapel, London/Census
1891/Charley Bose/Son, Joiners Apprentice/16/Whitechapel, London/Census
1891/Harry Sturche/Potman/26//Census
1891/George Portsmouth/Barman/38//Census

1899/Henry J William Bose/../../../Post Office Directory

1901/Louis Bose/Licensed Victualler/31/Whitechapel, London/Census
1901/Elizabeth Bose/Wife/33/Whitechapel, London/Census
1901/Henry Hicke/Barman/37/Germany/Census
1901/Joseph Landers/Barman/40/St Georges, London/Census

1910/Henry John William Bose/../../../Post Office Directory

1921/Carl Bose/../../../Post Office Directory

1934/Harry Steward/../../../Kellys Directory

1938/Harry Steward/Blue Anchor, 1 The Highway/../../Post Office Directory

1940/Walter Mitchell/Blue Anchor, 1 The Highway/../../Post Office Directory



+ Provided by Friends of Tower Hamlets Cemetery Park

** Provided By Stephen Harris