Search London wiki and Pub wiki history sites
All public house, restaurants, bars etc closed for the forseeable future from 20th March 2020, but this is a history site.
Turks Head, 30 Wapping High street E1
Wapping index
The early address is at 326 Wapping High street from about 1839. It is later at 30 Wapping High Street by 1895 due to road renumbering; This pub was destroyed in the Blitz and not replaced; it was a dining rooms by 1940 and probably earlier. **
Wapping High street in 1832 and also one hundred years later in 1940
Historical London public houses, Taverns, Inns, Beer Houses and Hotels.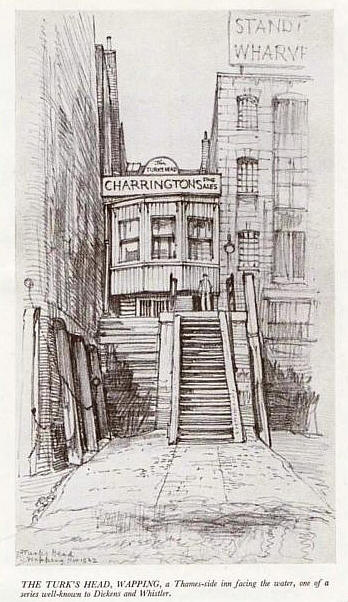 Turks Head, Wapping
Kindly provided by Colleen
Residents at this address.
1836/Robert Air, Turks Head, 326 High Street, Wapping/../../Pigotís Directory

1839/Robert Air/../../../Pigotís Directory **

1841/Robert Air/../../../Missing Ancestors website **

1842/Robert Air, Turks Head, 326 Wapping High street/../../Robsons Directory **

1843/Robert Air/Turk's Head P.H. 326 Wapping/../../Post Office Directory

1847/Robert Air/../../../P.O. Directory **

October 1848/James Air/Outgoing Licensee/../../Era Newspaper

October 1848/Priscilla Whayman/Incoming Licensee/../../Era Newspaper

1851/Mrs Priscilla Wheyman/../../../Kelly's

1856/John Hoole/../../../Post Office Directory

1860/John Hoole/../../../P.O. Directory **

1861/John Hoole/Licensed Victualler/44/Isle of Sheppey, Kent/Census
1861/Susannah Hoole/Wife/40/Woolwich, Kent/Census
1861/Susannah Hoole/Daughter/16/Woolwich, Kent/Census
1861/John Hoole/Son/12/Woolwich, Kent/Census
1861/Henry Hoole/Son/10/Woolwich, Kent/Census
1861/William Hoole/Son/7/Wapping, Middlesex/Census
1861/Hannah M Hoole/Daughter/1/Wapping, Middlesex/Census
1861/Susanna Dew/General Servant/25/St Georges East, Middlesex/Census
1861/Emanuel Lynch/Lodger, Engineer of Steamboat/21/Herne bay, Kent/Census

1866/John Hoole/../../../P.O. Directory **

1869/Thomas C White/../../../Post Office Directory

March 1869/Tohmas Caffin White/Outgoing Licensee/../../Era

March 1869/Edmund Brown/Incoming Licensee/../../Era

January 1870/Edmund Brown/Outgoing Licensee/../../Era Newspaper

January 1870/William Richard Fox Bundock/Incoming Licensee/../../Era Newspaper

1871/William Bundock/Licensed Victualler/25/Limehouse, Middlesex/Census
1871/Maryann Bundock/Wife/22/Wapping, Middlesex/Census
1871/James Bundock/Brother : Imbecile/30/Limehouse, Middlesex/Census
1871/Maryann Bundock/Sister/26/Limehouse, Middlesex/Census
1871/James Cook/Brother in Law, Ship Steward/18/Mitford, Suffolk/Census
1871/Charles Cook/Brother in Law/14/Greenwich, Kent/Census
1871/Robert Cook/Brother in Law/10/Limehouse, Middlesex/Census
1871/W M H Cook/Father in Law, Steamship Engineer/49/Horning, Norfolk/Census
1871/George Ward/Boarder, Ship Carpenter/36/Guernsey/Census
1871/Thomas Schau/Boarder/36/Guernsey/Census
1871/Martha Prairie/Boarder, Wife of ? captain/31/France/Census
1871/John Prairie/Boarder/12/France/Census
1871/Annie Prairie/Boarder/7/St Pancras, Middlesex/Census

1873/William Richard Bundock/../../../P.O. Directory **

May 1873/William Richard Fox Bundock/Outgoing Licensee/../../East London Observer

May 1873/Timothy John Lyons/Incoming Licensee/../../East London Observer

18th August 1877/Timothy John Lyon/Outgoing Licensee/../../East London Observer +

18th August 1877/John Thomas Waldron/Incoming Licensee/../../East London Observer +

May 1879/John Thomas Waldron/Outgoing Licensee/../../East London Observer

May 1879/F H Webb/Incoming Licensee/../../East London Observer

1880/Frederick Walsh/../../../P.O. Directory **

1881/Henry Way/Licensed Victualler/25/Soho, Middlesex/Census
1881/Isabella Way/Wife/25/Soho, Middlesex/Census
1881/Henry Way/Son/1 month/Wapping, Middlesex/Census

1884/Richard F Copestake/../../../Post Office Directory

1891/William E Williams/Licensed Victualler/45/Wigan. Lancashire/Census
1891/Helen Williams/Wife/45/Wapping, London/Census
1891/Charlotte Moss/Visitor/15/Millwall, London/Census
1891/Julia Edwards/Barmaid/29/Ireland/Census
1891/Ada Marriott/Servant/20/Wapping, London/Census

1895/William England Williams/../../../Post Office Directory

1899/William England Williams/../../../Post Office Directory

1900/William England Williams/../../../P.O. Directory **

1901/William E Williams/Licensed Victualler/55/Wigan, Lancs/Census
1901/Helen Williams/Wife/55/London/Census
1901/Charlotte Moss/Visitor/25/Cubit Town, London/Census
1901/Edward Burwood/Barman/19/Shadwell, London/Census
1901/Isabel Sullivan/Domestic Servant/14/St Georges East, London/Census
1901/Charles Moss/Visitor/12/Cubit Town, London/Census

1902/William England Williams/../../../Post Office Directory **

In 1901, Robert Hellier is a Beer seller at 209 Globe road, Bethnal Green - the Britannia.

1911/Robert Hellier/Licensed Victualler/44/Stepney, London/Census
1911/Rhoda Hellier/Mother, Assistant, Widow/69/Stepney, London/Census
1911/Walter Gibbons/Barmaid/40/Stepney, London/Census
1911/Dorothy Spooner/General Servant/22/Stepney, London/Census

1913/Robert Lidstone Hellier/../../../Post Office Directory

1921/Robert Lidstone Hellier/../../../Post Office Directory

1923/Albert William Gulliver/../../../Post Office Directory **

1926/Albert William Gulliver/../../../Post Office Directory **

1930/William D Gulliver, Turks Head, 30 Wapping High street E1/../../Post Office Directory

1934/Thomas A Booth, Turks Head, 30 Wapping High street E1/../../Kelly's

1940/Frederick Garrett, dining rooms, 30 Wapping High street E1/../../../Post Office Directory



+ Provided by Friends of Tower Hamlets Cemetery Park

** Provided By Stephen Harris