Intrepid Fox, 99 Wardour Street, St James, Westminster
Westminster St James index
This pub was at No. 75 under the old street numbering system before 1878. The pub was earlier called the Gravel Pits, being renamed the Intrepid Fox in 1784. This pub closed in 2006 and has been converted to restaurant use. ** For a period, e.g. 1891 to 1899, this was named the Swiss House Distillery, although still referred as the Intrepid Fox in an 1898 will.
Historical London public houses, Taverns, Inns, Beer Houses and Hotels.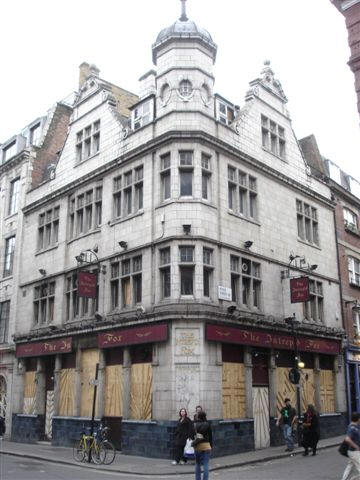 Intrepid Fox, 99 Wardour Street, W1 - in April 2007
Kindly provided by Stephen Harris
Residents at this address.
1763/Sam House/../../../per: Henry Wilson – Wonderful Characters 1822 **

1791/William Saggers / Victualler /../../Sun Fire Office records, held at London Metropolitan Archives **

1794/Percival Ewer / Victualler /../../Sun Fire Office records, held at London Metropolitan Archives **

1799/Job Carteridge / Victualler /../../Sun Fire Office records, held at London Metropolitan Archives **

1808/John Clark / Victualler /../../Sun Fire Office records, held at London Metropolitan Archives **

1811/William Wightman, The Old Intrepid Fox, Wardour street, Soho/../../Holdens Directory

1833-34/William Shephard, Intrepid Fox, 75 Wardour street/../../Pigots Directory

1839/Henry Elphick/../../../Pigot's Directory *+

1842/Hen. Elphick/../../../Robson's Directory **

1848/Henry Geere/../../../Post Office Directory *+

1851/Henry Geer/../../../Post Office Directory *+

1856/Henry Geere/../../../Post Office Directory *+

1867/George Bentley / Landlord's Son & Barman /../../Proceedings of the Old Bailey **

1869/George Bentley/../../../Post Office Directory

1881/Alfred Pattle/Licensed Victualler/36/Southgate, Middlesex/Census
1881/Harriet Pattle/Wife/23/Hastings, Sussex/Census
1881/Mahala H Pattle/Daughter/5/Soho, Middlesex/Census
1881/Alfred J T Pattle/Son/3/Long Acre, Middlesex/Census
1881/William J T Pattle/Son/1/Westminster, Middlesex/Census
1881/Susan Gardener/Servant/15/Westminster, Middlesex/Census

1882/Thomas Hewitt/../../../Post Office Directory

1884/Richard Taylor/../../../Post Office Directory

1891/Augustus Adolphus Butcher/Swiss House Distillery/../../Post Office Directory

1891/Augustus Butcher/Publican/37/Westminster, London/Census *
1891/Susan Butcher/Wife/29/Westminster, London/Census
1891/Otto Butcher/Son/5/Newington, London/Census
1891/Augustus Butcher/Son/4/New Malden/Census
1891/Charlotte Weatherley/General Servant/16/Harrow/Census
1891/Fred Harding/General Servant/16/Gloucestershire/Census

1895/Augustus Adolphus Butcher/Swiss House Distillery/../../Post Office Directory

1898 / "BUTCHER, Augustus Adolphus of the "Intrepid Fox" 99 Wardour Street Soho Middlesex licensed victualler died 17 October 1898. Administration London 17 November to Susan Cecilia Butcher widow. Effects £1726 3s. 10d.". *

The couple married in 1881 in Kingston upon Thames, when he is shown as a wine and spirit merchant, aged 27 and Susan Cecelia Dovey is aged 19. They were both at this address in the 1891 census, and Susan presumably took over the licence, because in the 1901 Census, she is shown at 99 Wardour Street, occupation – licensed victualler; but by 1911 she was living at Thornton Heath. *

1899/Augustus Adolphus Butcher/Swiss House Distillery/../../Post Office Directory

1901/Susan Cecillia Butcher/Licensed Victualler, Widow/38/St Giles, London/Census *
1901/Augustus Geo Butcher/Son/17/Malden, Surrey/Census
1901/Otto Samuel Butcher/Son, Art Metal worker/16/Brixton, London/Census
1901/Ivy Lily Butcher/Daughter/8/St James, London/Census
1901/Daisy Butcher/Daughter/4/St James, London/Census
1901/William Ellam/Barman/21/../Census

1910/Wilfred James Ward/../../../Post Office Directory

1915/Wilfred James Ward/../../../Post Office Directory *+

1921/Wilfred James Ward/../../../Post Office Directory

1938/Wilfred James Ward/../../../Post Office Directory

1944/Wilfred James Ward/../../../Post Office Directory



* Provided By Geoff Knott

*+ Provided By Ewan

** Provided By Stephen Harris