Artillery Arms, 102 Rochester Row, St John, Westminster
Listed as 1 Rochester Row in 1856, although the numbering is in the wrong order! Three references from The Era in the 1860s give the address as Willow Place. According to the 1869 OS map, there was a pub on the corner of Willow Place and Rochester Row, which could possibly be the Artillery Arms. *
Westminster St John index
Historical London public houses, Taverns, Inns, Beer Houses and Hotels.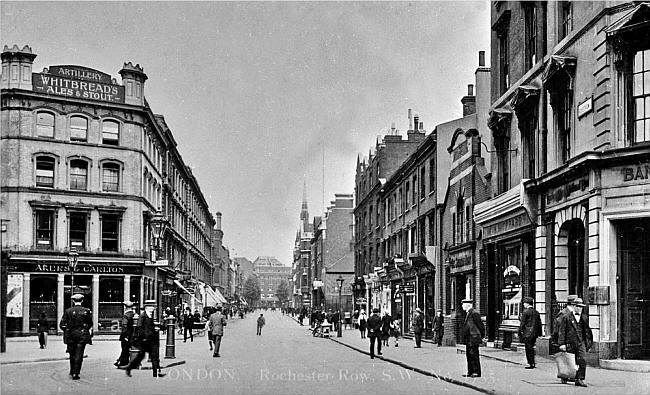 Artillery Arms, 102 Rochester Row, St John, Westminster - circa 1920; at the corner of Rochester Row and Willow Place. Landlords are Akers & Culton. The site is now occupied by a 1980s office block.
Kindly provided by Vincent O'Loughlin
Residents at this address.
23 December 1824 Insured: Henry Baker of the Artillery Arms Rochester Row Tothill Fields victualler. ref: MS 11936/499/1023920 *

12 January 1826 Insured: Thomas Aggleton, Artilllery Arms, Rochester Row, Tothill Fields, victualler. Ref: MS 11936/509/1039922 *

1827/Thomas Aggleston, Artillery Arms, New Rochester row, Westminster/../../Pigots Directory

1829/T Aggleton, Artillery Arms, Rochester row, Westminster/../../Robsons Directory

12 May 1831 Insured: William Young, the Artillery Arms Rochester Row Tothill Fields, victualler. Ref: MS 11936/528/1123657 *

1833-34/William Young, Artillery Arms, 1 Rochester Terrace, Vauxhall bridge road/../../Pigots Directory

30 September 1836 Insured: William Young, the Artillery Arms Rochester Row Tothill Fields, victualler. Ref: MS 11936/553/1231201 *

1842/William Young, Artillery Arms, Rochester Row, Horseferry Road, Westminster/../../Robsons Directory

1843/William Young/../../../Kellys Directory

1846/William Young/../../../Post Office Directory

1856/Cornelius Chase/../../../Post Office Directory

25th Jan 1860 / License transfer from the administrator of Cornelius Chase to George Frederick Parkin /../../../ The Era *

13th Nov.1860 / License transfer from George Frederick Parkin to Richard Foster /../../../ The Era *

1862/R Foster/../../../Post Office Directory

10th Nov.1863 / Licence transfer from Richard Foster to William Silcock /../../../ The Era *

1869/William Silcock & Son/../../../Post Office Directory

1881/Thomas Tibbetts/Publican/28/Edinburgh, Scotland/Census
1881/S E Mosley/Housekeeper, Widow/52/St Pancras/Census
1881/F T Mosley/Manager/23/Chelsea/Census
1881/George Morey/Barman/23/Southwark/Census
1881/W Miller/Barman/18/Sunderland/Census
1881/E Smith/Barman/18/Kingsland/Census
1881/M P Johnson/Cook,Widow/36/Westminster/Census

1882/Thomas Tibbetts/../../../Post Office Directory

1891/Arthur James Remnant/../../../Post Office Directory

1899/Henry Robert Akers/../../../Post Office Directory

1910/Henry Herbert Akers/../../../Post Office Directory

1921/Akers & Culton/../../../Hughes Directory



* Provided By John Hills