Bricklayers Arms, 40 Strutton Ground, St John, Westminster
Westminster St John index
A listing of historical London public houses, Taverns, Inns, Beer Houses and Hotels in Westminster, St John - London. The Westminster - St John, London listing uses information from census, Trade Directories and History to add licensees, bar staff, Lodgers and Visitors.
By 1895, the same address is the Corner Pin.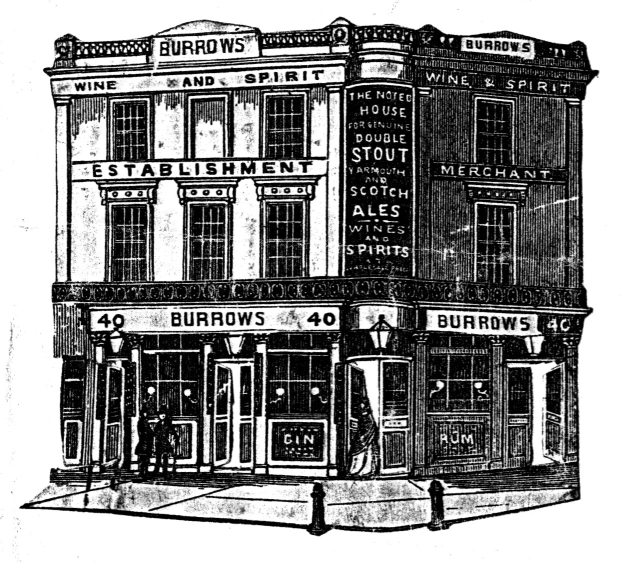 Bricklayers Arms, 40 Strutton Ground - Burrows, Wine and Spirit Merchant
Kindly provided by Giles Maddex
The picture is of the Bricklayers Arms, Strutton ground (my gr gr grandfathers were Henry Burrows and Robert Turnham). It is by Professor A W Holden, another relation. ***
Residents at this address.
23 January 1801 / James Thomas and James Langley /../../../ Sun Fire Office MS 11936/419/712751 *

1811/Thomas and Langley, Bricklayers Arms, Strutton ground, Westminster/../../Holdens Directory

27 July 1826 / Ashley Hall /../../../ Sun Fire Office MS 11936/510/1047992 *

1833-34/Samuel Smith/../../../Pigots Directory

17 December 1834 / Samuel Smith /../../../ Sun Fire Office MS 11936/545/1187673 *

1839/Samuel Smith/../../../Pigots Directory

1843/Stephen Walker/../../../Kellys Directory

1848/William Hart/../../../Post Office Directory

1851/William Hart/../../../Kellys Directory

25th May 1852 / License transfer from Wm Hart to J. Turnham /../../../ The Era *

1856/Robert Turnham/../../../Post Office Directory

12th Aug 1856 / License transfer from Robert Turnham to William Knight /../../../ The Era *

13th Nov 1860 / License transfer from William Knight to Henry Burrows /../../../ The Era *

1861/Henry Burrows/Licensed Victualler employing 3 Barmen/24/St Pancras, Middlesex/Census ***
1861/Mary Ann Burrows/Wife/26/Leighton Buzzard, Beds/Census
1861/Richard Turnham/Barman/19/Camden Town, Middlesex/Census
1861/William Worster/Barman/22/Wing, Bucks/Census
1861/Richard White/Barman/20/Haleford, Essex/Census
1861/Harriet Reeves/Cook/27/West Tofts, Norfolk/Census

1862/H Burrows/../../../Post Office Directory

1869/H Burrows/../../../Post Office Directory

1871/Henry Burrows/Licensed Victualler/34/St Pancras, Middlesex/Census ***
1871/Mary Ann Burrows/Wife/36/Leighton Buzzard, Beds/Census
1871/Sarah T Burrows/Daughter/9/St John's, Middlesex/Census
1871/Harry Burrows/Son/7/St John's, Middlesex/Census
1871/Mary Ann T Burrows/Daughter/5/St John's, Middlesex/Census
1871/Amy T Burrows/Daughter/3/St John's, Middlesex/Census
1871/Albert E Burrows/Son/1/St John's, Middlesex/Census
1871/William Worster/Bar Assistant/33/Wing, Bucks/Census
1871/Thomas Pedder/Bar Assistant/24/Luton, Beds/Census
1871/Henry Goddard/Potman/21/Richmond, Surrey/Census
1871/Sarah Minney/General Servant/28/Copal, Beds/Census
1871/Eliza Moore/Nurse/24/St Pancras, Middlesex/Census

1874/Henry Burrows/../../../Post Office Directory

1881/Henry Burrows/Licensed Victualler/44/St Pancras, Middlesex/Census
1881/Mary Ann Burrows/Wife/46/Leighton Buzzard, Bedford/Census
1881/Sarah Turnham Burrows/Daughter, Governess/19/St Johns, Middlesex/Census
1881/Harry Burrows/Son/17/St Johns, Middlesex/Census
1881/Mary Ann T Burrows/Daughter/15/St Johns, Middlesex/Census
1881/Amy T Burrows/Daughter/13/St Johns, Middlesex/Census
1881/Albert Edwd Burrows/Son/11/St Johns, Middlesex/Census
1881/Adelade T Burrows/Daughter/6/St Johns, Middlesex/Census
1881/John Peall/Barman/19/Wing, Berkshire/Census
1881/Edwd Solomon Estcourt/Barman/25/Hackney, Middlesex/Census
1881/Elizabeth Muller/Bar Servant/42/Whitechapel, Middlesex/Census
1881/Sarah Martin/Cook/34/Bridgnorth, Shropshire/Census

1882/Henry Burrows/../../../Post Office Directory

1884/Henry Burrows/../../../Post Office Directory

Corner Pin :

1895/Hy Burrows/../../../Post Office Directory

1899/Albert Edward Burrows/../../../Post Office Directory



* Provided By John Hills

*** Provided By Giles Maddex