Brown Bear, 38 Millbank Street, St John, Westminster
At 82 Millbank Street by 1891. All but one of the entries in The Era * give the address of this pub as "Horseferry Road" or "Horseferry", with a single entry giving "Millbank Street". The 1869 OS map marks a pub on the corner of Horseferry Road and Millbank Street, and Horwood's map of 1799 shows this corner house as being 38 Millbank Street. This, with the coincidence of the publican's name in 1856 and 1869, suggests we are talking about the same pub. * Long demolished, this pub was situated at the junction with Horseferry Road. Millbank Street is now Millbank.
Westminster St John index
Historical London public houses, Taverns, Inns, Beer Houses and Hotels.
The 1902 photo of the Brown Bear, shows Millbank street (on the right) and Horseferry road (to the left). The photographer is standing at the foot of the original Lambeth Bridge (opened 1862). The bridge was notoriously steep and narrow and had begun to corrode by 1879, it was closed to vehicular traffic in 1910. Plans for a new bridge and widened approach roads were under way by the 1900s and most of the buildings along Millbank and Horseferry roads were cleared before WW1. In the event, money was tight after the war and it wasn't until the Thames flooded in January 1928 killing fourteen people that the plans were finalised, the level of the embankment raised and the new Lambeth Bridge finally opened in July 1932. **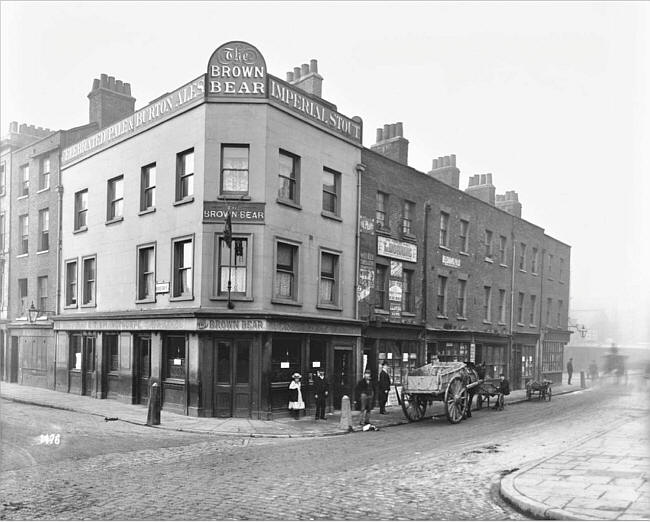 Brown Bear, 38 Millbank Street, Westminster - circa 1902 with landlord Charles Thomas Springthorpe
Kindly provided by Vincent O'Loughlin
Residents at this address.
1805/John Bedford, the Brown Bear, Millbank street, Westminster/../../Holdens Directory

1827/James Ball, Brown Bear, 38 Millbank street, Westminster/../../Pigot's Directory

1833-34/Sarah Balls/../../../Pigots Directory

1839/James Faulkner/../../../Pigots Directory

1841/J Faulkner/../../../Post Office Directory

1842/Thomas Franklin/../../../Robsons Directory

1843/Thomas Franklin/../../../Kellys Directory

1848/Michael Cannon/../../../Post Office Directory

6th Aug 1850 / License transfer from [unnamed tenant] to Edward Smith /../../../ The Era *

1851/Edward Smith/../../../Kellys Directory

1851/Edward Smith/Victualler/Marylebone Middlesex/Census *
1851/Maria Smith/Wife/17/Ripon Yorkshire/Census
1851/William Bastings/Potman/20/Bromley Middlesex/Census
1851/Francis Braithwaite/Lodger/42/St Martins Middlesex/Census
1851/Henry Willis/Lodger/40/Christ Church Middlesex/Census

4th Aug 1855 / License transfer from Edward Smith to Charles Bass /../../../ The Era *

1856/Edward Smith/../../../Post Office Directory

29th Jan 1856 / License transfer from Charles Bass to Ann Verge /../../../ The Era *

4th Mar 1857 / License transfer from Ann Verge to John Hodge /../../../ The Era *

2nd Mar 1859 / License transfer from John Hodges to John Spreadbury /../../../ The Era *

13th Nov 1860 / License transfer from John Spreadbury to John Mitchell West /../../../ The Era *

12th Aug 1862 / License transfer from John Mitchell West to Robert Neale /../../../ The Era *

9th Aug 1864 / License transfer from Robert Neal to Walter Bertram /../../../ The Era *

7th Nov 1865 / License transfer from Maria Bertram to John Olding /../../../ The Era *
[Maria Bertram is widow and executrix of Walter Bertram (dec), who had given notice of his intention to transfer]

4th Feb 1868 / License transfer from John Olding to Charles Sheppard /../../../ The Era *

1869/C Sheppard/../../../Post Office Directory

2nd Feb 1869 / License transfer from Charles Sheppard to Henry Mitchell /../../../ The Era *

29th Aug 1871 / License transfer from Henry Mitchell to John Turner /../../../ The Era *

1881/Joseph Squibb/Licensed Victualler/36/Worth, Dorset/Census
1881/Amelia Squibb/Sister/28/Worth, Dorset/Census
1881/Thomas Squibb/Brother, Stone Mason/33/Worth, Dorset/Census
1881/Rhoda Squibb/Sister In Law/30/Clifton, Gloucester/Census
1881/Florence Squibb/Niece/6/Westminster, Middlesex/Census
1881/James Hall/Potman/19/Westminster, Middlesex/Census

1882/Joseph Squibb/../../../Post Office Directory

1884/Joseph Squibb/../../../Post Office Directory

1891/Charles Thomas Springthorpe/../../../Post Office Directory

1895/Charles Thomas Springthorpe/../../../Post Office Directory

1899/Charles Thomas Springthorpe/../../../Post Office Directory



* Provided By John Hills

** Provided By Vincent O'Loughlin