Duke of Cumberland, 16 Kensington High Street, St Margaret, Westminster
Westminster St Margaret index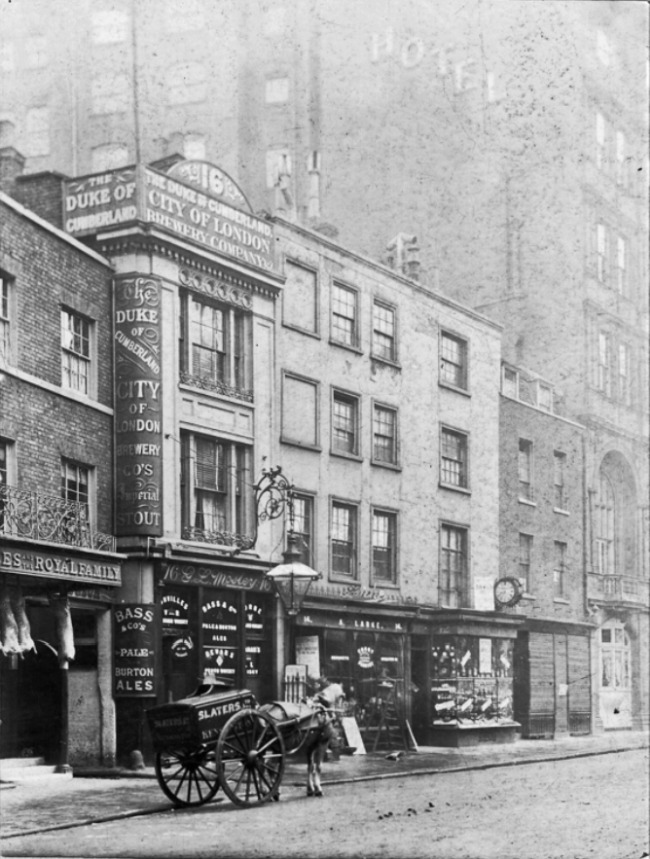 Duke Of Cumberland, Kensington High Street, W1 George L Mosley is the licensee - circa 1895
On the right is the Royal Palace Hotel (opened 1893) built on the site of the former Kings Arms, 2 Kensington High St.
Kindly provided by Vincent O'Loughlin
At 8 Kensington High Street in 1871 census (when listed as the Cumberland Arms) and earlier. This house stood on the North side of Kensington High Street, at its eastern end, between Kensington Palace Avenue and Palace Green. It was called the Half Way House in the 1861 Census, but nowhere else. Street numbering changed from consecutive down the north side to even numbers only in the 1870s. The pub was offered at auction with vacant possession in May 1951, and was demolished a few years later when the Royal Garden Hotel was built in 1964. * This address becomes part of the Bodega chain of wine and spirit merchants between about 1950 and 1953.
Historical London public houses, Taverns, Inns, Beer Houses and Hotels.
Residents at this address.
1805/Thomas Phelps, Duke of Cumberland, High street, Kensington/../../Holdens Directory

1811/John Bennett, Duke of Cumberland, High street, Kensington/../../Holdens Directory

1826/James Harrison/../../../Listing of pubs in Middlesex *

1832/David Prentice/../../../Robsons Directory

1841/John Smith/Victualler/32/Middlesex/Census *
1841/Anna Smith/../31/outside Middlesex/Census
1841/Ann Smith/../6 mths/Middlesex/Census
1841/William Phipps/Servant/30/outside Middlesex/Census
1841/Mary Stringer/Servant/30/outside Middlesex/Census
1841/Thomas Edwards/Friend/31/Middlesex/Census
1841/Lucy Edwards/../28/Middlesex/Census
1841/Thomas Edwards/../3/outside Middlesex/Census

1851/George Deller/../../../Kellys Directory

1851/G Deller/Licensed Victualler/48/Wormley, Hertfordshire/Census
1851/Ann Deller/Wife/39/Wellington, Shropshire/Census
1851/Jane Deller/Daughter/7/Brentford, Middlesex/Census
1851/Maria Deller/Daughter/6/Brentford, Middlesex/Census
1851/G Deller/Son/4/Kensington, Middlesex/Census
1851/Alfred Deller/Son/2/Kensington, Middlesex/Census
1851/Henry Deller/Brother/27/Enfield, Middlesex/Census
1851/Emma Wiles/Visitor/17/Wormley, Hertfordshire/Census
1851/Ann Lee/House Servant/22/Richmond, Surrey/Census

1856/G Deller/../../../Post Office Directory

25th May 1858/License transfer from George Deller to William Henry Price/../../../The Era *

6th Mar 1860/License transfer from William Henry Price to Charles Thompson /../../../The Era *

29th Jan 1861/License transfer from Charles Thompson to Richard Algar /../../../The Era *

1861/|William Taunton/Manager/26/Essex/Census *
1861/Adelaide Taunton/Sister/29/Essex/Census
1861/Ann Phillips/General Servant/39/Wiltshire/Census

May 1862/Richard Algar, quit/Outgoing Licensee/../../Era

May 1862/Frederick Walker/Incoming Licensee/../../Era

8th Nov 1864/License transfer from Frederick Walker to Charles Grossmith /../../../ The Era *

1869/Chas Grossmith/../../../Post Office Directory

28th Jun 1870/License transfer from Maria Grossmith to Charles Knowles Trotman /../../../The Era *

1871/Charles K Trotman/Licensed Victualler/38/Wells, Somerset/Census
1871/Julie Trotman/Wife/41/Stoke Flemming, Devon/Census
1871/Maria Gout/Visitor/30/Plymouth, Devon/Census
1871/Ellen Grossmith/Barmaid/30/Wandsworth, Surrey/Census
1871/Thomas Price/Potman/18/Mayfair, Middlesex/Census
1871/Sarah Smith/General Servant/22/Woking, Surrey/Census

19th Dec 1871/License transfer from Charles Knowles Trotman to Elizabeth Briggs /../../../The Era *

1881/Timothy E Dunn/Licensed Victualler/51/Ireland/Census
1881/Fanny E Dunn/Wife/21/Forest Hill/Census
1881/Timothy E Dunn//3/Newington Butts/Census
1881/Mary L K Dunn/Daughter/5 months/Croydon/Census
1881/Eliza Louisa West//16/Croydon/Census
1881/Eliza Hemley///Buckingham/Census
1881/Edward Turner/Potman/25/Suffolk/Census

1891/George L Mosley/Licensed Victualler/47/Holborn EC/Census *
1891/Kate E Mosley/Wife/41/Trowbridge Wiltshire/Census
1891/Florence L Mosley/Daughter/16/Pentonville/Census
1891/Lilian K mosley/Daughter/15/Penge Surrey/Census
1891/Edith H Mosley/Daughter/13/Penge Surrey/Census
1891/Jessie E Sims/Domestic Servant/27/Horslydow S1/Census
1891/E Roberts/Potman/19/Downhead St Mary Wiltshire/Census

1899/George Lewis Mosley/../../../Post Office Directory

1944/Mrs S L Belshaw/../../../Post Office Directory

1950/Bodega/../../../Bt Telephone Directory

1953/Bodega/../../../Bt Telephone Directory



* Provided By John Hills