Ennismore Arms, Ennismore Gardens, St Margaret, Westminster
Westminster St Margaret index
This was the first building to be constructed on the new Kingston House estate, and was built in 1845-7. It stood at the southern end of Ennismore Mews, which ran behind the houses on the eastern side of Princes Terrace. It suffered bomb damage during WW II and was rebuilt by Watney's in the 1950s. It was closed in 2002 and subsequently demolished despite CAMRA opposition. * The address appears to be 2 Ennismore mews in most directories.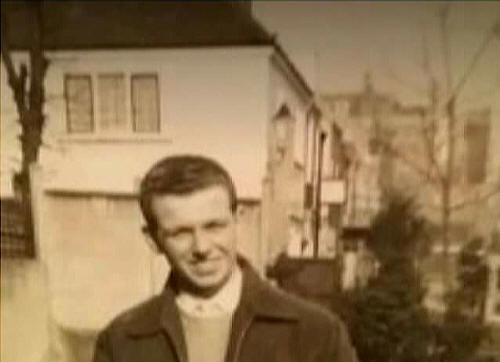 Michael Bradley at 35 Brompton square, Knightsbridge in 1953 - to my left was the Ennismore Arms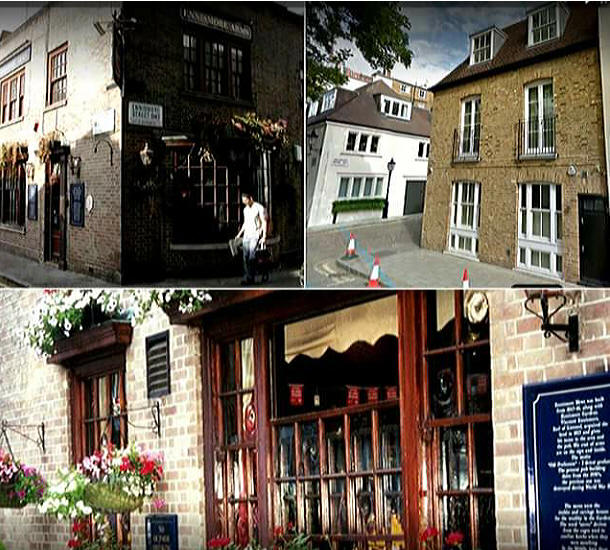 Ennismore Arms, Ennismore Gardens, St Margaret, Westminster - top left and bottom pictires. The picture top right is the rebuild in 2003
Kindly provided by Michael Bradley
Historical London public houses, Taverns, Inns, Beer Houses and Hotels.
Residents at this address.
1851/James Bloggriff/Licensed Victualler/31/London Middlesex/Census *
1851/Elenor Bloggriff/Wife/40/../Census
1851/ S… Leeds/Servant/20/York Census
1851/John Ward/Lodger/38/Worthing/Census

27th Jan 1852/Application to transfer License from James Broggreff to Edward Clarke /../../../ The Era *
Mr Broggreff had gone to New Zealand, and magistrates refused the transfer in his absence. A new License was granted to Edward Clarke at the General Licensing Session on 24th March 1852

31st Jan 1853/ License transfer from Edwin Clarke to Robert Alpe/../../../ The Era *

1856/Robert Alpe/../../../Post Office Directory

9th Nov 1858/ License transfer from Robert Alpe to William Williams/../../../ The Era *

1861/William Williams/Publican/38/Wayham Kent/Census *
1861/Mary Williams/Wife/35/Hardwick Derbyshire/Census
1861/Frederick Williams/Son/8 months/Westminster London/Census
1861/Jane Hall/Niece/16/Hardwick Derbyshire/Census
1861/Sophia Smith/House Servant/20/Langley Buckinghamshire/Census
1861/John Hicks/House Servant/19/Westminster/Census
1861/Robert Jackson/Stableman/47/Brighton Sussex/Census
1861/Thomas Whitehead/Lodger/50/Grantham Lincolnshire/Census
1861/Robert Williams/Lodger/38/Durham/Census
1861/William Perkins/Lodger/23/Harkley Lincolnshire/Census
1861/Frederick Phipps/Lodger/25/Cheldon Oxfordshire/Census
1861/William Lamb/Lodger/21/Reading Berkshire/Census
1861/Joseph Holloway/Lodger.25/Canterbury Kent/Census
1861/William Clist/Lodger/23/Devon/Census
The lodgers were all unmarried and working as stablemen

8th Aug 1865/ License transfer from William Williams to Zenas Fickling/../../../ The Era *

1869/Z Fickling/../../../Post Office Directory

1871/Zenas Fickling/Publican/48/Norfolk/Census
1871/Emma Fickling/Wife/49/Ilford, Essex/Census
1871/Benjamin Fickling/Son, Clerk/23/Westminster, London/Census
1871/William J Fickling/Son/20/St Pancras, London/Census
1871/Caroline Fickling/Daughter/18//Westminster, London/Census
1871/Julia E Fickling/Daughter/16//Westminster, London/Census
1871/James Morgan/Potman/22/Windsor, Berkshire/Census
1871/Alfred Dossett/Potman/18/Uxbridge, Middlesex/Census
1871/Louisa M Peck/General Servant/23/Windsor, Berkshire/Census

1874/Zenas Fickling/../../../Licensed Victualler & Hoteliers Directory

1881/Emma Fickling/Licensed Victualler, Widow/59/Chadwell Heath, Essex/Census
1881/Caroline Fickling/Daughter/27/S Margt, Middlesex/Census
1881/Percy S Brown/Barman/19/Stckwell, Surrey/Census
1881/John Thrower/Potman/18/Kingston, Surrey/Census
1881/Eliza K Yeoman/Barmaid/16/Road, Somerse/Census
1881/Margaret E Cooper/General Domestic/18/Shropshire/Census

1891/Emma Fickling/Licensed Victualler/70/Ilford Essex/Census *
1891/Elizabeth E Fickling/Granddaughter/13/Chelsea/Census
1891/Richard Wicks/Barman/35.Kentish Town/Census
1891/Frances C Baker/Domestic/35/Islington/Census
1891/Arthur E Brown/Barman/18/Elstree Herts/Census

1894/Benjamin Fickling/2 Ennismore mews/../../Electoral Register

1899 - 1919/Benjamin Fickling/2 Ennismore mews, residence 138 Castlenau, Barnes/../../Electoral Register

1899/Mrs Emma Fickling/../../../Post Office Directory

1901/Sarah Pallett/Housekeeper/49/Brentwood Essex/Census *
1901/Dulcie PallettWig Maker/22/Wandsworth Surrey/Census
1901/Emma Maple/Public House Manageress/22/Stratford Essex/Census
1901/James Montellen/Barman/34/Aldersgate London/Census
1901/Edward Caskry/Barman/18/St George Han Sq London/Census

1910/Benjamin Fickling/../../../Post Office Directory

1921/B Fickling/../../../Hughes Directory

1934/Sidney John Hopkinson/../../../Kellys Directory

1938/Sidney John Hopkinson/../../../Post Office Directory

1961/In 1961, managed the Ennismore, before running my own pub, the Wheelwrights Arms, in Kingston **



* Provided By John Hills

** Provided By Michael Bradley (Perth)