Mitre & Dove, 1 King Street, St Margaret, Westminster
Westminster St Margaret index
The List of Masonic Lodges of 1740 - 1755 note that a masonic lodge met at the Mitre, Union street, Westminster with a constitution date of March 2nd 1754 .
This pub was built around 1734 as part of the development of the approach to Westminster Bridge. It stood on the eastern corner of King Street and the newly-created Bridge Street, and the address is sometimes given as Bridge Street. Address also 37 King Street in about 1851. In the 1870s it was notorious for the activities of the army recruiting sergeants who used it as a venue for enticing young men to take the Queen's shilling. It was demolished in 1898 when King Street was swept away and incorporated into Parliament Street. *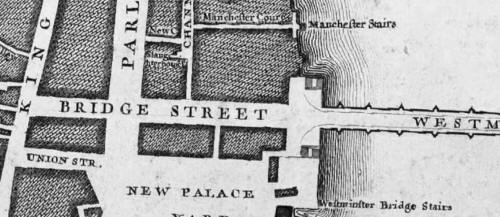 Bridge street and King street, Westminster in 1746 - see Rocques map
Historical London public houses, Taverns, Inns, Beer Houses and Hotels.
Residents at this address
The Vitruvian Lodge meets at the Mitre and Dove, King street, Westminster, London in 1798

1809/William Hall, Mitre and Dove, King street, Westminster/../../Holdens Directory

1823/Mr Hall, Mitre and Dove, King street, Westminster/../../Licensed Victuallers Association

1832/John Gilpin, Mitre & Dove, 1 King street, Westminster/../../Robsons Directory

26th Dec 1832/John Gilpin/../../../assault on him reported in The Morning Post *

10th July 1835/John Gilpin/../../../witness to attempt to cash forged cheque reported in The Morning Post *

1839/Mrs Sarah Gilpin/../../../Pigot's Directory *

1841/Mrs S Gilpin/../../../Trade Directory *

1841/James Heavens/Publican/48/Middlesex/Census *
1841/Elenore Heavens/../50/outside Middlesex/Census
1841/George Heavens/../7/Middlesex/Census
1841/Mary F Spirgen/Bar Man/27/outside Middlesex/Census
1841/Sarah Chapman/Female Servant/21/outside Middlesex/Census
1841/Joseph Calton/Male Servant/30/outside Middlesex/Census

8th Jan 1845/Mrs Elenor Evans/landlady/../../victim of pickpocketing reported in The Morning Post *
[I suspect this is a mis-reporting of Mrs Eleanor Heavens, wife of the landlord in the 1841 and 1851 Censuses]

1851/James Heavens/../../../Kellys Directory

1851/James Heavens/Licensed Victualler/59/Uxbridge, Middlesex/Census
1851/Eleanor Heavens/Wife/60/Radnor, Wales/Census
1851/James Heavens/Son/18/Mile End, Middlesex/Census
1851/Edward/Nephew, Barman/25/Putney, Middlesex/Census
1851/George Phillips/Potman/28/Chelmsford, Essex/Census
1851/Mary Cronin/Servant, Widow/40/Galway, Ireland/Census

1856/William Lowe/../../../Post Office Directory

1862/W Lowe/../../../Post Office Directory

1864/C Lowe/../../../Post Office Directory

31st Aug 1867. Death of William Lowe reported in Brixton – The Era *

10th May 1868/James Howlett/manager/../../court case reported in Lloyd's Weekly Newspaper *

1869/Charles Lowe/../../../Post Office Directory

1871/Mary Butcher/Barmaid/23/St Martins, Middlesex/Census
1871/Mary A Manning/Cook/30/Ireland/Census
1871/William Gunstone/Potman/27/Camberwell, Surrey/Census
1871/Elizth Nicholls/Kitchenmaid/24/Lambeth, Surrey/Census
1871/Louisa Boram/Barmaid/20/Barking, Essex/Census
1871/Fanny E Fruwren/Barmaid/23/Old Kent Road/Census

10th Jan 1876/Byron Wilson/Manager to the landlord/../../ Proceedings of Old Bailey *

1881/Ada McCarthy/Housekeeper/40/Portsmouth Hampshire/Census *
1881/Jessica Stanesby/Barmaid/19/London Middlesex/Census
1881/Rosa Hunt/Waitress/20/London Middlesex/Census
1881/William Singer/Waiter (Inn)/21/London Middlesex/Census
1881/Frances Curtis/Barmaid/23/London Middlesex/Census
1881/Violet Steinhauer/Barmaid/19/London Middlesex/Census
1881/Frederick Stevenson/Kitchen Boy (Dom)/16/London Middlesex/Census
1881/Henry Morgan/Kitchen Boy (Dom)/19/Exeter Devon/Census
1881/Alice Dalton/Barmaid/17/Ealing Middlesex/Census
1881/Maria Bevis/Kitchenmaid/20/London Middlesex/Census
[Pub named as Mitre and Lamb – presumably an error?]

1884/Charles Lowe/../../../ Post Office Directory *
Address given as 1,2 & 5 King Street. If Charles Lowe had held the license continuously from 1861 when he took it over from William, he was an absentee landlord. Although he lived on the premises in 1861, in 1871 he was a widower living in Chislehurst with his 5 daughters and described as a Wine and Spirit Merchant; in 1881, he had moved to Clapham, and was still a Wine and Spirit Merchant. However, in May 1872, in a listing of donors to support a widow, we find: "Collected at Mr Lowe's, Mitre and Dove, King Street, Whitehall 1l,16s,7d.", so the pub was still known as his. *

1891/Fred Oliver/Servant and Publican/21/St Johns Wood Middlesex/Census *
1891/George Compton/Servant and Publican/25/Marylebone Middlesex/Census
1891/George Oliver/Barman/29/St Johns Wood Middlesex/Census
1891/Thomas Hitchings/Barman/20/Clapham Surrey/Census
1891/Harry Smith/Barman/18/Norwood Surrey/Census
1891/Mary A Godchild/Domestic/20/Wandsworth Surrey/Census

12th June 1897/James Piper of the Mitre and Dove, King Street, Westminster applied for occasional license at 74 Cheapside for Diamond Jubilee Celebrations – The Standard *



* Provided By John Hills