Search London wiki and Pub wiki history sites
All public house, restaurants, bars etc closed for the forseeable future from 20th March 2020, but this is a history site.
Ye Olde Angel, 85 Whitechapel High street, Whitechapel E1
It was rebuilt in its present form in 1900 and was closed by 1939. The premises are now in retail use **
Whitechapel pub history index
Historical London public houses, Taverns, Inns, Beer Houses and Hotels.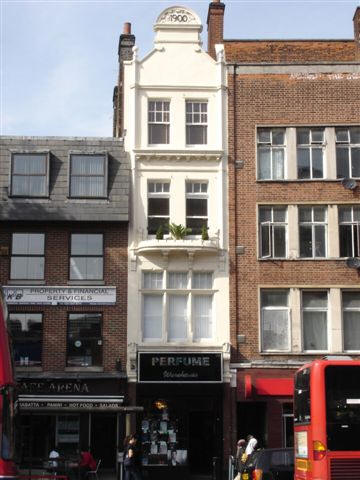 (Ye Olde) Angel, E85 Whitechapel High Street, E1 - in September 2006
Kindly provided by Stephen Harris
The following entries are in this format:
Residents at this address.
1745/Richard Cross/../../../Proceedings of the Old Bailey **
1745/Sarah Cross / Wife/../../Proceedings of the Old Bailey

1794/John Green / Vintner/../../Proceedings of the Old Bailey **

1809/Mr Gillman / Publicanís Brother/../../Proceedings of the Old Bailey **
1809/Elizabeth Hedge / Servant/../../Proceedings of the Old Bailey

1811/Thomas Gillman, Angel, Whitechapel/../../Holdens Directory

1829/T Gillman, Angel, 85 High street, Whitechapel/../../Robsons Directory

1832/Thomas Gilman/../../../Robsonís Directory

1835/Thomas Gilman/../../../Robsonís Directory **

1839/Thomas Gilman/../../../Pigots Directory

1841/Thomas Gilman/../../../Post Office Directory

1842/Thomas Gillman/../../../Robsonís Directory **

1846/T Gillman/../../../P.O. Directory

1848/Thomas Gilman/../../../P.O. Directory **

1851/Thomas Gillman/../../../Kellys Directory

1851/Thomas Gilman/Licensed Victualler/72/Sussex/Census
1851/Mary Ann Pickford/Visitor/28/Highgate, Middlesex/Census
1851/Margaret Skipper/Visitor, widow/38/Brentford, Middlesex/Census
1851/Mary Mumford/Servant/31/Heybridge, Essex/Census
1851/Eliz Hersey/Servant/28/Jersey/Census

1852/Thomas V Gilman/../../../Watkinís Directory **

1856/Samuel Cleaver/../../../Post Office Directory

1862/Samuel Cleaver/../../../Post Office Directory

January 1863/Samuel Cleaver/Outgoing Licensee/../../Era Newspaper

January 1863/William Charles Hinds/Incoming Licensee/../../Era Newspaper

March 1864/William Charles Hinds/Outgoing Licensee/../../Era Newspaper

March 1864/George Field/Incoming Licensee/../../East London Observer +

September 1864/George Field/Outgoing Licensee/../../Era

September 1864/James Simmons/Incoming Licensee/../../Era

15th July 1867/James Simmons/Outgoing Licensee/../../East London Observer +

15th July 1867/Thomas Richardson/Incoming Licensee/../../East London Observer +

7th March 1868/Thomas Richardson/Outgoing Licensee/../../East London Observer +

7th March 1868/Henry Ayrton/Incoming Licensee/../../East London Observer +

1869/Henry Ayton/../../../Post Office Directory

May 1869/Henry Ayton/Outgoing Licensee/../../Era

May 1869/James Woodcock/Incoming Licensee/../../Era

1870/James Woodcock / Licensed Victualler/../../../London Gazette, 22 March 1870 **

March 1870/James Woodcock/ Outgoing Licensee /../../East London Observer

March 1870/David Ayling/ Incoming Licensee /../../East London Observer

1871/David & Charles Ayling/../../../Post Office Directory

1874/D Ayling/../../../H.D. Miles London & Suburban Licensed Victuallers' Directory **

1877/David Ayling/../../../Post Office Directory **

1878/David Ayling/../../../P.O. Directory **

1881/David Ayling/Publican/39/Great Berkhampton, Hertford/Census
1881/Sarah Ayling/Wife/29/London, Middlesex/Census
1881/Rebecca Shepherd/Domestic Servant/18/London, Middlesex/Census

1882/David Ayling/../../../Post Office Directory

1884/David Ayling/../../../Post Office Directory

1886/David Ayling/../../../Business Directory of London **

1891/Frederick Gibb/../../../per: Missing Ancestors website **

1895/Reuben Butlin/../../../per: Missing Ancestors website **

1899/Alfred Salmon Mirando/../../../Post Office Directory

1898/Mrs A Miller / Licensed Victualler/../../London Gazette, 16 February 1898 **

1901/Harry C Ballard/Licensed Victualler/37/Norwood, Surrey/Census
1901/Frederick J Crouch/Barman/20/Hastings, Sussex/Census
1901/Rosina Chapman/Barmaid/23/nk, London/Census
1901/Matilda Dutton/Cook/28/Lincoln, Lincolnshire/Census
1901/Teresa Andres/Housemaid/21/nk, London/Census
1901/Sarah C Marshall/House Keeper/40/Blandford, Dorset/Census

1904/Mrs Florence McKenzie/../../../Post Office Directory



+ Provided by Friends of Tower Hamlets Cemetery Park

** Provided By Stephen Harris