Weavers Arms, 13 Vallance road, Whitechapel E1
At 3 Bakers Row in 1869 then at 13 Bakers Row before 1899 and road renaming to 13 Vallance Road. Closed by the Compensation Authority in 1908.
Whitechapel pub history index
Historical London public houses, Taverns, Inns, Beer Houses and Hotels.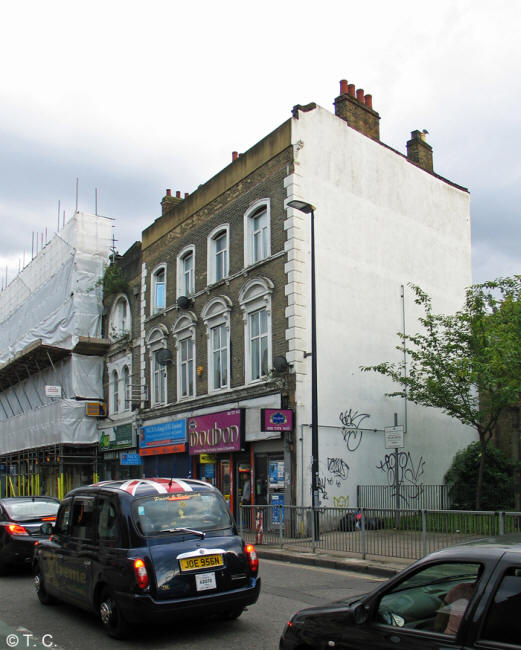 Weavers Arms, 13 Vallance Road, E1 - in May 2014
Kindly provided by Tris
Residents at this address.
1825/Mr Smith, Weavers Arms, Bakers row, Whitechapel/../../Licensed Victuallers Association

1827/Jno Yeoman, Weavers Arms, Bakers row, Mile end/../../Pigots Directory

1836/William Lock/../../../Pigots Directory

1839/Moses Myers/../../../Pigots Directory

1841/Moses Meyer/../../../P.O. Directory **

1842/A Wilson/../../../Robson's Directory **

1843/John Spreadbury/../../../Kellys Directory

1848/Edward Rountree/../../../Post Office Directory *

1856/William Brown/../../../Post Office Directory

1861/John H. Swarder/Barman/46/Surrey/Census *
1861/Sarah Swarder/Wife/50/Essex/Census
1861/John Swarder/Son, Solicitors General Clerk/21/St Pancras, Middlesex/Census

August 1861/Thomas Wells and John Douglas/Outgoing Licensee/../../Era

August 1861/John Douglas/Incoming Licensee/../../Era

1869/John Douglass/../../../Post Office Directory

July 1870/John Douglass/Outgoing Licensee/../../East London Observer

July 1870/Thomas Mealey/Incoming Licensee/../../East London Observer

November 1870/Thomas Mealey/Outgoing Licensee/../../Era

November 1870/John Hicks/Incoming Licensee/../../Era

1871/John Hicks/Licensed Victualler/44/Bethnal Green, Middlesex/Census *
1871/Catherine Hicks/Wife/29/Lynn, Norfolk/Census
1871/Joseph Richardson/Pot Man/20/Ratcliff, Middlesex/Census

May 1872/John Hicks/ Outgoing Licensee /../../The Era

James Terry's original trade (in Birmingham) was a Gun Lock Maker. In 1871 he and his family were living at 9 Eglington Road (later Saxon Road) Poplar. *+

May 1872/James Terry/ Incoming Licensee /../../The Era

It was in 1874 his first wife Emma Maria Terry died. He is then shown on the electoral list as living at 45 Gowers Walk, Whitechapel between 1876 to 1878. Then in 1878 he married a Barmaid, who was previously working at the Duke of York, Limehouse (well well ! ).......my Great Grandmother, Amelia Pass. *+

Believe it or not I have also found James Terry on the Electoral list for 1878 and also 1879 at the King of Prussia 5-6 Garth Street, Shadwell; that was later owned by William Pass, Amelia's Brother. By 1879, James Terry is a publican at City Arms, 150 City Road; and the Two Beehives, 89 Devas street, Bromley by the 1881 census. *+

October 1872/James Terry/Outgoing Licensee/../../East London Observer

October 1872/John Martin appleton and George Gregory/Incoming Licensee/../../East London Observer

March 1874/John Martin Appleton and George Gregory/Outgoing Licensee/../../East London Observer

March 1874/William France/Incoming Licensee/../../East London Observer

20th May 1876/William France/Outgoing Licensee/../../East London Observer +

20th May 1876/Thomas Yetton/Incoming Licensee/../../East London Observer +

18th August 1877/Thomas Yetton/Outgoing Licensee/../../East London Observer +

18th August 1877/William James/Incoming Licensee/../../East London Observer +

1881/William James/Licensed Victualler/39/Thorpe Le Soken, Essex/Census
1881/Mary A A James/Wife/35/Kingsland, Middlesex/Census
1881/Frederick Kane/Barman/24/Kingsland, Middlesex/Census
1881/Alice Mann/Domestic Servant/23/Walworth, Surrey/Census

1882/William James/../../../Post Office Directory

1884/William James/../../../Post Office Directory

1891/John Henry Allen/Licensed Victualler/57/Southwark, London/Census
1891/Sarah Allen/Wife/60/Southwark, London/Census
1891/Edward W Allen/Son, Waiter/36/Southwark, London/Census
1891/Rose Allen/Daughter in Law, Waitress/33/Bethnal Green, London/Census
1891/Edward W J Allen/Grandson/9/Bethnal Green, London/Census
1891/John H Allen/Grandson/8/Bethnal Green, London/Census
1891/George F Allen/Grandson/6/Bethnal Green, London/Census
1891/Thomas Allen/Grandson/5/Bethnal Green, London/Census
1891/Albert Allen/Grandson/3/Bethnal Green, London/Census
1891/Charles Allen/Grandson/1/Bethnal Green, London/Census

1895/William Richard Leonard/../../../Post Office Directory *

1899/John Max/../../../Post Office Directory

1899/John Max/13 Vallance Road/../../Electoral Roll

1900/J Max / Licensed Victualler /../../London Gazette, 17 February 1900 **

1901/John Max / Licensed Victualler /../../London Gazette, 10 February 1901 **

1902/J Max / Licensed Victualler /../../London Gazette, 17 February 1902 **

1903/J Max / Licensed Victualler /../../London Gazette, 25 February 1903 **

1904/J Max / Licensed Victualler /../../London Gazette, 27 February 1904 **

1905/John Max / Licensed Victualler /../../London Gazette, 23 February 1905 **

London Evening Standard 12 June 1907 - List of premises to be considered by the Compensation Authority :
The Weavers Arms, Vallance road, Whitechapel, Full, Charles Nelson

Morning Post 29 January 1908
More Lost Licences. £323,342 awarded in six hours as compensation.
Licenses ordered for extinction under the Licensing Act, 1904 were:
Weavers Arms, Vallance road, Whitechapel £2135



+ Provided by Friends of Tower Hamlets Cemetery Park

* Provided By Ewan

*+ Provided By John Carnaby

** Provided By Stephen Harris

*** Provided By Tris