Bell, 50 Middlesex street, Whitechapel E1
Whitechapel index
The 1833 entry lists the address as 103 Petticoat lane; At 106 Middlesex Street before 1889; re-named the Market Trader in 1997 and remains open. The name of this pub reverted to Bell (from Market Trader) in 2010. ** Still open in 2018. Always at the junction with New Goulston street.
Historical London public houses, Taverns, Inns, Beer Houses and Hotels.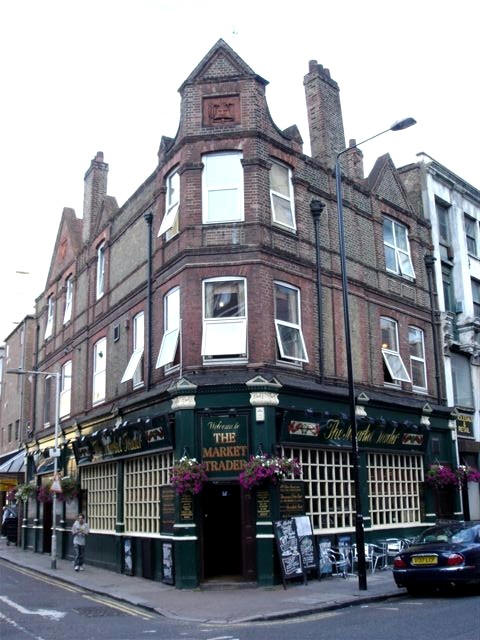 Bell, 50 Middlesex Street - in September 2006
Kindly provided by Stephen Harris
Residents at this address.
1833-34/George Gearkin, Bell, 103 Petticoat lane, Aldgate/../../Pigots Directory

1842/J Bremer/../../../Robson's Directory **

1846/John Bremer/../../../Post Office Directory **

1850/John Bremer/../../../Post Office Directory **

1851/John Bremer/Victualler/43/Whitechapel, Middlesex/Census
1851/Ellen Bremer/Wife/43/Nassau, Germany/Census
1851/Ellen Gerkin/Daughter/20/Whitechapel, Middlesex/Census
1851/Nicholas Gerkin/Son in Law, Carpenter Apprentice/18/Whitechapel, Middlesex/Census
1851/Mary Ann Gerkin/Daughter/11/Whitechapel, Middlesex/Census
1851/John Bremer/Son/4/Whitechapel, Middlesex/Census
1851/Ellen Hyde/Widow/88/Nassau, Germany/Census
1851/Elizabeth Snocker/General Servant/25/Nassau, Germany/Census
1851/John James Sennegan/House & Trade Servant/29/Aldgate, Middlesex/Census

1856/John Bremer/../../../Post Office Directory

1862/John Bremer/../../../Post Office Directory

1871/Ellen Bremer/Licensed Victualler, Widow/62/Germany/Census
1871/Ellen Bremer/Daughter/32/Whitechapel, Middlesex/Census
1871/John Bremer/Son, Barman/24/Whitechapel, Middlesex/Census
1871/Mary Ann Hagerty/GrandDaughter/7/Whitechapel, Middlesex/Census
1871/Mary Ann Nash/General Servant/19/Whitechapel, Middlesex/Census
1871/Abraham Simmons/Lodger, Hawker/18/Bishopsgate, Middlesex/Census
1871/Joseph Hyams/Lodger, Costermonger/52/Aldgate, Middlesex/Census
1871/Moses Hope/Lodger, Barker/38/Bristol, Gloucester/Census
1871/Charles Hamsack?/Lodger, Labourer (out of work)/34/Whitechapel, Middlesex/Census

August 1871/Helen Bremer/ Outgoing Licensee /../../The Era

August 1871/Solomon Abraham Green/ Incoming Licensee /../../The Era

August 1873/Solomon Abraham Green/Outgoing Licensee/../../East London Observer

August 1873/Alexander Levy/Incoming Licensee/../../East London Observer

1879/Alexander Levy/../../../Post Office Directory

1882/Judah Green/../../../Post Office Directory

1889/William Rose/../../../Post Office Directory

1893/William Rose/../../../Post Office Directory
1893/Stephen Fry / Manager for William Rose /../../Proceedings of the Old Bailey **

1895/Mrs. Sarah Rose/../../../Post Office Directory

1899/Mrs. Sarah Rose/../../../Post Office Directory

1901/James Fowler/Manager of Public House/34/Silverton, Devonshire/Census
1901/George Shacker/Barman/20/Edinburgh, Scotland/Census
1901/Arthut Pennecart/Porter/30/Axminster, Devonshire/Census
1901/Harry Marks/Barman/19/Whitechapel, London/Census
1901/John Hobbs/Barman/21/St Georges E, London/Census
1901/Elizabeth Eastwood/House Keeper, widow/56/Borough, London SE/Census

1906/Rose Bros. & Co./../../../Morris' Business Directory of London **

1910/Sarah Ann Dent Rose/../../../Post Office Directory **

1911/Sarah Rose/Public House, Widow/50/Nuneaton, Warwickshire/Census
1911/Grace Rose/Daughter/22/Aldgate, London/Census
1911/Edgar Epps/Manager/25/Aylesford, Kent/Census
1911/Sidney Jenkins/Barman/21/Deptford, Surrey/Census
1911/Harry Hartigan/Barman/30/Ireland/Census
1911/William Tobitt/Barman/21/Forest gate, Essex/Census
1911/Herbert Ford/Barman/35/Halesworth, Suffolk/Census
1911/Louisa Square/Cook/48/Ryde, Isle of Wight/Census

1915/Mrs Sarah Ann Dent Rose/../../../Post Office Directory

1921/Mrs Sarah Ann Dent Rose/../../../Post Office Directory **

1934/Hyman Isbitsky/../../../Kelly's

1938/Hyman Isbitsky/../../../Post Office Directory

1938 - 1958/L Pollock/../../../Black Eagle Journal

1983/../Bell: 50 Middlesex Street E1 : Trumans. Has been run by the Pollack family for over 40 years. /../../Pub Directory

1988/Mrs S & Mr G B Pollack/../../../Trumans Watney List ***

1990/Mr D Pollack/../../../Trumans Watney List ***

1991/../Bell: 50 Middlesex Street E1 : Grand Met-Trumans./../../Pub Directory



** Provided By Stephen Harris

*** Provided By Alex Wilkinson