Search London wiki and Pub wiki history sites
All public house, restaurants, bars etc closed for the forseeable future on 20th March 2020, but this is a history site. But how about the landlords give their tenants a break, no business, then please charge them no rent.
Cherry Tree, 111 Back Church lane, Whitechapel E1
Whitechapel index
At 54 Backchurch Lane in 1856
Historical London public houses, Taverns, Inns, Beer Houses and Hotels.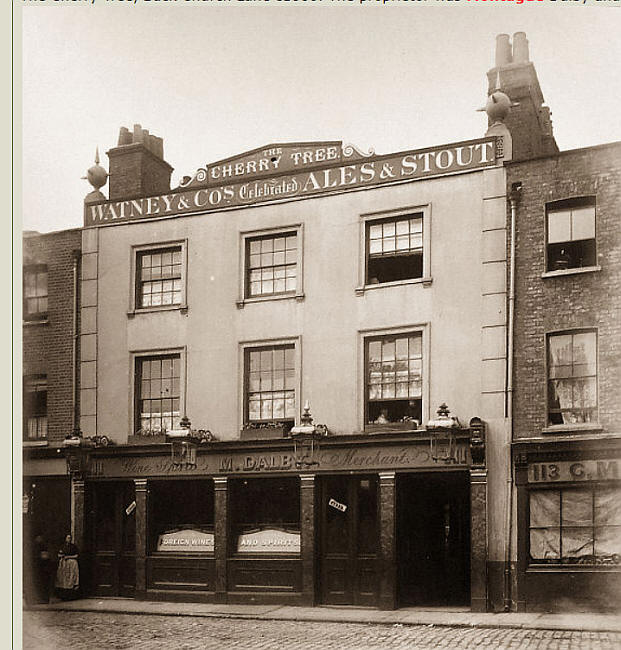 Cherry Tree, 111 Back Church Lane, Whitechapel E1 - Licensee M Dalby
Kindly provided by Charlie Goodwin
Residents at this address.
1833-34/Jno Fisher, Cherry Tree, Back Church lane, Commercial road/../../Pigots Directory

1839/John Whitman/../../../Pigotís Directory **

1841/John Whitman/../../../P.O. Directory **

1842/Hugh Jones/../../../Robsonís Directory **

1851/Hugh Jones/../../../Kellys Directory

August 1853/Hugh Jones/Outgoing Licensee/../../Era

August 1853/Frederick Bailey Strange/Incoming Licensee/../../Era

1856/F B Strange/../../../Post Office Directory

1859/Frederick Bailey Strange/../../../per: Missing Ancestors website **

1861/Frederick B. Strange/Licensed Victualler/29/City of London/Census *
1861/Mary Strange/Wife/24/High Ongar, Essex/Census
1861/James Baton/Cousin/12/High Roothing, Essex/Census
1861/William Rippen/Barman/24/Orsett, Essex/Census
1861/Elizabeth F. Holget/Domestic Servant/20/Shelley, Essex/Census

January 1864/Frederick Bailey Strange/Outgoing Licensee/../../East London Observer +

January 1864/Joseph Goodliffe/Incoming Licensee/../../East London Observer +

1869/Joseph Goodliffe/../../../Post Office Directory

July 1869/Joseph Goodliffe/ Outgoing Licensee /../../The Era

July 1869/George Wilks/ Incoming Licensee /../../The Era

1871/George Wilks/Publican/45/Writtle, Essex/Census *
1871/Sarah Ann Wilks/Wife/39/Marylebone, Middlesex/Census
1871/Hannah M. Kioloble/Domestic Servant/16/Marylebone, Middlesex/Census
1871/Samuel Willson/Potman/22/Writtle, Essex/Census

1874/G Welks/../../../H D Miles Directory of Licensed Victuallers **

14th July 1874/Thomas George Kemp/Outgoing Licensee/../../East London Observer +

14th July 1874/Benjamin Young/Incoming Licensee/../../East London Observer +

July 1878/B Young/Outgoing Licensee/../../East London Observer

July 1878/J G Thatcher/Incoming Licensee/../../East London Observer

March 1879/James Gillard Thatcher/Outgoing Licensee/../../East London Observer

March 1879/Montagu Dalby/Incoming Licensee/../../East London Observer

1880/Montague Dalby/../../../P.O. Directory **

1881/Montague Dalby/Licensed Victualler/35/Endby, Leicester/Census
1881/Alice Dalby/Wife/27/Oxford/Census
1881/Alice F Dalby/Daughter/3/Spitalfields, Middlesex/Census
1881/Ralph M Dalby/Son/2/Whitechapel, Middlesex/Census
1881/Edith Th Dalby/Daughter/4 months/Whitechapel, Middlesex/Census
1881/Abraham Godfrey/Barman/21/Aldham, Essex/Census
1881/Hannah Lambert/General Servant/22/Hickley ?, Norfolk/Census
1881/Clara Field/Nurse/15/London, Middlesex/Census

1882/Montague Dalby/../../../Post Office Directory

1883/Montague Dolby / Public House Keeper /../../Proceedings of the Old Bailey **

1884/Montague Dalby/../../../Post Office Directory

1886/Montague Dalby/../../../Business Directory of London **

1895/Mrs Alice Dalby/../../../Post Office Directory

1899/Mrs Alice Dalby/../../../Post Office Directory



+ Provided by Friends of Tower Hamlets Cemetery Park

* Provided By Ewan

** Provided By Stephen Harris