City of Carlisle, 61 Royal Mint street, Whitechapel E1
Whitechapel index
A stamped-terracotta inset on the gable gives a date of '1620' but the pub was evidently rebuilt in the 1880s. This pub closed after 1944 and before 1983 and is now a restaurant called 'Rosemary Lane' (2006), the old name for Royal Mint Street. At 61 Rosemary Lane in 1839 **
By 1851, Rosemary Lane was renamed Royal Mint Street, and the Carlisle Arms was known as the Blue Peter for some time.
In the 1920's - 1930s the City of Carlisle at 61 Royal Mint Street was known as the "Dublin". A date of 1881 is shown at the top of the building. In the electoral records it shows that J Costain the Licensed Victualler, was there between 1927 to 1930. *
A listing of historical public houses, Taverns, Inns, Beer Houses and Hotels in Whitechapel, London.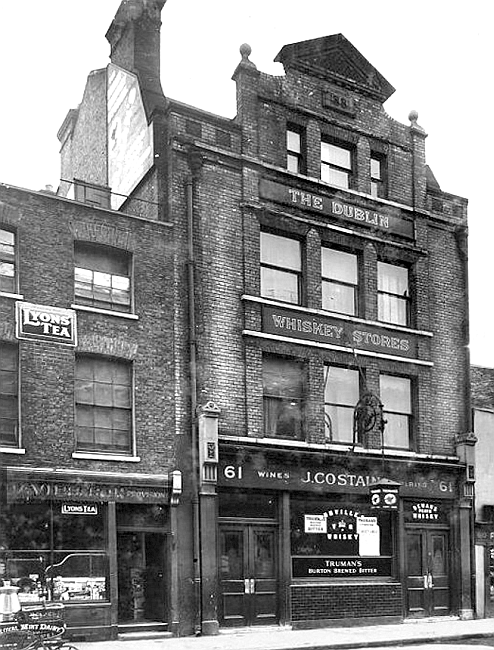 The Dublin, 61 Royal Mint Street, E1 - Licensee J Costain
Kindly provided by John Carnaby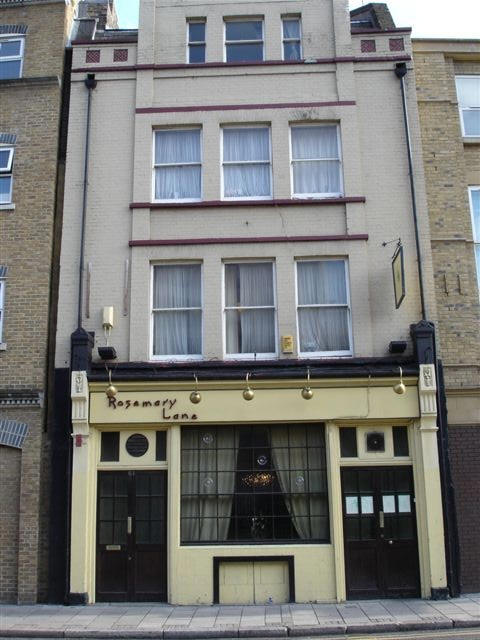 City of Carlisle, 61 Royal Mint Street, E1 - in April 2006
Kindly provided by Stephen Harris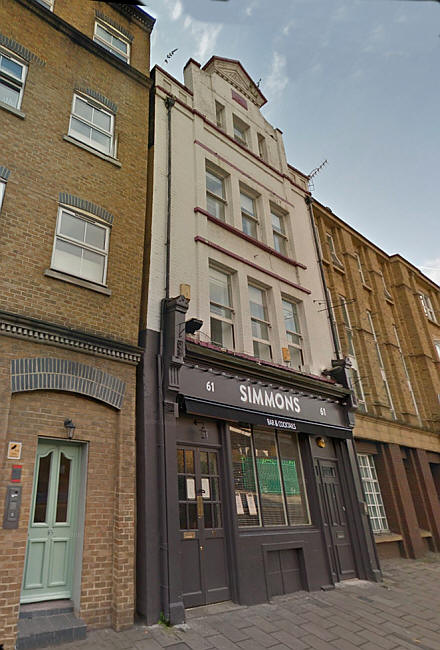 Ex-City of Carlisle, 61 Royal Mint Street, E1 - in 2016
Kindly provided by John Carnaby
Residents at this address
1802/William Cannell/Victualler/../../Records of Sun Fire Office, Guildhall Library **

1804/Henry Hay/Victualler/../../Records of Sun Fire Office, Guildhall Library **

1806/Mrs Peters, City of Carlisle, Rosemary lane/../../London Brewery 1806 customer for supplying the public with genuine malt liquor

1811/Edw Hope, wine vaults, 61 Rosemary lane, Whitechapel/../../Holdens Directory

1824/William Hay/Victualler/../../Records of Sun Fire Office, Guildhall Library **

1826/Elizabeth Hay/Victualler/../../Records of Sun Fire Office, Guildhall Library **

1827/William Herbert/../../../Licensed Victuallers Association

1832/Edmund Cox/../../../Robson's Directory

1833-34/George Comber, City of Carlisle, Rosemary lane/../../Pigots Directory

1839/Thomas Smith/../../../Pigots Directory **

1842/Geo. Stroud/../../../Robson's Directory **

1844/H G Mitchell/../../../Thompson's Directory **

1847/James Andrew Inwood / Public House Keeper /../../Proceedings of the Old Bailey **

March 1849/Charles Jones/ Outgoing Licensee /../../The Era

March 1849/Martin George/ Incoming Licensee /../../The Era

1851/Thomas George/Blue Peter/../../Kellys Directory

1851/Thomas George/Licensed Victualler/24/Wenhaston, Suffolk/Census
1851/Robert George/Uncle, Landed Proprietor, Widow/76/Oulton, Suffolk/Census
1851/Caroline George/Cousin, Housekeeper/36/Arninghall, Suffolk/Census
1851/Charles Smith/Barman/26/Shoreditch, Middlesex/Census
1851/Joseph Truman/Barman/20/Sutton, Cheshire/Census
1851/Susan Cattell/General Servant/19/Bloomsbury, Middlesex/Census

1856/Thomas George/Blue Peter/../../Post Office Directory

January 1856/Thomas George/Outgoing Licensee/../../Era

January 1856/Alfred Cleighton/Incoming Licensee/../../Era

March 1859/Alfred Creighton/Outgoing Licensee/../../Era

March 1859/Harriet George/Incoming Licensee/../../Era

November 1859/Harriet George, deceased/Outgoing Licensee/../../Era

November 1859/Ann George/Incoming Licensee/../../Era

1861/Martin George / Public House Keeper /../../Proceedings of the Old Bailey **
1861/George Chapman / Barman /../../Proceedings of the Old Bailey

1861/Ann George/Victualler, Widow, Deaf/39/Summerleyton, Norfolk/Census
1861/Henrietta George/Daughter/9/Stamford, Lincolnshire/Census
1861/John Chapman/Barman/26/Ashwell Thorpe, Norfolk/Census
1861/George Marser/Barman/21/Brompton, Huntingdonshire/Census

May 1865/Ann George/Outgoing Licensee, City of Carlisle/../../Era

May 1865/John Bexfield and John Gregory/Incoming Licensee, City of Carlisle/../../Era

May 1866/John Bexfield and John Gregory/Outgoing Licensee/../../Era

May 1866/Jeremiah Gallavin/Incoming Licensee/../../Era

1869/Jeremiah Gallavin/Blue Peter/../../Business Directory of London **

1871/Jeremiah Gallavin/Licensed Victualler, Widow/51/Co Kerry, Ireland/Census
1871/Catherine Morrisey/Daughter, Barmaid/22/Whitechapel, Middlesex/Census
1871/Thomas J Gallavin/Son/15/Whitechapel, Middlesex/Census
1871/Helen E Gallavin/Daughter/12/Whitechapel, Middlesex/Census
1871/Michael J Gallavin/Son/11/Whitechapel, Middlesex/Census
1871/Catherine Foley/General Servant/25/Bardon, Ireland/Census

1884/John F Lacy/../../../Business Directory of London **

1886/John F Lacy/../../../Business Directory of London **

1891/Mrs Ann Finnegan/../../../Post Office Directory **

1891/Ann Finnegan/Licensed Victualler/53/Ireland/Census
1891/Francis Finnegan/Son, Barman/24/London/Census
1891/Michael Finnegan/Son, Barman/22/London/Census
1891/Stephen Finnegan/Son, Stevedore Labourer/18/London/Census
1891/Denis Finnegan/Daughter, Barmaid/16/London/Census
1891/Edward Finnegan/Son/14/London/Census
1891/Ellen Sullivan/General Servant/46/Ireland/Census
1891/Patrick Ryan/Barman/22/London/Census
1891/Joseph Push/Potman/18/London/Census

1892/Mrs Ann Finnigan/../../../P.O. Directory **

1894/Mrs Ann Finnegan/../../../Post Office Directory **

1895/Mrs Ann Finnegan/../../../Post Office Directory **

1899/Mrs Ann Finnegan/../../../Post Office Directory **

1910/Mrs Agnes Beckett/../../../Post Office Directory

1911/William Beckett/Licensed Victualler/44/Stepney, London/Census
1911/Agnes Beckett/Wife, Assistant/34/Whitechapel, London/Census
1911/Agnes Finigan/Niece, Assistant/19/West ham, London/Census

1915/Mrs Agnes Beckett/../../../Post Office Directory

1921/Mrs Agnes T Beckett/../../../P.O. Directory **

1926/Reginald Douglas Richards/../../../P.O. Directory **

1935/Herbert Jn. Ranson/../../../P.O. Directory **

1934/Herbert John Ranson/../../../Kellys Directory **

1938/Charlie Alexander/../../../Post Office Directory **

1940/Charlie Alexander/../../../Post Office Directory **

1944/Thomas Samuel Bacon/../../../Post Office Directory

1988 - 90/I Minihane/../../../Watney Truman publicans list



* Provided By John Carnaby

** Provided By Stephen Harris