Search London wiki and Pub wiki history sites
All public house, restaurants, bars etc closed for the forseeable future from 20th March 2020, but this is a history site.
Coach & Horses, 129 Middlesex street, Whitechapel E1
Whitechapel pub history index
The Coach and Horses, Petticoat lane in 1856 license transfers, an alternative name for Middlesex Street. (After street renumbering then 129 Middlesex Street would be near to the eastern side of Middlesex Street if it still existed, close to Marlborough court and the High street.)
Rebuilt and today known as the Shooting Star (although this is an entirely different address!) *
Historical London public houses, Taverns, Inns, Beer Houses and Hotels.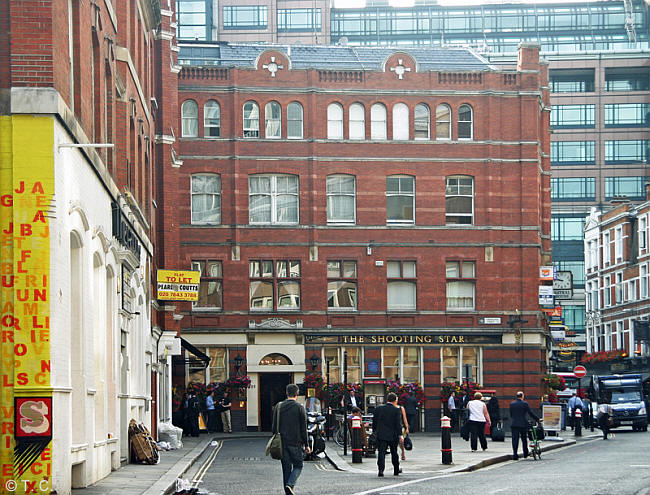 Shooting Star, 127 & 129 Middlesex Street
Kindly provided by Tris
Residents at this address.
1819/Benjamin Martin / Victualler, Dealer & Chapman /../../London Gazette, 13 July 1819 **

1833-34/Benjamin Martin, Coach & Horses, 129 Petticoat lane, Whitechapel/../../Pigots Directory

1839/James Dubock/../../../Pigotís Directory **

1842/J Dubock/../../../Robsonís Directory **

1850/Mrs Tabitha Dubock/../../../P.O. Directory **

1851/Mrs Tabitha Dubock/../../../Kellyís Directory **

1851/Tabitha Dubock/Licensed Victualler, Widow/39/Sydenham, Kent/Census
1851/Eliza Dubock/Daughter/15/Whitechapel, Middlesex/Census
1851/Caroline Dubock/Daughter/14/Whitechapel, Middlesex/Census
1851/George Dubock/Son/12/Whitechapel, Middlesex/Census
1851/James Dubock/Son/10/Whitechapel, Middlesex/Census
1851/Charlotte Dubock/Daughter/8/Whitechapel, Middlesex/Census
1851/John Dubock/Son/6/Whitechapel, Middlesex/Census
1851/Charles Hope/Potman/20/St Georges East, Middlesex/Census
1851/James Palmer/Visitor, Pedlar/39/Aldgate, Middlesex/Census
1851/Joseph Brown/Visitor, Porter/31/Maldon, Essex/Census
1851/William Tafford/Visitor, Carpenter, Widow/86/Dartford, Kent/Census

July 1854/Tabitha Dubock (deceased)/Outgoing Licensee/../../Era

July 1854/John Shipman, her executor/Incoming Licensee/../../Era

1856/John Shipman/../../../Post Office Directory

January 1856/John Shipman/Outgoing Licensee/../../Era

January 1856/George Johnston/Incoming Licensee/../../Era

July 1864/Elizabeth Johnstone, deceased/Outgoing Licensee/../../Era

July 1864/William Green, her executor/Incoming Licensee/../../Era

1871/George H Johnson/Publican, Widow/38/Whitechapel, Middlesex/Census
1871/George Johnson/Son/13/Whitechapel, Middlesex/Census
1871/James Walker/Lodger, Porter/30/Shoreditch, Middlesex/Census
1871/Emmanuel Cohen/Lodger, Porter/62/Southwark, Surrey/Census
1871/Henry Bush/Lodger, Porter/22/Aldgate, Middlesex/Census
1871/John Johnson/Lodger, Porter/24/Whitechapel, Middlesex/Census

July 1872/George Henry JohnstonOutgoing Licensee/../../Era

July 1872/Asher Barnett/Incoming Licensee/../../Era

1874/A Barnett/../../../H.D. Miles London & Suburban Licensed Victuallers' Directory **

1875/Barnett & Levy/../../../P.O. Directory **

September 1878/Arthur Barnett, deceased/Outgoing Licensee/../../East London Observer

September 1878/Catherine Barnett, widow and relict of Arthur Barnett/Incoming Licensee/../../East London Observer



+ Provided by Friends of Tower Hamlets Cemetery Park

* Provided By Tris

** Provided By Stephen Harris