Search London wiki and Pub wiki history sites
All public house, restaurants, bars etc closed for the forseeable future on 20th March 2020, but this is a history site. But how about the landlords give their tenants a break, no business, then please charge them no rent.
Cock, 45 Whitechapel High street, Whitechapel E1
Whitechapel pub history index
The pub also had an entrance from Commercial Road, and I have seen the address listed as 9 Commercial Road (e.g. in 1903 and 1923). It is long closed. This pub was demolished in 2008. **
Historical London public houses, Taverns, Inns, Beer Houses and Hotels.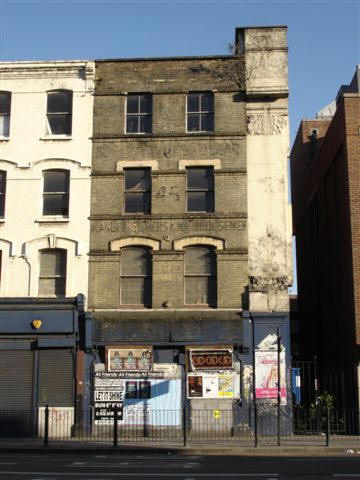 Cock, 45 Whitechapel High Street, E1 - in May 2007
Kindly provided by Stephen Harris
Residents at this address.
1811/Thomas Massey, wine & brandy merchant, 45 Whitechapel/../../Holdens Directory

1832/J & R Williams/../../../Robsons Directory

1833-34/Thomas Massey, Cock, 45 High street, Whitechapel/../../Pigots Directory

1839/John Williams/../../../Pigots Directory

1841/John Williams/../../../Post Office Directory

1848/Robert Williams/../../../P.O. Directory **

1850/John Mather Williams/../../../Post Office Directory **

1851/John Mather Williams/../../../Kellys Directory

1851/John Williams/Licensed Victualler/44/London, Middlesex/Census
1851/Eliza Stany/Assistant/28/Bridge Wales, Somerset/Census
1851/Eliza Duffield/House Servant/21/East Ham, Essex/Census
1851/Thomas Morris/Pot Boy/16/St James, Middlesex/Census

1852/John M Williams/../../../Watkins Directory

1856/John Mather Williams/../../../Post Office Directory

1869/William Henry Price/../../../Post Office Directory

1871/William Henry Price/../../../Post Office Directory

1871/William H Price/Licensed Victualler/34/Limehouse/Census
1871/Elizabeth Price/Wife/28/Whitechapel/Census
1871/Mary W P Price/Daughter/4/Whitechapel/Census
1871/Edith W Price/Daughter/3/Whitechapel/Census
1871/Lloyd W Price/Son/1/Whitechapel/Census
1871/Mary Ann Ward/Housekeeper/56/Whitechapel/Census
1871/Anne M Smith/Barmaid/23/Ipswich, Suffolk/Census
1871/Margaret Taylor/Domestic Servant/23/Plymouth/Census
1871/Leonora Butt/Visitor, Lady/29/Paddington/Census

1873/William Henry Price/../../../Post Office Directory **

August 1873/William Henry Price/Outgoing Licensee/../../East London Observer

August 1873/Henry Kemp/Incoming Licensee/../../East London Observer

1875/Kemp & Young/../../../Post Office Directory

1878/Kemp & Young/../../../Post Office Directory **

1880/Kemp & Young/../../../Post Office Directory **

1881/Henry Kemp/Licensed Vitualler/44/St Pancras, Middlesex/Census
1881/Emily Kemp/Wife/26/Twickenham, Surrey/Census
1881/Ernest Charles Kemp/Son/2/Whitechapel , Middlesex/Census
1881/Florence Kate Kemp/Daughter/1/Whitechapel , Middlesex/Census
1881/Sarah Jackson/Sister In Law, Governess (Private)/24/Twickenham, Surrey/Census
1881/Jane Oates/Domestic Servant/19/Aldgate, Middlesex/Census
1881/Robert Godfrey/Barman/21/Aldham, Essex/Census
1881/William Mitchell/Barman/21/Ottery St Mary, Devon/Census
1881/Charles Adams/Barman/19/Marylebone, Middlesex/Census
1881/Frank Adams/Barman/18/Marylebone, Middlesex/Census
1881/Anthony Watts/Potman/20/Rearsby, Leicester/Census
1881/Elizabeth Hofimmer/Barmaid/19/St George E, Middlesex/Census
1881/Alice Berridge/Nursemaid/12/Rotherhithe, Surrey/Census

1882/Kemp & Young/../../../Post Office Directory

1884/Henry Kemp/../../../Post Office Directory

1895/John Mitchell/../../../Post Office Directory

1899/James Boulter/../../../Post Office Directory

1901/James Boulter/Publican/46/City London/Census
1901/Jane Boulter/Wife/45/Bermondsey, London/Census
1901/George Boulter/Son, Packing case maker/22/Stepney, London/Census
1901/Louisa Daniels/Barmaid/21/Silvertown, London/Census
1901/Elizabeth Copeman/Barmaid/20/Poplar, London/Census
1901/Gertrude Cooper/Barmaid/18/Poplar, London/Census
1901/George a Randall/Potman/25/Bow, London/Census
1901/Harriett Beckenham/General servant/41/Northampton/Census

1903/Lewis Moss/Cock, 9 Commercial road/../../Post Office Directory

1904/Lewis Moss/Cock, 45 Whitechapel High street/../../Post Office Directory

1906/Lewis Moss/../../../Morris' Business Directory of London **

1915/Harry Weingett/../../../Post Office Directory

1916/Morris Levy/../../../Post Office Directory

1923/Alfred Webber/../../../Post Office Directory



** Provided By Stephen Harris