Crown And Seven Stars, 47 Royal Mint street , Whitechapel E1
Whitechapel index
Address is formerly 47 Rosemary Lane. Note there was also a pub called the Seven Stars, listed in 1839 and 1844 at 22 Rosemary Lane. The Pub established was in a former warehouse by 1800. Name changed to Artful Dodger in 1985; and still open (2006). ** Still open for business in 2018.
Historical London public houses, Taverns, Inns, Beer Houses and Hotels.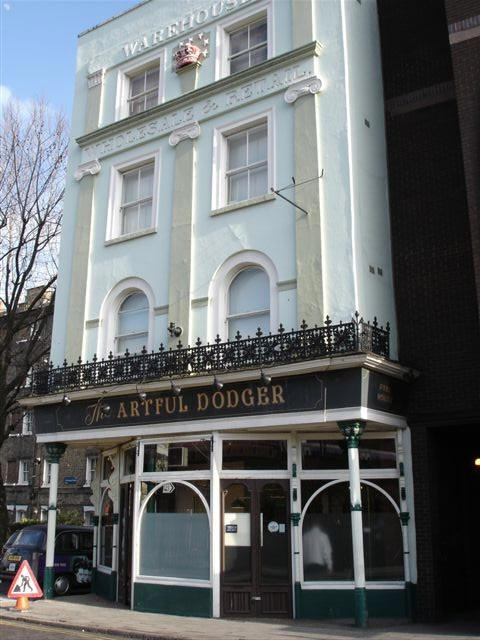 Crown & Seven Stars, 47 Royal Mint Street - as in April 2006
Kindly provided by Stephen Harris
Residents at this address.
1803/George Beaumont/Victualler/../../Sun Fire Office Records, held at Guildhall Library **

1806/George Beaumont/Victualler/../../Sun Fire Office Records, held at Guildhall Library **

1809/Sarah Beaumont/Victualler/../../Sun Fire Office Records, held at Guildhall Library **

1811/Jos Hancock, victualler, 22 Rosemary lane, Whitechapel/../../Holdens Directory

1832/Thomas Herbert, Crown & Seven Stars, 22 Rosemary lane/../../Pigot's Directory

1839/James Hodgetts/../../../Pigot's Directory **

1842/J H Hodson, Crown & Seven Stars, 22 Rosemary lane/../../Robson's Directory **

1844/J H Hodson/../../../Thompson's Directory **

1846/John Duggan / Landlord's Sister /../../Proceedings of the Old Bailey **
1846/Helen Hudson / Pot Boy / 19 /../../Proceedings of the Old Bailey

1848/Joanna McCauliffe/../../../Proceedings of the Old Bailey **

January 1849/James Williamson/Outgoing Licensee/../../Era Newspaper

January 1849/John Burnman/Incoming Licensee/../../Era Newspaper

1851/William Tong / Formerly Licensed Victualler /../../London Gazette, 21 January 1851 **

1851/Eldred Roger Jary/../../../Kelly's Directory **

1851/George Ablett/Licensed Victualler/29/Alderton, Suffolk/Census
1851/Hannah Ablett/Wife/28/Alderton, Suffolk/Census
1851/Rose Ablett/Daughter/4/Alderton, Suffolk/Census
1851/Charles Ablett/Son/3/Alderton, Suffolk/Census
1851/Bella Ablett/Daughter/1/Whitechapel, Middlesex/Census
1851/Joseph Barnes/Brother in Law, Drapers Shopman/30/Stoke, Suffolk/Census
1851/Lucretia Hulon/General Servant/16/Stoke, Suffolk/Census
1851/John Watling/Barman/17/Middlesex/Census

July 1851/George Thomas Abbott/Outgoing Licensee/../../Era

July 1851/Matthew Callaghan/Incoming Licensee/../../Era

1856/Matthew Callaghan/../../../Kellys Directory **

Thomas Joseph Clark (born 1788, died about 1856) was my maternal great-great-great Grandfather - he ran the Green Lattice, 5 Billingsgate, St. Mary at Hill, London from 1839 to 1856; and his son Richard Matthew Clark (born 1823, died 1877) was resident at the Crown and Seven Stars with his wife Sarah and sons Harry and Daniel in the 1861 census. ***

1861/Richard Clark/Victualler/37/Billingsgate, Middlesex/Census ***
1861/Sarah Clark/Wife/30/Marylebone, Middlesex/Census
1861/Harry Clark/Son/8/Adelphia, Middlesex/Census
1861/Daniel Clark/Son/4/Adelphia, Middlesex/Census
1861/John Davis/Servant/34/Clerkenwell, Middlesex/Census

11th March 1865/Alexander Solomon/Outgoing Licensee/../../East London Observer +

11th March 1865/John Munn/Incoming Licensee/../../East London Observer +

1871/John Mann/Licensed Victualler/55/Suffolk/Census
1871/Sarah A Mann/Wife/35/Essex/Census
1871/Arthur T Mann/Son, Barman/16/Essex/Census
1871/Makin J Mann/Son, Barman/13/Essex/Census
1871/Frank H Mann/Son/7/Whitechapel, Middlesex/Census
1871/William R Mann/Son/4/Whitechapel, Middlesex/Census
1871/Frederick G Man/Servant/21/Whitechapel, Middlesex/Census
1871/Eliza Bassett/Nurse, Widow/43/Middlesex/Census

15th July 1871/John Mann/Outgoing Licensee/../../East London Observer +

15th July 1871/Henry Savage/Incoming Licensee/../../East London Observer +

1874/H Savage/../../../H.D. Miles London & Suburban Licensed Victuallers' Directory **

1875/Henry Savage/../../../P.O. Directory **

22nd January 1876/Henry Savage, late occupier/Outgoing Licensee/../../East London Observer +

22nd January 1876/Lydia Savage, widow and executrix/Incoming Licensee/../../East London Observer +

12th May 1877/Lydia Savage/Outgoing Licensee/../../East London Observer +

12th May 1877/James North/Incoming Licensee/../../East London Observer +

1881/George F. Buckingham/Licensed Victualler/63/Ipswich, Suffolk/Census
1881/Mary Buckingham/Wife/40/Bethnal Gn, Middlesex/Census
1881/George Hornsey/Labourer/52/Whitechapel, Middlesex/Census
1881/Mary Hornsey/Wife, Sack maker/53/Whitechapel, Middlesex/Census

1882/George F. Buckingham/../../../Post Office Directory

1884/George F. Buckingham/../../../Post Office Directory

1887/George Buckingham/../../../www.blacksheepindex.co.uk **

1891/Frederick John Vinall/../../../Post Office Directory

1891/William Vinall/Licensed Victualler/24/St Pancras, London/Census
1891/Alice Vinall/Wife/24/Upton, Berks/Census
1891/William G Vinall/Son/Under 1 month/Whitechapel, London/Census
1891/Georgina Vinall/Sister, Barmaid/20/St Pancras, London/Census
1891/Jeanette Tigwell/Sister in Law, Barmaid/22/Upton, Berks/Census
1891/Jane Tigwell/Mother in Law/64/Upton, Berks/Census
1891/Samuel Maddison/Potman/24/Marylebone, London/Census
1891/Charles Deschamps/Visitor/43/St Pancras, London/Census
1891/Frederck J Vinall/Brother/13/St Pancras, London/Census

1892/William Vinall/../../../P.O. Directory **

1894/William Vinall/../../../PO Directory **

1895/George Rose/../../../Post Office Directory

1899/William Vinall/../../../Post Office Directory

1910/William Vinall/../../../Post Office Directory

Henry Thomas Bristow (1867 to 1945), is at the Pilgrim, 247 Kennington lane, in 1905; at the Spa Tavern, 126 Spa road in 1906, he is at the Crown & Seven Stars, 47 Royal Mint Street , Whitechapel by the 1911 census, and until about 1914. He is at the British Lion, 153 - 155 Central Street, Islington between about 1918 and 1922. The 1927 electoral register places him at the Lord Wellington, 132 Weston Street, Bermondsey; and from 1930 to 1939 he is living at the 120 Licensed Victuallers Benevolent Institution, Asylum Road. Peckham S.E.15. *+

1911/Henry Thomas Bristow/Licensed Victualler/41/Gorleston, Suffolk/Census
1911/Ellen Bristow/Wife/43/Wandsworth, Surrey/Census
1911/Henry Bennett Bristow/Son, Barman/19/Southwark, London/Census
1911/Gladys Ethel Bristow/Daughter, Dressmaker/17/Dulwich, London/Census
1911/Florence Ellen Bristow/Daughter/16/Dulwich, London/Census
1911/Sidney Bristow/Son/11/Dulwich, London/Census
1911/James Bristow/Son/8/Dulwich, London/Census
1911/Ernest Bristow/Son/6/Kensington, London/Census
1911/Lilley Bristow/Daughter/3/Stepney, London/Census
1911/Ellen Sulavan/Cook, Widow/42/Kensington, London/Census
1911/Henry Statham/Barman/40/Stoke Row, Oxfordshire/Census
1911/Hettey Davison/Barmaid/33/Deptford, London/Census

1914/Henry Bristow/../../../Post Office Directory

1921/Jas. Chick/../../../P.O. Directory **

1922/Jas. Chick/../../../P.O. Directory **

1926/William Frederick Hannan/../../../P.O. Directory **

1934/Walter Ernest Wightman/../../../Kelly's

1935/Walter Ernest Wightman/../../../P.O. Directory **

1938/Walter Ernest Wightman/../../../Post Office Directory

1940/Walter Ernest Wightman/../../../P.O. Directory **

1944/Walter Ernest Wightman/../../../Post Office Directory

1991/../Artful Dodger: 47 Royal Mint Street E1 : Ex Ind Coope pub called the Crown & Seven Stars, it is a Grade II listed building. It originally got its licence in 1904 and was closed for four years before finally being re-opened in September 1985/../../Pub Directory



+ Provided by Friends of Tower Hamlets Cemetery Park

*+ Provided By John Carnaby

** Provided By Stephen Harris

*** Provided By Anthony Roach