Search London wiki and Pub wiki history sites
All public house, restaurants, bars etc closed for the forseeable future from 20th March 2020, but this is a history site.
The Garrick, 70 Leman street, Whitechapel E1
Whitechapel index
At 35 Leman Street in 1869 and earlier; This pub was attached to the Garrick Theatre which was built in 1831 and demolished in 1891. The pub probably also dates from 1831, although has been re-built at some point. Re-named Mr Pickwick's before 1983. In 2010, this pub was renamed from Mr Pickwick's to the Oliver Conquest – a name chosen to reflect that of the most famous former landlord. **
Historical London public houses, Taverns, Inns, Beer Houses and Hotels.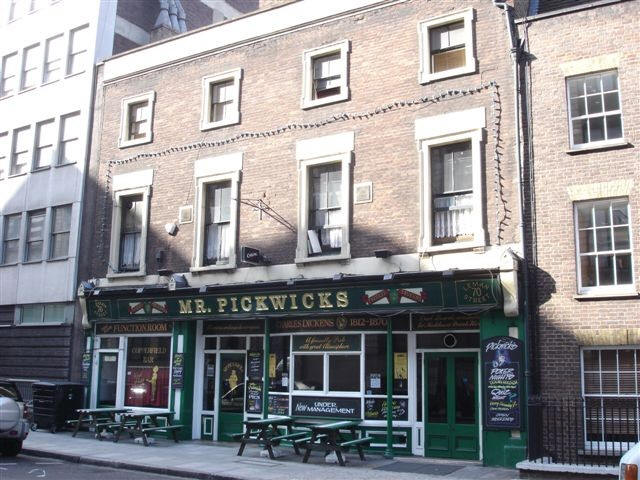 Garrick, 70 Leman Street - in September 2006
Kindly provided by Stephen Harris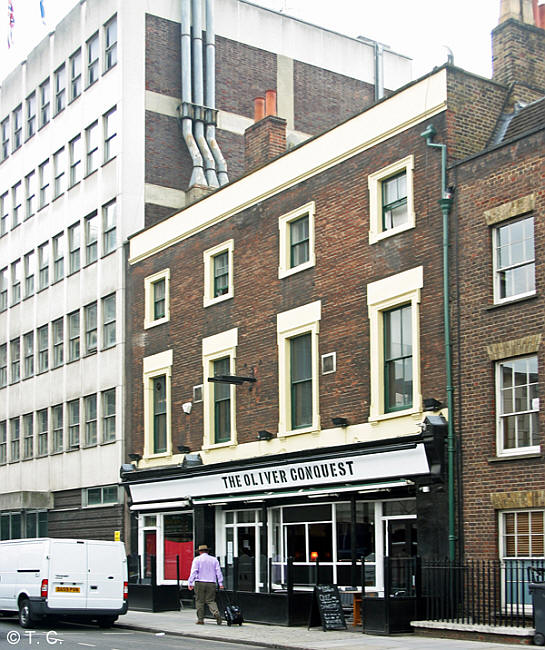 The Oliver Conquest, 70 Leman Street - in August 2011
Kindly provided by Tris
Residents at this address.
1831/John Norris & Edward Higley / Victuallers /../../London Gazette, 30 August 1831 **

1832/John Norris / Victualler /../../London Gazette, 19 June 1832 **

1833-34/John Norris, Garrick Tavern, 25 Leman street, Goodmans fields/../../Pigots Directory

1833/Benjamin Oliver (commonly called Benjamin Conquest) / Comedian and Theatre Proprietor in co-partnership with Francis Wyman /../../London Gazette, 14 May 1833 **

1839/Benjamin Oliver Conquest/../../../Pigot's Directory **

1841/Benjamin Oliver/Licensed Victualler/35/Middlesex/Census
1841/James Duck/Male Servant/15/Middlesex/Census
1841/Clara Bennett/Female Servant/17/Middlesex/Census
1841/Ann Foreman/Female Servant/20/Middlesex/Census

1842/Benj. Oliver/../../../Robson's Directory **

1843/Benjamin Oliver Conquest/../../../Kellys Directory

Benjamin Oliver Conquest is at the Eagle Tavern, Shepherdess walk, Shoreditch by 1851 and for the next twenty years.

1848/John Thomas/../../../Post Office Directory

1851/John Thomas/../../../Kellys Directory

1851/Mary Scott/Wife, Publican/43/Botesdale, Suffolk/Census
1851/Scott/Son, Publican/19/Spitalfields, Middlesex/Census
1851/S Scott/Daughter/12/St Georges east, Middlesex/Census
1851/A Scott/Son/10/St Georges east, Middlesex/Census
1851/E Scott/Daughter/4/St Georges east, Middlesex/Census
1851/J Selby/Niece/17/Botesdale, Suffolk/Census

1852/Abraham Scott/../../../Watkin's Directory **

1856/Abraham Scott/../../../Post Office Directory

August 1856/Abraham Scott/Outgoing Licensee/../../Era

August 1856/William Davis, the younger/Incoming Licensee/../../Era

August 1859/William Davis/Outgoing Licensee/../../Era Newspaper

August 1859/John Morris/Incoming Licensee/../../Era Newspaper

1861/John Morris/Licensed Victualler/40/London, Middlesex/Census
1861/Maria Morris/Wife/36/Stepney, Middlesex/Census
1861/Amelia Morris/Daughter/18/London, Middlesex/Census
1861/John Morris/Son/16/London, Middlesex/Census
1861/Avis Morris/Daughter/15/London, Middlesex/Census
1861/Alice Morris/Daughter/13/London, Middlesex/Census
1861/Eliza Morris/Daughter/11/London, Middlesex/Census
1861/Maria Morris/Daughter/3/London, Middlesex/Census

November 1863/John Morris/Outgoing Licensee/../../Era

November 1863/Benjamin Phillips/Incoming Licensee/../../Era

1866/Benjamin Phillips/../../../P.O. Directory **

August 1867/Benjamin Phillips/Outgoing Licensee/../../Era Newspaper

August 1867/Frederick Hofsommer/Incoming Licensee/../../Era Newspaper

1868/Frederick Hofsommer / Licensed Victualler /../../London Gazette, 27 February 1868 **

1869/Frederick Hofsommer/../../../Post Office Directory

1870/Frederick Hofsommer / Publican /../../London Gazette, 26 February 1870 **

1871/Frederick Hofsommer / Publican /../../London Gazette, 25 February 1871 **

1872/Frederick Hofsommer / Licensed Victualler /../../London Gazette, 29 February 1872 **

1874/F Hofsommer/../../../H D Miles' London & Suburban Licensed Victuallers' Directory **

1878/Frederick Hofsommer/../../../P.O. Directory **

March 1877/Frederick Hofsommer/Outgoing Licensee/../../East London Observer

March 1877/Eli Perry/Incoming Licensee/../../East London Observer

1881/Solomon Temple/Licensed Victualler/43/Algirkirk, Lincoln/Census
1881/Sarah Temple/Wife/46/Shelford, Surrey/Census
1881/Henry J Temple/Son/14/Finsbury, Middlesex/Census
1881/Sarah Ann Temple/Daughter/12/Finsbury, Middlesex/Census
1881/Adelaide C Temple/Daughter/9/Finsbury, Middlesex/Census
1881/Louisa Skinner/General Servant Domestic/18/Shadwell, Middlesex/Census
1881/James Watts/Potman/19/Islington, Middlesex/Census

1882/Solomon Temple / Publican & Innkeeper /../../London Gazette, 17 February 1882 **

1884/William Assiter/../../../Post Office Directory

1890/Arthur N Symons / Tavern Keeper /../../Proceedings of the Old Bailey **

1891/Alfred Leopold Simons/../../../Post Office Directory

1892/Arthur Leopold Simons / Licensed Victualler /../../London Gazette, 5 August 1892 **

1895/Mrs Charlotte Reeves/../../../Post Office Directory

1896/William Alfred Tredwen/Licensed Victualler/../../Property papers held at Tower Hamlets Local History Library and Archives **

1897/William Alfred Tredwen/Licensed Victualler/../../Property papers held at Tower Hamlets Local History Library and Archives **

1899/Baker & Co./../../../Post Office Directory

1910/Eugene Wherley/../../../.. **

1911/Eugene Wherley/../../../.. **

1911/Eugene Wherley/Licensed Victualler/53/Germany/Census
1911/Margaret Wherley/Wife, Assistant/52/Germany/Census
1911/Edward Wherley/Son, Manager Coal Depot/25/Mile End, London/Census
1911/Cornelius Wherley/Son, Assistant Store Keeper/22/Mile End, London/Census
1911/Emma Widdicks/General Servant, Widow/56/High Barnett, Middlesex/Census
1911/Arthur Leach/Barman/27/St Davids Exeter, Devon/Census

1929/Edward Albert Lindsey/../../../P.O. Directory **

1934/Edward Albert Lindsey/../../../Kelly's Directory

1938/Edward Albert Lindsey/../../../Post Office Directory

1944/Mrs Mabel A Haste & Mrs Amelia Burke/../../../Post Office Directory

1950/Mrs & Mrs J W Howard/../../../Black Eagle Journal ***

1988/F G Thorley/../../../Trumans Watney List ***

1990/F G Thorley/../../../Trumans Watney List ***



** Provided By Stephen Harris

*** Provided By Alex Wilkinson