Search London wiki and Pub wiki history sites
All public house, restaurants, bars etc closed for the forseeable future from 20th March 2020, but this is a history site.
Good Samaritan, 87 Turner street, Whitechapel E1
Whitechapel index
This pub was established in around 1785 and rebuilt in its present form in 1937. At 1 Oxford Terrace, Turner Street in 1856 and earlier **
Historical London public houses, Taverns, Inns, Beer Houses and Hotels.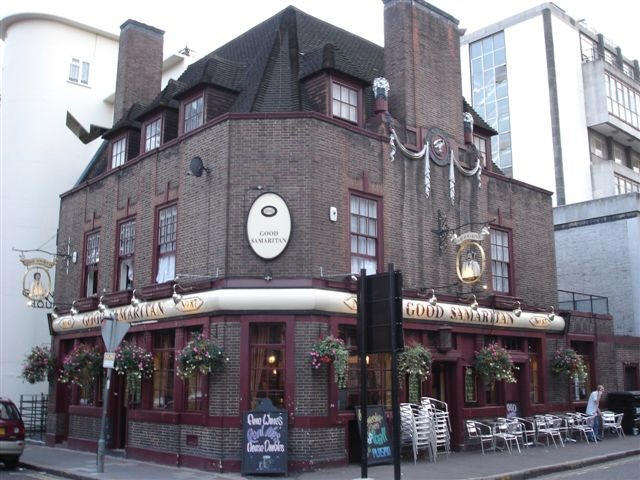 Good Samaritan, 87 Turner Street - in September 2006
Kindly provided by Stephen Harris
Residents at this address.
1827/Abraham Ling / Publican /../../Proceedings of the Old Bailey **

1831/Abraham Ling, Good Samaritan, Turner street, Whitechapel road, 1 guinea/../../Licensed Victuallers Association

1839/William Cragg/../../../Pigotís Directory **

1842/W Cragg/../../../Robsonís Directory **

1846/William Gage/../../../per Whitechapel Society Newsletter **

1851/William Gage/../../../Kellys Directory

1851/William Gage/Victualler/56/Prittlewell, Essex/Census
1851/Hannah Gage/Wife/62/Dagenham, Essex/Census
1851/Susannah Howard/Barmaid/22/St Georges East, Middlesex/Census
1851/Henry Burton/Potman/27/Ware, Hertfordshire/Census
1851/Emma Burrell/General Servant/14/Whitechapel, Middlesex/Census

1856/Joseph Burbridge/../../../Post Office Directory

1869/Henry Lodge/../../../Post Office Directory

1871/Henry Lodge/Licensed Victualler/49/Suffolk/Census
1871/Hannah Lodge/Wife/50/Essex/Census
1871/Elizabeth Mllin/Barmaid/24/Northamptonshire/Census
1871/Emma Crockett/General Domestic Servant/19/London/Census

1874/H Lodge/../../../HD Miles London & Suburban Licensed Victuallersí Directory **

22nd January 1876/Henry Lodge/Outgoing Licensee/../../East London Observer +

22nd January 1876/Daniel Whatling/Incoming Licensee/../../East London Observer +

1881/Daniel Whatling/Licensed Victualler/60/Denam, Suffolk/Census
1881/Mary A Whatling/Wife/51/Aylsford, Norfolk/Census
1881/Amelia Cant/Servant/26/Bromley, Kent/Census
1881/William Rhode/Potman/21/Bethnal Green, Middlesex/Census
1881/Eliza Love/General Servant/29/St George/Census

1884/Dan Whatling/../../../Post Office Directory

1895/George Augustus Pitt/../../../Post Office Directory

1899/Walter Viall/../../../Post Office Directory

1911/Alfred Gibbins/Licensed Victualler/54/Hayford, Northampton/Census
1911/Esther Gibbins/Wife, Assistant/42/Trensham, Surrey/Census
1911/Norah Alice Cash/General Servant/17/Whitechapel, Middlesex/Census

1912/Alfred Gibbins/../../../P.O. Directory **

1930/Alfred Gibbins / Deceased, Died 9 March 1930 /../../London Gazette, 29 April 1930 **

1934/James Henry Cross/../../../Kelly's

1938/Jas Hy Cross/../../../Post Office Directory

1944/Alfred Hy Ryan/../../../Post Office Directory

Mrs Mary France, licensee of the Good Samaritan, Whitechapel E1, death recorded on November 18th, 1949. She was first associated with T.H.B. at the Scots Arms, Wapping, where her late husband, A H Ryan, was licensee. ***

1949/Mrs Mary France/../../../Black Eagle Journal ***



+ Provided by Friends of Tower Hamlets Cemetery Park

** Provided By Stephen Harris

*** Provided By Alex Wilkinson