Search London wiki and Pub wiki history sites
All public house, restaurants, bars etc closed for the forseeable future from 20th March 2020, but this is a history site.
Grave Maurice, 269 Whitechapel road, Whitechapel E1
Whitechapel index
This pub was established in 1723. At 128 Whitechapel Road prior to 1910. This pub was re-built in 1874 in its present form. It is was called "The Q Bar at the Grave Maurice" since 2004; but the pub closed in 2010 and has now been converted to a bookies. **
Historical London public houses, Taverns, Inns, Beer Houses and Hotels.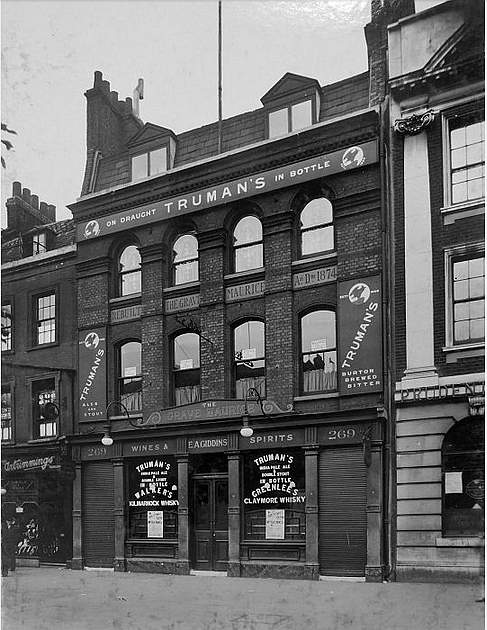 Grave Maurice, Whitechapel Road - Licensee E A Giddens
Kindly provided by John Carnaby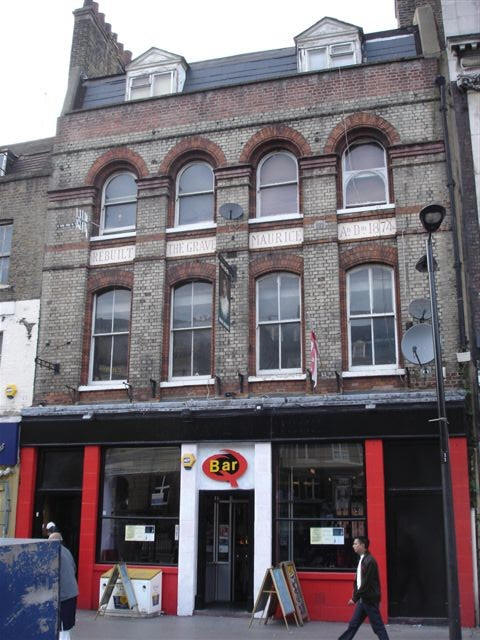 Grave Maurice, 269 Whitechapel Road, formerly at 128 Whitechapel Road.
Kindly provided by Stephen Harris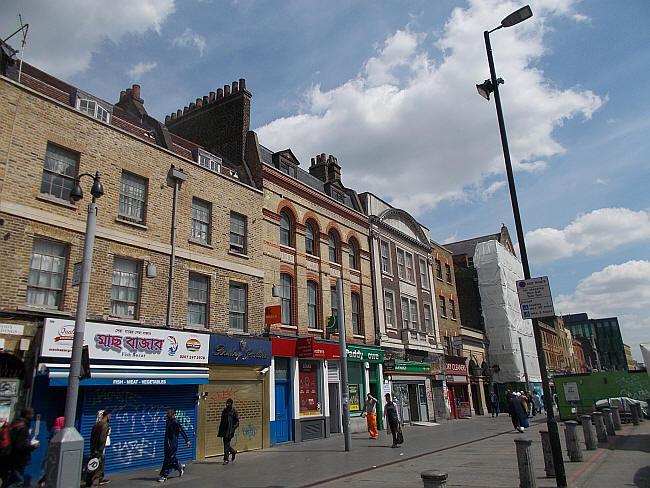 Ex Grave Maurice, 269 Whitechapel Road, in June 2018
Residents at this address.
1818/William Orson/Victualler/../../Sun Fire Office records, held at Guildall Library **

1820/Nathaniel Crisp/Victualler/../../Sun Fire Office records, held at Guildall Library **

1830/Ludwig Lange/Victualler/../../Sun Fire Office records, held at Guildall Library **

1832/Ludwig Lange/../../../Robsonís Directory

1835/Benj. Abley/../../../Robsonís Directory **

1839/Ann Clark/../../../Pigots Directory

1841/Thomas Hill/../../../Post Office Directory

1842/Thomas Hill/../../../Robsonís Directory **

1844/Thomas Hill/../../../Thompsonís Directory **

1844/Thomas Hill / Public House Keeper /../../Proceedings of the Old Bailey **
1844/James Davis / Pot Boy /../../Proceedings of the Old Bailey

1850/Thomas Hill/../../../P.O. Directory **

1851/Thomas Hill/../../../Kellys Directory

1851/Thomas Hill/Licensed Victualler/45/Hagley, Worcester/Census
1851/Mary Hill/Wife/54/Camarthenshire/Census
1851/Frances Lewis/Sister in Law/60/Camarthenshire/Census
1851/Esther Ponsell/Niece/23/Camarthenshire/Census
1851/Mary Murrey/Niece/22/Camarthenshire/Census
1851/Charlotte Brading/Servant/26/Whitechapel, Middlesex/Census
1851/Henry Welch/Visitor/24/Whitechapel, Middlesex/Census

1852/Thomas Hill/../../../Watkinís Directory **

July 1853/Thomas Hills executors/Outgoing Licensee/../../Era

July 1853/Sarah Hill, widow/Incoming Licensee/../../Era

1855/Sarah Hill / Deceased / Outgoing Licensee /../../The Era, Sunday 15 July 1855 **

1855/Henry William Wainwright & Esther Balding / Executors / Incoming Licensees /../../The Era, Sunday 15 July 1855 **

1856/Robert Balding/../../../Post Office Directory

1869/Robert Balding/../../../Post Office Directory

1874/R Balding/../../../HD Miles London & Suburban Licensed Victuallersí Directory **

October 1873/Robert Balding/Outgoing Licensee/../../East London Observer

October 1873/Charles Hillary Lawrence/Incoming Licensee/../../East London Observer

1875/John Billinghurst/../../../P.O. Directory **

October 1875/Charles Hillary Lawrence/Outgoing Licensee/../../East London Observer

October 1875/Samuel Frederick Hitchcock/Incoming Licensee/../../East London Observer

12th May 1877/John Billinghurst/Outgoing Licensee/../../East London Observer +

12th May 1877/Thomas Chestle/Incoming Licensee/../../East London Observer +

1878/Thomas Chestle/../../../P.O. Directory **

1881/Thomas Chestle/Licensed Victualler/40/Portsmouth, Hampshire/Census
1881/Sarah A Chestle/Wife/35/Portsmouth, Hampshire/Census
1881/Archibald Chestle/Son/10/Portsmouth, Hampshire/Census
1881/William Chestle/Son/6/Portsmouth, Hampshire/Census
1881/Ida S Chestle/Daughter/4/Portsmouth, Hampshire/Census
1881/Herbert Chestle/Son/10 months/Whitechapel, Middlesex/Census
1881/Louisa Chestle/Daughter/10 months/Whitechapel, Middlesex/Census
1881/Susan A Lewis/Sister In Law, Companion/31/Portsmouth, Hampshire/Census
1881/William Legson/Barman/33/Islington, Middlesex/Census
1881/Martha Hughes/Cook/40/St Georges E, Middlesex/Census
1881/Jemima Atkins/Nursemaid/38/Southampton, Hampshire/Census

1882/Thomas Chestle/../../../Post Office Directory

1883/Thomas Chestle / Formerly Licensed Victualler, now of no occupation /../../London Gazette, 24 April 1883 **

1884/William G Crow/../../../Post Office Directory

1891/Gordon Crow/Licensed Victualler, Widow/57/City, London/Census
1891/Maud M Goddwin/Daughter/26/Stepney, London/Census
1891/Eliza Harrison/Aunt, Widow/77/Paddington, London/Census
1891/Thomas Turk/Barman/26/St Georges, London/Census
1891/William Lovelock/Barman/19/Whitechapel, London/Census
1891/McLellan Blackhall/Barman/16/Bow, London/Census
1891/William G Lacy/Potman/23/St Georges, London/Census
1891/Charlotte Benby/Cook/36/Shalford, London/Census
1891/Eliza Webb/Housemaid/18/Canning Town, London/Census

1894/William Gordon Crow / Licensed Victualler, Deceased / Died 9 August 1894 /../../London Gazette, 21 September 1894 **

1895/Wm G Crow/../../../Post Office Directory

1899/Arthur Cooper/../../../Post Office Directory

1910/Issy Mendoza/../../../Post Office Directory

1911/Julius Aarons/Licensed Victualler, Widow/67/../Census
1911/Harry Aarons/Son/19/Soho, London/Census
1911/Annie Patten/Barmaid/22/Bow/Census
1911/Walter B Edwards/Barman/23/Stepney, London/Census
1911/Robert Shave/Potman, Widow/60/Suffolk/Census
1911/Louisa Winengall/Domestic Servant/30/Poplar, London/Census

1912/Abraham Sugarman/../../../P.O. Directory **

1914/Abraham Sugarman/../../../P.O. Directory **

1915/Abraham Sugarman/../../../Post Office Directory

1921/Abraham Sugarman/../../../Post Office Directory

1922/Abraham Sugarman/../../../P.O. Directory **

1924/Abraham Sugarman/../../../Post Office Directory

1930/Ernest A Giddins/../../../Post Office Directory

1935/Ernest A Giddins/../../../P.O. Directory **

1937/Ernest A Giddins/../../../P.O. Directory **

1938/Ernest A Giddins/../../../Post Office Directory

1940/Ernest A Giddins/../../../Post Office Directory

1944/Ernest A Giddins/../../../Post Office Directory

1952/Mr & Mrs J T Nolan/../../../Black Eagle Journal ***

1988 - 90/A J Hodges esq/../../../Watney Truman publicans list



+ Provided by Friends of Tower Hamlets Cemetery Park

** Provided By Stephen Harris

*** Provided By Alex Wilkinson