Search London wiki and Pub wiki history sites
All public house, restaurants, bars etc closed for the forseeable future from 20th March 2020, but this is a history site.
White Swan, 21 Great Alie street, Whitechapel E1
Whitechapel pub history index
Address formerly 36 Great Alie Street in 1869 and earlier. This pub was present by 1809. **
Historical London public houses, Taverns, Inns, Beer Houses and Hotels.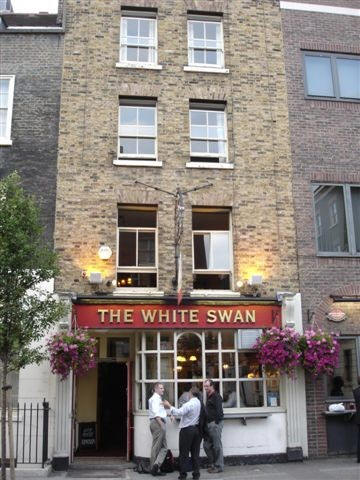 White Swan, 21 Great Alie Street - in September 2006
Kindly provided by Stephen Harris
Residents at this address.
1839/Claus Helmeken/../../../Pigotís Directory **

1841/Claus Helmeken/../../../P.O. Directory **

1842/C Helmeken/../../../Robsonís Directory **

1851/Mrs C Helmeken/../../../Kellyís Directory **

1851/Catherine Helmeken/Licensed Victualler, Widow/56/St Anns Covent Garden, Middlesex/Census
1851/Henry Helmeken/Son, Tailor/25/Whitechapel, Middlesex/Census
1851/Charles F Helmeken/Son, Carpenter/23/Whitechapel, Middlesex/Census
1851/Elizth Helmeken/Daughter, Dressmaker/19/Whitechapel, Middlesex/Census
1851/Catherine Perry/Daughter, Beer Shop Keeper, Widow/32/Whitechapel, Middlesex/Census

1856/Mrs G Helmeken/../../../Post Office Directory

July 1864/Catherine Helmeken/Outgoing Licensee/../../Era

July 1864/Herman Hostelman/Incoming Licensee/../../Era

November 1866/Herman Bostelman/Outgoing Licensee/../../Era

November 1866/Joseph Wells/Incoming Licensee/../../Era

August 1867/Joseph Wells/Outgoing Licensee/../../Era Newspaper

August 1867/William Fryer/Incoming Licensee/../../Era Newspaper

1869/Mrs Mary Ann Fryer/../../../Post Office Directory

January 1869/Mary Ann Fryer/Outgoing Licensee/../../Era

January 1869/Thomas Usher/Incoming Licensee/../../Era

January 1872/Thomas Usher/Outgoing Licensee/../../Era

January 1872/Richard Woods/Incoming Licensee/../../Era

1874/R Woods/../../../H.D. Miles London & Suburban Licensed Victuallers' Directory **

1881/Richard Woods/Licensed Victualler/46/Godalming, Surrey/Census
1881/Louisa W Woods/Wife/52/Hosden, Hertford/Census
1881/Alice Hulls/Niece, Barmaid/16/Cheshunt, Hertford/Census
1881/Albert Briant/Potman/26/Halstead, Essex/Census
1881/Lydia Mason/General Servant/17/Bury St Edmunds/Census

1882/Richard Woods/../../../Post Office Directory

1884/Richard Woods/../../../Post Office Directory

1886/Richard Woods/../../../Business Directory of London **

1891/Richard Woods/../../../Post Office Directory

1895/Frederick Willenbrock/../../../Post Office Directory

1899/Frederick Willenbrock/../../../Post Office Directory

1910/David Kingberg/../../../Post Office Directory

1911/David Kingberg/Licensed Victualler/29/Whitechapel, London/Census
1911/Kate Kingberg/Wife/28/Whitechapel, London/Census
1911/George Denham/Potman/41/Lambeth, London/Census
1911/Grace Sullivan/General Servant/20/Canning Town, London/Census

1914/David Kingberg/../../../Post Office Directory

1915/David Kingberg/../../../Post Office Directory

1934/Jacob Streletskie/../../../Post Office Directory

1935/Patrick F McGrath /../../../PO Directory **

1938/Hyman Louis Cohen/../../../Post Office Directory

1944/Joseph Cohen/../../../Post Office Directory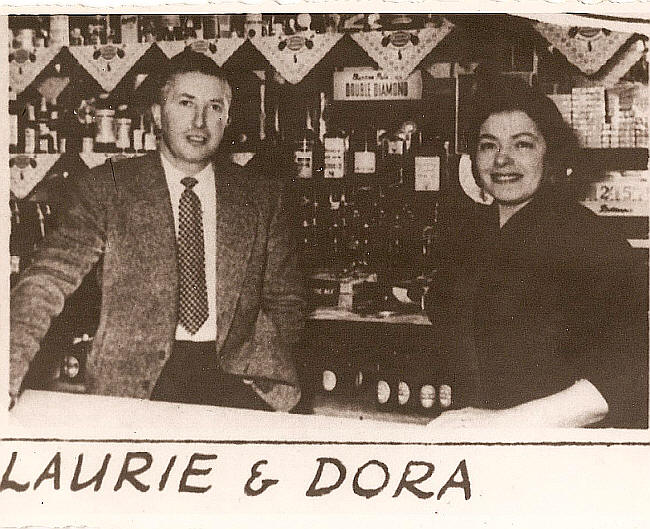 Laurie and Dora Rosenthal at the White Swan, Great Alie Street, Whitechapel - circa late 1950s
Kindly provided by Toni Koppel
My Great Grandmother, Mrs S Rosenthal, used to run the Frying Pan, in Brick Lane, Spitalfields. The last time I was there, I remember seeing a huge frying pan attached to the outside wall and before it was the Sheraz it was an Indian Restaurant called the Frying Pan. I had never noticed the frying pans in the terracotta work just below the roof until seeing pictures of them today on the internet. *

My grandfather was Laurie Rosenthal, (Sarah's son) and he used to run the White Swan in Great Alie Street. His wife, Dora, was famous around the East End for her lunches - she would make all types of deeply filled and delicious sandwiches and rolls, and every day she cooked something different in the tiny kitchen upstairs. Her steak and kidney pies were as famous as Betty's Hotpots from Corrie! As a child in the 1960s I used to stay there overnight occasionally (huge living quarters upstairs) and help make up the sandwiches and take them downstairs, and help my grandad washing up the glasses whilst standing on a chair to reach the sink behind the bar! Some of the customers used to put coppers in a Toby jug on the counter 'for the help'! *

1956/L Rosenthal/../../../BT Telephone Directory

1961/L Rosenthal/../../../BT Telephone Directory



* Provided By Toni Koppel

*** Provided By Stephen Harris