Search London wiki and Pub wiki history sites
All public house, restaurants, bars etc closed for the forseeable future from 20th March 2020, but this is a history site.
Lord Nelson, 299 Whitechapel road, Whitechapel E1
Whitechapel index
At 145 Whitechapel Road before 1910, latterly becoming 299 Whitechapel Road.
Historical London public houses, Taverns, Inns, Beer Houses and Hotels.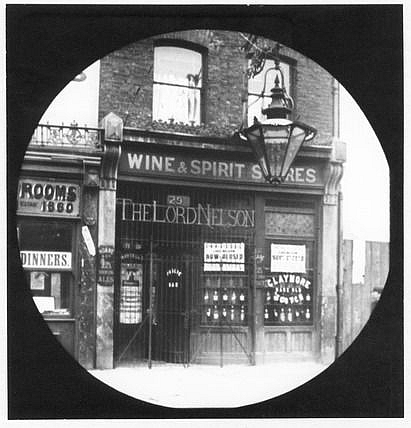 Lord Nelson, Whitechapel Road - in 1903
Kindly provided by John Carnaby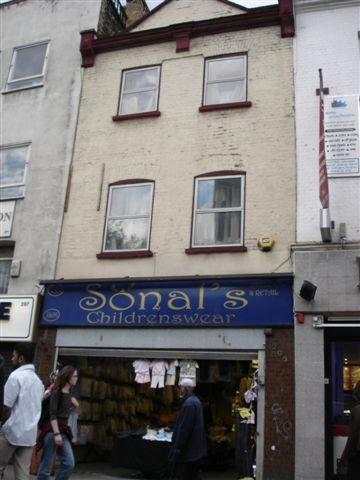 Lord Nelson, 299 Whitechapel Road, E1, formerly 145 Whitechapel Road. This pub closed prior to 1983 and the premises are now in use as a clothes shop.
Kindly provided by Stephen Harris
Residents at this address.
1817/Joseph Louch/Victualler/../../Records of the Sun Fire Office, held at Guildhall Library **

1818/John Pike/Victualler/../../Records of the Sun Fire Office, held at Guildhall Library **

1822/Thomas Clark/Victualler/../../Records of the Sun Fire Office, held at Guildhall Library **

1823/Francis Anderson/Victualler/../../Records of the Sun Fire Office, held at Guildhall Library **

1824/Edmund Edmondson/Victualler/../../Records of the Sun Fire Office, held at Guildhall Library **

1825/Edmund Edmondson/Victualler/../../Records of the Sun Fire Office, held at Guildhall Library **

1826/Charles Fraser/Victualler/../../Records of the Sun Fire Office, held at Guildhall Library **

1832/C Fraser/../../../Robsonís Directory

1835/J Campbell/../../../Robsonís Directory **

1839/John Pritchard/../../../Pigots Directory

1841/John Pritchard/../../../Post Office Directory

1842/F Hill/../../../Robsonís Directory **

1844/Wm. Gayler/../../../Thompsonís Directory **

1851/Edmund Gilbert/../../../Kellys Directory

1851/Edmund Gilbert/Publican/42/Chichester, Sussex/Census
1851/Elizabeth Gilbert/Wife/41/Shadwell, Middlesex/Census
1851/Emma Such/Visitor/6/Hackney, Middlesex/Census
1851/William Shepherd/Visitor, Gent/40//Census
1851/Sarah Giles/Barmaid/19/Stepney, Middlesex/Census
1851/Henry Hammond/Potman/29/Cambridgeshire/Census

1852/Edmund Gilbert/../../../Watkinís Directory **

1856/Edmund Gilbert/../../../Post Office Directory

1869/Edmund Gilbert/../../../Post Office Directory

November 1869/Edmund Gilbert, deceased, late occupier/ Outgoing Licensee /../../East London Observer

November 1869/Mary Ann Green Scarlett/ Incoming Licensee /../../East London Observer

October 1870/Edmund Gilbert/Outgoing Licensee/../../Clerkenwell News

October 1870/Mary Ann Green Scarlett/Incoming Licensee/../../Clerkenwell News

1874/Mary A G Scarlett/../../../H D Miles London & Suburban Licensed Victuallers Directory **

8th July 1876/James Finch/Outgoing Licensee/../../East London Observer +

8th July 1876/Robert Barber/Incoming Licensee/../../East London Observer +

July 1877/Robert Barter/Outgoing Licensee/../../East London Observer

July 1877/Edward Rochester/Incoming Licensee/../../East London Observer

1878/James Hall/../../../P.O. Directory **

May 1879/Robert Henry Dougan/Outgoing Licensee/../../East London Observer

May 1879/Stephen Beaumont/Incoming Licensee/../../East London Observer

1881/Elizabeth Beaumont/Publican, Widow/48/Salhouse, Norfolk/Census
1881/William Oatley/Barman/33/Romford, Essex/Census
1881/Elizabeth Bowes/Barmaid/24/Bow, Middlesex/Census
1881/Henry Smith/Potman/20/Ipswich, Suffolk/Census
1881/Clara Haydon/Domestic Servant/20/Plaistow, Essex/Census

1882/Stephen Beaumont/../../../Post Office Directory

1884/Robert W George/../../../Post Office Directory

1891/George Spink/Publican/45/Woolpit, Suffolk/Census
1891/Caroline Spink/Mother, Widow/71/Battlesden, Suffolk/Census
1891/Mary A Hunt/Niece, Publicana Assistant/28/Middlesex/Census
1891/John Jarvis/General Waiter/16/Middlesex/Census

1891/George Spinks/../../../Post Office Directory

1895/George Spinks/../../../Post Office Directory

1899/Geo Spinks/../../../Post Office Directory



+ Provided by Friends of Tower Hamlets Cemetery Park

** Provided By Stephen Harris