Search London wiki and Pub wiki history sites
All public house, restaurants, bars etc closed for the forseeable future from 20th March 2020, but this is a history site.
Nags Head, 17 & 19 Whitechapel road, Whitechapel E1
Whitechapel index
Until 1822 at least, this pub was called the Nagís Head & Woolpack. At 9 & 10 Whitechapel Road by 1910 **
Historical London public houses, Taverns, Inns, Beer Houses and Hotels.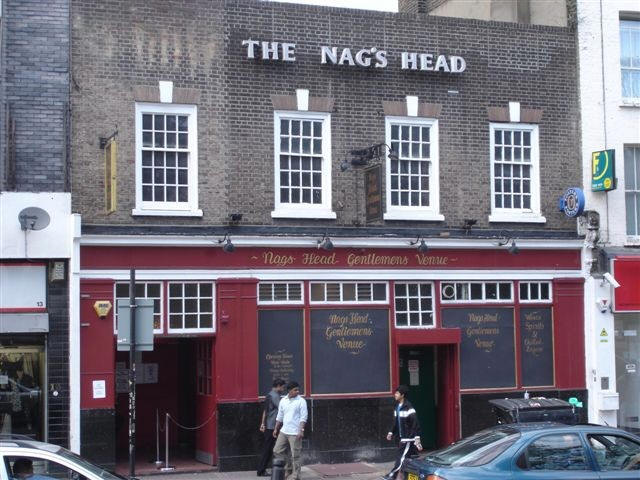 Nag's Head, 15 Whitechapel Road in August 2006. **
Kindly provided by Stephen Harris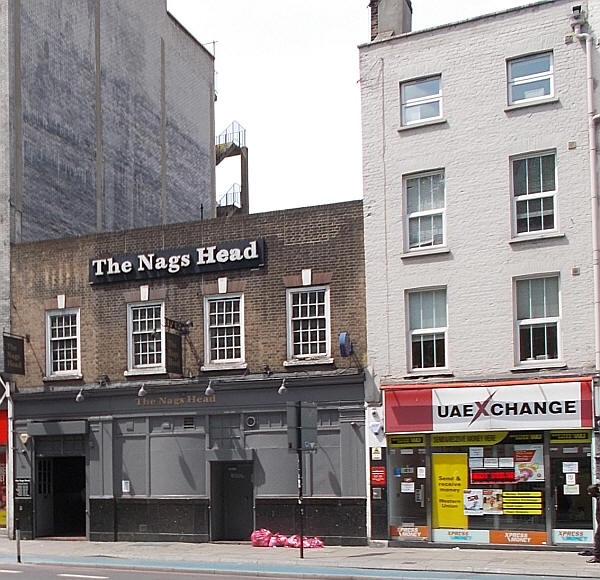 Nags Head, 17 - 19 Whitechapel Road in June 2018
Residents at this address.
1807/Edward Bryden/Stable Keeper & Victualler/../../National Archives ***

1814/Moses William Born/Victualler/../../Sun Fire Office Records, held at Guildhall Library **

1815/Thomas Lewis / Livery Stable Keeper /../../Porceedings of the Old Bailey **

1817/Allen & Co/Victuallers & Stable Keepers/../../Sun Fire Office Records, held at Guildhall Library **

1822/Lewis/Livery Stable Keeper/../../Sun Fire Office Records, held at Guildhall Library **

1824/Thomas Lewis/Livery Stable Keeper/../../Sun Fire Office Records, held at Guildhall Library **

1825/Thomas Lewis/Livery Stable Keeper/../../Sun Fire Office Records, held at Guildhall Library **

1825/Mr Pibell, Nags Head, Whitechapel road/../../Licensed Victuallers Association

1826/Thomas Lewis/Coachmaster/../../Sun Fire Office Records, held at Guildhall Library **

1827/William Hy Pibel/../../../Licensed Victuallers Association

1832/Thomas Lewis/../../../Robsonís Directory

1835/Hughes/../../../Robsonís Directory **

1839/John Smith/../../../Pigots Directory

1841/John Smith/../../../Post Office Directory

1842/John Smith/../../../Robsonís Directory **

1844/John Smith/../../../Thompsonís Directory **

1851/Anne Hadgley/Licensed Victualler, Widow/40/Brentwood, Essex/Census
1851/Anne Elizabeth Hadgley/Daughter/11/Spitalfields, Middlesex/Census
1851/Agnes Sarah Hadgley/Daughter/9/Spitalfields, Middlesex/Census
1851/Eliza Jane Hadgley/Daughter/7/West Ham, Essex/Census
1851/Frances Maria Hadgley/Daughter/2/West Ham, Essex/Census
1851/John Simmons/Lodger, Omnibus Conductor/30/Aldgate, Middlesex/Census
1851/Marion Palleton/Servant/18/Lambeth/Census
1851/Henry J White/Servant/21/Aldgate, Middlesex/Census
1851/Mary Crawley/Servant/28/Borough/Census

1852/Mrs Anne Hadgley/../../../Watkinís Directory **

1851/Edwd Robert Hadgley/../../../Kellys Directory

July 1853/Benjamin Herbert/Outgoing Licensee/../../Era

July 1853/John Marney/Incoming Licensee/../../Era

January 1855/Joseph Drinkwater jun/ Outgoing Licensee /../../The Era

January 1855/Joseph Drinkwater sen/ Incoming Licensee /../../The Era

1856/Joseph Drinkwater/../../../Post Office Directory

October 1856/Joseph Drinkwater/ Outgoing Licensee /../../The Era

October 1856/Samuel Phillips/ Incoming Licensee /../../The Era

May 1858/Samuel Phillips/Outgoing Licensee/../../East London Observer

May 1858/Henry Jones/Incoming Licensee/../../East London Observer

May 1859/Henry Jones/Outgoing Licensee/../../Era Newspaper

May 1859/Elizabeth Jones/Incoming Licensee/../../Era Newspaper

October 1863/Charles White/Outgoing Licensee/../../East London Observer +

October 1863/Jane Bannan/Incoming Licensee/../../East London Observer +

1869/Mrs Jane White/../../../P.O. Directory **

1878/Mrs Jane White/../../../P.O. Directory **

1881/Jane B White/Licensed Victualler, Widow/61/London Fleet St , Middlesex/Census
1881/George J White/Son, Wine Merchant/27/Pimlico, Middlesex/Census
1881/Ada I Morley/Grand Daughter/11/Whitechapel, Middlesex/Census
1881/Florence Morley/Grand Daughter/9/Stratford, Middlesex/Census
1881/Chas G White/Grandson/6/Hammersmith, Middlesex/Census
1881/Ada Wincles/Barmaid/21/Whitechapel, Middlesex/Census
1881/Frederick Norton/Potman/21/Enfield, Middlesex/Census
1881/Catherine Heley/General Servant/45/Poplar, Middlesex/Census

1882/White & Co/../../../Post Office Directory

1899/William Gable/../../../Post Office Directory

1891/George G White/Publican/37/Pimlico, London/Census
1891/Maud M White/Wife/29/Southwark, London/Census
1891/Bertie White/Son/5/Whitechapel, London/Census
1891/Geoffery G G White/Son/3/Whitechapel, London/Census
1891/Frederick S White/Son/2/Whitechapel, London/Census
1891/Mabel M White/Daughter/6/Whitechapel, London/Census
1891/Jane White/Mother, Widow/72/City London/Census
1891/Charles G White/Nephew/16/Hammersmith, London/Census
1891/Rose Barber/Barmaid/21/Erith, Kent/Census
1891/Lily Summers/Barmaid/18/Noak Hill, Essex/Census
1891/Mary C Carter/Barmaid/22/Islington, London/Census
1891/Sarah E Thrussle/Cook, Widow/36/Stamford Hill, London/Census
1891/Julia Connor/Nurse/16/Whitechapel, London/Census

1910/Lezers Leber/../../../P.O. Directory **

1911/Lazarus Leber/Licensed Victualler/37/Poland, Russia/Census
1911/Rebecca Leber/Wife/32/City, London/Census
1911/Isaac Coleman/Barman/36/London/Census
1911/Ada Cooper/Cook/27/Brentford, Middlesex/Census
1911/Charles Clifford/Potman/30/London/Census
1911/Laura Buchman/Cook/16/Tingmere/Census
1911/Sarah Jacobs/Sister, Assistant/24/Russia/Census

1912/Lezers Leber/../../../P.O. Directory **

1921/Jacob Streletskie/../../../Post Office Directory

1924/Jacob Streletskie/../../../Post Office Directory

1930/Joseph Perkoff/../../../Post Office Directory

1934/Joseph Perkoff/../../../Post Office Directory

1938/Joseph Perkoff/../../../Post Office Directory

1944/Joseph Perkoff/../../../Post Office Directory



+ Provided by Friends of Tower Hamlets Cemetery Park

** Provided by Stephen Harris

*** Provided by Wendy Howard