Search London wiki and Pub wiki history sites
All public house, restaurants, bars etc closed for the forseeable future from 20th March 2020, but this is a history site.
Archers Tavern, 42 Osborn street, Whitechapel E1
Whitechapel index
Formerly Archers Tavern. Address formerly 24 Osborn Street. **
A listing of historical public houses, Taverns, Inns, Beer Houses and Hotels in Whitechapel, London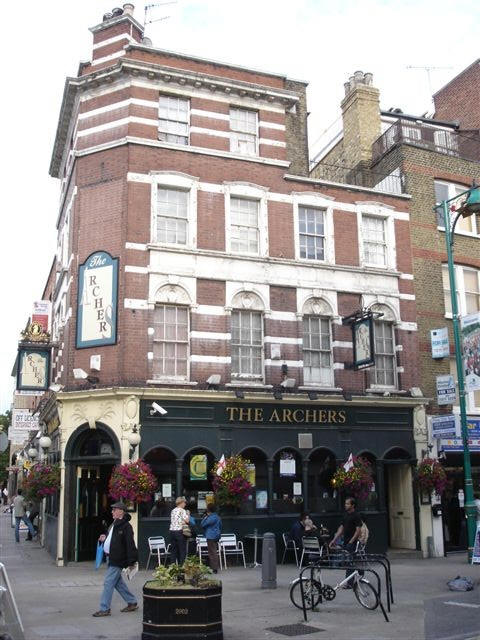 The Archers, 42 Osborn Street - in August 2006
Kindly provided by Stephen Harris
The following entries are in this format:
Residents at this address.
1821/Stephen Lacey/Victualler/../../Sun Fire Office Records, held at Guildhall Library ***

1822/Thomas Nicholson/Victualler/../../Sun Fire Office Records, held at Guildhall Library ***

1829/T Nicholson, Archers, 12 Osborne Street, Whitechapel/../../Robsons Directory

1833-34/Thomas Nicholson, Archer, 12 Osborn Street, Whitechapel/../../Pigots Directory

1838/Robert Passmore / Licensee/../../Proceedings of the Old Bailey **
1838/William Passmore / Father in Law/../../Proceedings of the Old Bailey
1838/George Evans / Waiter/../../Proceedings of the Old Bailey
1838/Emma Frances Williams / Servant/../../Proceedings of the Old Bailey

1839/Robert Passmore/../../../Pigotís Directory ***

1841/William Price/../../../Post Office Directory

1842/William Price/../../../Robsonís Directory ***

1846/G F Bullwinckell/../../../Post Office Directory

1848/George Fred Bullwinckle/../../../Post Office Directory

1851/George Fred Bullwinckle/../../../Kellys Directory

1851/George Frederick Bullwinckle/Publican/64/Germany/Census
1851/Sarah Bullwinckle/Wife/30/Hackney, Middlesex/Census
1851/Jno Frederick Bullwinckle/Son/2/Whitechapel, Middlesex/Census
1851/Sarah Bullwinckle/Daughter/6/Hackney, Middlesex/Census
+ Lodgers

March 1853/George Frederick Bullwinkle/ Outgoing Licensee /../../Morning Advertiser

March 1853/William Morgan/ Incoming Licensee /../../Morning Advertiser

1855/William Morgan / Licensed Victualler/../../London Gazette, 16 February 1855 **

March 1859/Ann Savage (late Dosscher)/Outgoing Licensee/../../Era

March 1859/William Savage, her husband/Incoming Licensee/../../Era

1862/William Savage/../../../Post Office Directory

January 1864/William Savage, late occupier/Outgoing Licensee/../../East London Observer +

January 1864/Ann Savage/Incoming Licensee/../../East London Observer +

29th September 1866/Charles Wilson jun, executor of Ann Savage late occupier/Outgoing Licensee/../../East London Observer +

29th September 1866/Henry Farrow/Incoming Licensee/../../East London Observer +

1869/Henry Farrow/../../../Post Office Directory

1873/Henry Farrow/../../../www.casebook.org ***

1874/H Farrow/../../../H.D. Miles London & Suburban Licensed Victuallers' Directory **

1881/Sarah Farrow/Licensed Victualler, Widow/47/Hornchurch, Essex/Census
1881/Minnie Farrow/Daughter/12/Whitechapel, Middlesex/Census
1881/Rosetta White/Niece, Dressmaker/21/Rainham, Essex/Census
1881/Annie Adcock/Visitor/18/St Georges, Middlesex/Census
1881/Alfred Lanish/Barman/22/Spitalfields, Middlesex/Census

1882/Mrs Sarah Farrow/../../../Post Office Directory

1886/Sarah Farrow/../../../Business Directory of London ***

1895/John Goddard/../../../Post Office Directory

1899/Fred Vickers Nisbet/../../../Post Office Directory

1906/Henry William Paine/../../../Morrisí Business Directory of London ***

1909/Henry William Paine/../../../P.O. Directory ***

1912/Henry William Paine/../../../P.O. Directory ***

1915/Henry William Paine/../../../Post Office Directory

1921/Harry Max/../../../Hughes Directory

1938/Simon Green/../../../Post Office Directory

1951/Henry Green/../../../P.O. Directory ***

1983/../Archers, 42 Osborn Street E1 : Whitbreads. /../../Pub Directory

1991/../Archers, 42 Osborn Street E1 : Whitbreads. /../../Pub Directory




+ Provided by Friends of Tower Hamlets Cemetery Park

** Provided By Pete Smee

*** Provided By Stephen Harris