Search London wiki and Pub wiki history sites
All public house, restaurants, bars etc closed for the forseeable future from 20th March 2020, but this is a history site.
Prince of Denmark, 1 Graces alley, Wellclose square, Whitechapel E1
Whitechapel index
Early records list this as the King of Denmark. Also known as the Mahogany Bar in the 1861 census and at other times. Now incorporates Wiltons Music Hall. ** Graces alley in 1832.
Historical London public houses, Taverns, Inns, Beer Houses and Hotels.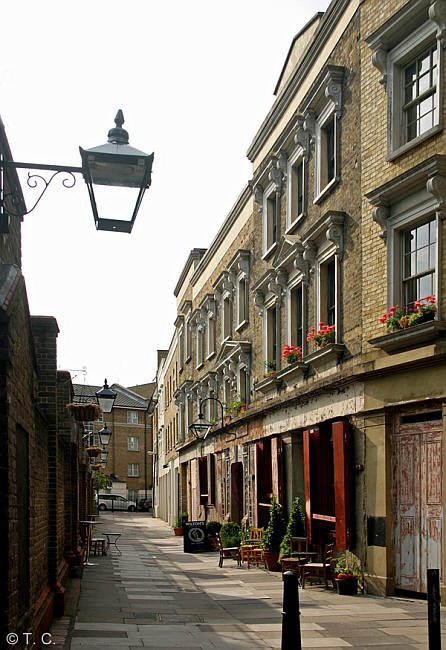 Prince of Denmark, 1 Graces Alley, E1 - in March 2014
Kindly provided by Tris
Residents at this address.
By at least March 1818 when the next Eden child was baptised, Allrich Eden was living at No 1 Grace's Alley, Wellclose Square above the King of Denmark, and this is where the first sheet of my Truman's transcription comes in. He had previously been at the Horn & Horseshoes. In Allrich's will of May 1821, it states (twice) he was "at the Sign of the King of Denmark, Grace's Alley, Wellclose Square". Further evidence of this is Pigot's Commercial Directory for 1826/27 and Pigot's Metropolitan Directory for 1827, in which his son-in-law, James Lemon (who married his eldest daughter, Sarah Eden) is also shown at the "Mahogany Bar PH" Grace's Alley, Wellclose Square, which was the same place basically. Allrich Eden died in January 1826 so this last directory was a bit out of date by then! *

1818/Allrich Eden/../../../Baptism *

1821/Allrich Eden/../../../Will *

1826-27/Allrich Eden/../../../Pigots Directory *

1827/James Lemon/../../../Pigots Directory *

What's incredibly interesting about the King of Denmark and the Mahogany Bar in Grace's Alley is that they are still there, operated by the Wilton's Music Hall people. John Wilton built the Music Hall in the backyards of house 1-4 in Grace's Alley in 1858, but he retained the pub. James Lemon took over the pub from Allrich Eden in 1826 and Matthew Eltham was the Victualler by 1830 when it was known as the Prince of Denmark, but the Mahogany Bar is still there. *

1833-34/Matthew Eltham, Prince of Denmark, 1 Graces Alley/../../Pigot's Directory

1839/Matthew Eltham/../../../Pigots Directory

October 1848/Matthew Eltham/Music License/../../Era Newspaper

1851/John Wilton/../../../Kellys Directory

1856/John Wilton/../../../Post Office Directory

1861/John Wilton/Licensed Victualler/40/Bath, Somerset/Census
1861/Ellen Wilton/Wife/33/Bath, Somerset/Census
1861/Elizabeth Ashbolt/Barmaid/24/Woodwalton, Huntingdonshire/Census
1861/Angelina Whitchurch/Barmaid/23/Bristol, Somerset/Census
1861/Emma Jacobs/Barmaid/23/Huntingdon, Huntingdonshire/Census
1861/Elizabeth Marshall/Barmaid/20/Limehouse, Middlesex/Census
1861/Ellen Cooper/Barmaid/18/Bloomsbury, Middlesex/Census
1861/Margaret Adshead/Cook/45/Herefordshire/Census
1861/Ann E Greensted/Housemaid/39/Bermondsey, Surrey/Census
1861/George H Clark/Waiter/40/Islington, Middlesex/Census
1861/James Lawrence/Waiter/27/Ipswich, Suffolk/Census

1869/John Wilton/Wine & Spirit Merchant/../../Post Office Directory

1871/George Robinson/Licensed Victualler/56/London/Census *+
1871/Julia Robinson/Wife/52/Birmingham, Warwickshire/Census
1871/Kate Robinson/Daughter/9/Melbourne, Australia/Census
1871/Esther Robinson/Daughter/8/Melbourne, Australia/Census
1871/Henrietta Harding/Visitor/21/Plymouth, Devon/Census
1871/Hannah Ward/Cook/30/London/Census
1871/Mary Murthgh/Housemaid/24/London/Census
1871/John Wood/Barman/26/London/Census
1871/James Brown/Under Barman/21/London/Census
1871/William Farrold/Potman/25/Wells, Norfolk/Census
1871/William Taylor/Barman/21/Bedfordshire/Census

8th July 1876/George Henry Fredericks/Outgoing Licensee/../../East London Observer +

8th July 1876/Henry Hodgkinson/Incoming Licensee/../../East London Observer +




+ Provided by Friends of Tower Hamlets Cemetery Park

* Provided By Tom Eden

*+ Provided By Ewan

** Provided By Tris