Old Red Lion, 217 Whitechapel Road, Whitechapel
Whitechapel index
In 1877 described as Road side. Before 1910 at 103 Whitechapel Road
Historical London public houses, Taverns, Inns, Beer Houses and Hotels.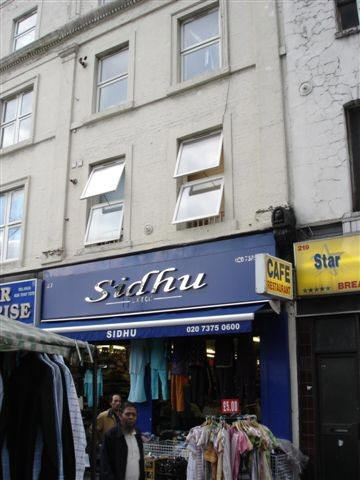 Old Red Lion, 217 Whitechapel Road - formerly the Red Lion & formerly at 103 Whitechapel Road. The Pub closed in 1991 - premises now in use as a shoe shop - photo taken August 2006.
Kindly provided by Stephen Harris
Residents at this address.
1811/J Austen, Red Lion, 103 Whitechapel road/../../Holdens Directory

1814/John Austin / Victualler /../../Sun Fire Office, records held at Guildhall Library **

1815/Moses William Born / Victualler /../../Sun Fire Office, records held at Guildhall Library **

1823/Moses William Born / Victualler /../../Sun Fire Office, records held at Guildhall Library **

1827/Samuel Reader Pamphilon / Victualler /../../Sun Fire Office, records held at Guildhall Library **

1828/Samuel Reader Pamphilon / Victualler /../../Sun Fire Office, records held at Guildhall Library **

1829/Michael Melvay / Victualler /../../Sun Fire Office, records held at Guildhall Library **

1830/Michael Melvey / Victualler /../../Sun Fire Office, records held at Guildhall Library **

1832/M Melveys/../../../Robson's Directory

1833-34/Michael Melvey, Red Lion, 103 Whitechapel road/../../Pigot's Directory

1833/Michael Melvey / Victualler /../../Sun Fire Office, records held at Guildhall Library **

1835/Melveys/../../../Robson's Directory **

1836/George Mark Perren / Victualler /../../Sun Fire Office, records held at Guildhall Library **

1839/George Mark Perren/../../../Pigots Directory

1841/John Siely/../../../Post Office Directory

1841/George Mark Perren/../../../per: Missing Ancestors website **

1842/G M Perren/../../../Robson's Directory **

1844/George Mark Perren/../../../Thompson's Directory **

August 1850/Edward Coddington/Outgoing Licensee/../../Era

August 1850/Nathaniel Brooks/Incoming Licensee/../../Era

1851/Nathaniel Brooks/Licensed Victualler/41/London, Middlesex/Census
1851/Ann Brooks/Wife/40/Horsham Sussex/Census
1851/Ann Brooks/Daughter/6/London, Middlesex/Census
1851/Nathaniel Brooks/Son/4/London, Middlesex/Census
1851/Walter Brooks/Son/2/London, Middlesex/Census
1851/Augusta Brooks/Daughter/1/London, Middlesex/Census
1851/Catherine Sullivan/House Servant/19/Leytonstone, Essex/Census
1851/James Heritage/Barman/23/Northamptonshire/Census
1851/Emma Matham/Under Servant/14/London, Middlesex/Census

1852/Nathaniel Brooks/../../../Watkin's Directory **

January 1853/Nathaniel Brooks/Outgoing Licensee/../../Era

January 1853/James Dyer/Incoming Licensee/../../Era

1855/Ann Dyer / Outgoing Licensee /../../The Era, Sunday 15 July 1855 **

1855/Thomas Harby Gill / Incoming Licensee /../../The Era, Sunday 15 July 1855 **

1856/Thomas Gill/../../../Post Office Directory

April 1865/Thomas H Gill, the later occupier/Outgoing Licensee/../../East London Observer +

April 1865/Sarah Maria Gill and Louisa Gill, executrices/Incoming Licensee/../../East London Observer +

May 1865/Sarah Maria and Louisa Gill/Outgoing Licensee/../../Era

May 1865/William Butcher/Incoming Licensee/../../Era

November 1865/William Butcher/Outgoing Licensee/../../Era

November 1865/William Wells/Incoming Licensee/../../Era

1869/John Waller/../../../P.O. Directory **

4th July 1868/John Waller/Outgoing Licensee/../../East London Observer +

4th July 1868/William Finch/Incoming Licensee/../../East London Observer +

August 1873/John Waller, deceased/Outgoing Licensee/../../East London Observer

August 1873/Jemima Waller, widow and executrix of John Waller/Incoming Licensee/../../East London Observer

January 1874/executors of Jemima Waller, deceased/Outgoing Licensee/../../East London Observer

January 1874/William Dean/Incoming Licensee/../../East London Observer

1878/John Mohrmann/../../../P.O. Directory **

January 1877/the executors of Johann Mohrmann, deceased, the late occupier/Outgoing Licensee/../../East London Observer

January 1877/Metta Adelbeid Mohrmann/Incoming Licensee/../../East London Observer

July 1878/M A Mohrmann/Outgoing Licensee/../../East London Observer

July 1878/T D Hill/Incoming Licensee/../../East London Observer

1881/George Crussell/Public House Manager/26/Corringham, Essex/Census
1881/Charles Eroms/Barman/22/Peckham, Surrey/Census
1881/Joseph Crussell/scholar/12/Lee, Kent/Census
1881/Henry Joyce/Barman/43/St Lukes, Middlesex/Census
1881/William Clover/Barman/33/Colchester, Essex,/Census
1881/Annie Manning/Domestic Servant/16/St Georges, Middlesex/Census

1882/Thomas David Hill/../../../Post Office Directory

1884/Joseph Stephen Munn/../../../Post Office Directory

1891/Joseph Munn/Licensed Victualler/60/Charlton, Kent/Census
1891/Charlotte R Munn/Wife/57/Chatham, Kemt/Census
1891/Herbert R Munn/Son/18/Bromley by Bow, London/Census
1891/Anne Driscoll/General Servant/33/Limehouse, London/Census
1891/Walter Whittaker/General Servant/20/Bethnal Green, London/Census

1891/Joseph Stephen Munn/../../../Post Office Directory

1895/Edward Horace Tyson/../../../Post Office Directory

1899/Edward O'Driscoll/../../../Post Office Directory

1901/William Jas Gordon/Licensed Victualler/44/Woolwich, Kent/Census
1901/Jenny Gordon/Wife/35/Woolwich, Kent/Census
1901/William Chas Gordon/Son/14/Woolwich, Kent/Census
1901/Henry Thomas Gordon/Son/10/Woolwich, Kent/Census
1901/Alfred Jas Gordon/Son/8/Woolwich, Kent/Census
1901/Lydia Graves/Barman/18/Canning Town, London/Census
1901/Ruby Stone/Cook/20/Leytyonstone, London/Census
1901/Thomas Sarvent/Potman/54/Colchester, Essex/Census
1901/Alice Raymond/Barmaid/21/Wapping, London/Census

1910/Martin Horn/../../../P.O. Directory **

1911/Martin Horn/Publican/50/Mainz, Germany/Census
1911/Theresa Horn/Wife/50/Germany/Census
1911/Mary Tacoby/Sister in Law, Barmaid/35/Stepney, London/Census
1911/Fred Tacoby/Brother in Law, Barman/33/Stepney, London/Census

1912/Martin Horn/../../../P.O. Directory **

1914/Martin Horn/../../../P.O. Directory **

1915/Martin Horn/../../../Post Office Directory

1921/Ralph Cartoof/../../../Post Office Directory

1923/Kindness Meron/../../../P.O. Directory **

1924/Kindness Meron/../../../Post Office Directory

1930/Daniel William Kingston/../../../Post Office Directory

1938/J R Murphy & Sons Ltd/../../../Post Office Directory

1940/J R Murphy & Sons Ltd/../../../Post Office Directory



+ Provided by Friends of Tower Hamlets Cemetery Park

** Provided By Stephen Harris