Search London wiki and Pub wiki history sites
All public house, restaurants, bars etc closed for the forseeable future from 20th March 2020, but this is a history site.
Royal Standard, 9 Well street, Whitechapel E1
Whitechapel index
The address is at 9 Well Street by 1899, earlier address is at 24 Well Street
Historical London public houses, Taverns, Inns, Beer Houses and Hotels.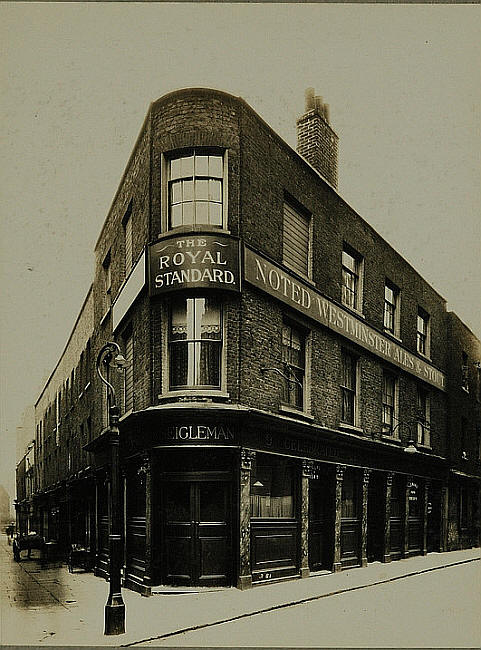 Royal Standard, 9 Well Street, Whitechapel E1
Residents at this address.
1781/William Russell / Victualler/../../London Gazette, 23 October 1781 **

1811/Barnet Wittwe, victualler, 24 Well street, Wellclose square/../../Holdens Directory

1815/Alexander Stewart / Victualler/../../Sun Fire Office records held at Guildhall Library **

1839/Chas. Mason/../../../Pigotís Directory **

1841/C Mason/../../../Post Office Directory **

1842/C Mason/../../../Robsonís Directory **

1848/Chas. Mason/../../../Post Office Directory *

1851/Chas. Mason/../../../Kellyís Directory **

1851/Charles Mason/Publican/56/Scotland/Census
1851/Mary Mason/Wife/41/Scotland/Census
1851/Amelia Nab/General Servant/20/Scotland/Census

1856/C Mason/../../../Post Office Directory

October 1866/Charles Rose/ Outgoing Licensee /../../The Era

October 1866/Henry Holt/ Incoming Licensee /../../The Era

1869/Harry Holt/../../../P.O. Directory **

1871/Henry Holt/Licensed Victualler/37/Poplar, Middlesex/Census *
1871/Hannah F. W. Holt/Wife/35/Chatham, Kent/Census
1871/Henry King/Barman/31/Poplar, Middlesex/Census
1871/Henry Anning/Lodger, Barman/28/St Georges, Middlesex/Census
1871/John Kean/Barman/25/St Georges, Middlesex/Census
1871/George Bardemstone/Potman/23/Litcham, Norfolk/Census
1871/Eliza Doughty/General Servant/26/Dinton, Wiltshire/Census
1871/Hannah Clunk/Assistant Servant/18/Bromley, Middlesex/Census

1878/Mrs Sarah Harris/../../../Proceedings of the Old Bailey **

1878/George Roberts / Manager/../../Proceedings of the Old Bailey **

1882/William Bishop/../../../Post Office Directory

1884/Alfred Challis/../../../Post Office Directory

1891/Henry Watson/../../../Post Office Directory

1891/William J Hill/Licensed Victualler, widow/53/Hackney, London/Census *+
1891/Florence M Hill/Daughter/16/Shoreditch, London/Census
1891/Horace J Hill/Son/9/Walthamstow, Essex/Census
1891/Emma J Hounslow/Sister in Law, Housekeeper/30/Maidstone, kent/Census
1891/George Lodge/Waiter/14/New Barnet, Hertfordshire/Census

1895/John Corbett/../../../Post Office Directory **

1899/John Corbett/../../../Post Office Directory **

1900/Harry Harris/../../../P.O. Directory **

1901/Harry Harris/Publican/33/Russia/Census *
1901/Ada Harris/Wife/31/St Marys E/Census
1901/Martha Harris/Daughter/4/St Marys E/Census
1901/Annie Harris/Daughter/3/St Marys E/Census
1901/Simon Harris/Son/6 months/St George in the East/Census
1901/Annie Mitchell/Barman/19/St George in the East/Census
1901/Harry Palmer/Potman/32/Camberwell/Census
1901/Sarah Ancliffe/Housemaid/43/Hythe, Kent/Census

1910/Henry Harris/../../../Post Office Directory

1911/Harry Harris/Licensed Victualler/44/Germany/Census
1911/Ada Harris/Wife/42/Stepney, London/Census
1911/Martha Harris/Daughter/14/Spitalsfield, London/Census
1911/Annie Harris/Daughter/13/Whitechapel, London/Census
1911/Simon Harris/Son/10/Stepney, London/Census
1911/Jack Harris/Son/2/Stepney, London/Census
1911/Hannah Mitchell/Barmaid/28/Stepney, London/Census
1911/William George Strutton/Barman/27/Haggerston, London/Census
1911/Sarah Ann Antcliff/Servant/53/Hythe, Kent/Census

1915/Joseph Tankard/../../../Post Office Directory *

1921/William Henry James/../../../Post Office Directory



* Provided By Ewan

*+ Provided By Garry Paxton

** Provided By Stephen Harris