Search London wiki and Pub wiki history sites
All public house, restaurants, bars etc closed for the forseeable future on 20th March 2020, but this is a history site. But how about the landlords give their tenants a break, no business, then please charge them no rent.
Seven Stars, 111, 112 & 113 Whitechapel High street, Whitechapel E1
Whitechapel index
This pub closed in 2005 and was demolished in 2006. **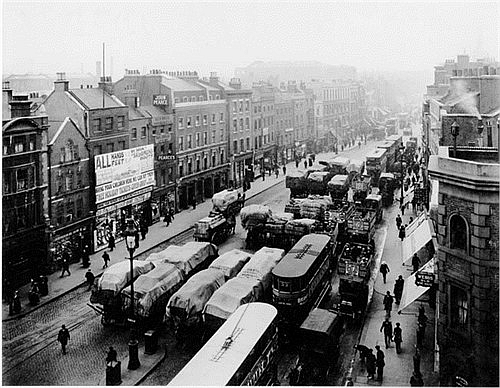 Seven Stars, Whitechapel High Street - circa 1914 (lower right corner)
Kindly provided by Graham Osborne
Historical London public houses, Taverns, Inns, Beer Houses and Hotels.
Residents at this address.
1744/Edward Morgan/../../../Proceedings of the Old Bailey **

1793/Nathaniel Turner/../../../Proceedings of the Old Bailey **

1811/Fran Boehm, Seven Stars, Whitechapel/../../Holdens Directory

1825/Mrs. Phillibrown, Seven Stars, Whitechapel/../../Licensed Victuallers Association

1829/Thomas Smith/../../../Robsonís Directory

1833-34/Thomas Smith/../../../Pigots Directory

1835/J Smith/../../../Robsonís Directory **

1836/Thomas Smith/../../../Pigots Directory

1839/George Webb/../../../Pigots Directory

1841/G Webb/../../../Post Office Directory

1842/George Webb/../../../Robsonís Directory **

1843/George Webb, Seven Stars, 111 Whitechapel High street /../../Kellys Directory

1851/George Webb/Wine & Spirit Merchant/50/Southwark, Surrey/Census
1851/Elizabeth Webb/Wife/42/Middlesex/Census
1851/Sarah Webb/Daughter/19/Middlesex/Census
1851/George Webb/Son, Pupil to Architecture/17/Middlesex/Census
1851/Ellen Webb/Daughter/12/Middlesex/Census
1851/Georgianna Chivers/House Servant/26/St Clements Strand/Census
1851/Lousia Grange/House Servant/19/Uxbridge, Middlesex/Census
1851/Sarah Hall/Servant/26/Hampshire/Census
1851/Ann Lawrence/Servant/44/Bath parish, Scotland/Census

1852/George Webb/../../../Watkinís Directory **

1856/George Webb/../../../Post Office Directory

1869/George Webb/Wine & Spirit merchant./../../Post Office Directory

16th May 1868/George Webb/Outgoing Licensee/../../East London Observer +

16th May 1868/James Gurney/Incoming Licensee/../../East London Observer +

1871/James Gurney/Wine & Spirit merchant./../../Post Office Directory

1875/James Gurney/Wine & Spirit merchant./../../Post Office Directory

1881/Charles A Williams/Manager/34/Colchester, Essex/Census
1881/Margery C Williams/Wife/25/Mistley, Essex/Census
1881/Ethel M Williams/Daughter/5/Brixton, Surrey/Census
1881/Winnifred M Williams/Daughter/3/Brixton, Surrey/Census
1881/Beatrice E Williams/Daughter/1 month/Whitechapel, Middlesex/Census
1881/Sarah A Young/Nurse (SMS)/39/Crewkerne, Somerset/Census
1881/Elizabeth A Welsh/Governess/44/Wimborne, Dorset/Census
1881/Anna M Harrington/Cook/22/Pentlow, Essex/Census
1881/Mary Chambers/Housemaid/15/Cavendish, Suffolk/Census
1881/Henry Hallam/Barman/23/London City, Middlesex/Census
1881/Charles Randall/Barman/16/Southampton/Census
1881/Mary Ann Ellis/Barmaid/39/Clerkenwell, Middlesex/Census
1881/Elizabeth Blank/Barmaid/29/St Albans, Hertford/Census
1881/Anne M Bartley/Barmaid/30/Morcombe, Dorset/Census
1881/Emily Snow/Barmaid/24/Lambeth, Surrey/Census
1881/Alice Merchant/Barmaid/18/Horsley Down, Surrey/Census

1886/James Cox / Barman /../../Proceedings of the Old Bailey **
1886/Ada Hewitt / Barmaid /../../Proceedings of the Old Bailey
1886/Henry Allum / Employee /../../Proceedings of the Old Bailey
1886/Thomas Higginson / Head Barman /../../Proceedings of the Old Bailey
1886/John Edwards / Barman /../../Proceedings of the Old Bailey
1886/Richard Hart / Door Porter /../../Proceedings of the Old Bailey

(Name: - Kent & Essex ?)
1901/Charles Seymour/Public House Manager/41/Chinnor, Oxon/Census
1901/William Osborne/Barman/20/Roydon, Essex/Census
1901/Harold Le Mottee/Barman/22/Jersey/Census
1901/Frederick Witham/Barman/21/Stratford, Essex/Census
1901/Henry Appleby/Barman/20/Stepney, London/Census
1901/William Morgan/Barman/19/Enfield, Middx/Census
1901/John H Harris/Barman/19/Stepney, London/Census
1901/Frank Sparrowhead/Barman/20/Marylebone, London/Census
1901/James Ridgeon/Barman/24/Bury St Edmunds, Suffolk/Census
1901/Mary Havanagh/Cook/30/Castleray, Ireland/Census
1901/Jane Havanagh/Housemaid/23/Castleray, Ireland/Census

It was managed by my Great-Grandfather until 1923, his name was William Osborne and was born in Roydon, Essex. He became barman in 1901 and was later promoted to manage the whole pub on behalf of Webbs & Co from at least 1911 (probably earlier but this is the earliest documented date I can find so far & is confirmed on the 1911 census) until around 1923. Why he stopped working there is rather a mystery; as he went from a poor farm labourers son in 1900 to EXCEEDINGLY stinking rich within a few years working at the pub then died a very poor man in 1925. *

1904/Webb & Co/Wine & Spirit merchants/../../Post Office Directory

1911/Alfred W F Craggs/Public House Manager/39/Southampton/Census *
1911/Denry Alfred Craggs/Son/14/Forest Gate, Essex/Census
1911/Henry Maidment/Cellerman/24/East Ham, Essex/Census
1911/Ernest Pearce/Barman/25/Sevenoaks, Kent/Census
1911/Edward Bristow/Barman/23/Stepney Green/Census
1911/Rowland Ballard/Barman/21/Tamworth, Staffordshire/Census
1911/James Carson/Barman/21/Chapeltown Luke, York/Census
1911/Sydney Dodd/Barman/21/Shoreditch, London/Census
1911/Ada Todeland/General Servant/29/Camberwell/Census
1911/Lilian Challenger/General Servant/28/Prckham/Census

1915/Webb & Co/Wine & Spirit merchants/../../Post Office Directory

1916/Webb & Co/Wine & Spirit merchants/../../Post Office Directory

1921/Webb & Co/Wine & Spirit merchant./../../Post Office Directory

31st July 1923/NOTICE is hereby given, that the Partnership heretofore subsisting between me, the undersigned, Ella Mabel Barker and William Osborne, carrying on business as Licensed Victuallers, at 111 & 112, High-street, Whitechapel, under the style or firm of "WEBB & CO.," has been dissolved... /London Gazette *

1938/William Barker & Sons (D Ds Ltd)/../../../Post Office Directory



+ Provided by Friends of Tower Hamlets Cemetery Park

* Provided By Graham Osborne

** Provided By Stephen Harris