Shakespeare Arms, 16 Bakers row, Whitechapel E1
The address in the 1881 and 1891 census is at 16 Whites Row. The address is on the east side of Vallance Road close to / or at the junction with Durward Street. By 1934 this is the site of a Jewish synagogue at 12 & 14 Vallance Road and today (2013) is a range of shops.
Whitechapel index
Historical London public houses, Taverns, Inns, Beer Houses and Hotels.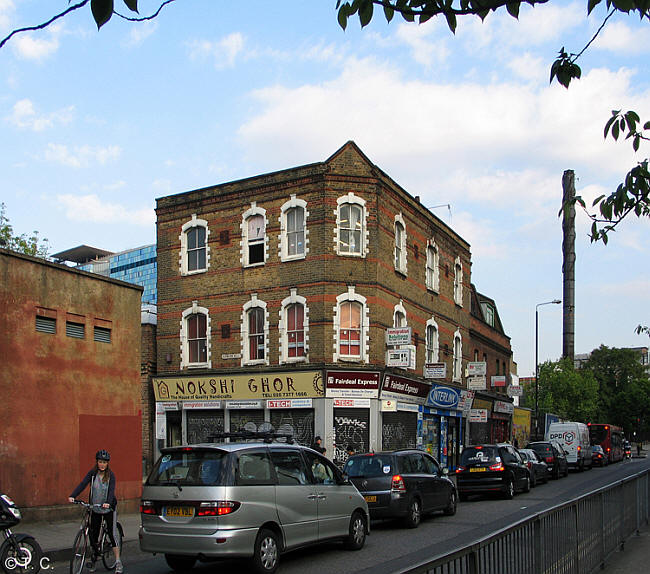 Shakespeare Arms, 16 Bakers Row, E1 - in May 2014
Kindly provided by Tris
Residents at this address.
In 1869 Joseph Mereday is listed as being a Beer Retailer at the Veteran, 247 Whitechapel Road.

1875 & 1876/Joseph Mereday/25 Bakers Row/../Electorial Roll

1877 to 1882/Joseph Mereday/16 Bakers Row/../Electorial Roll

6 November 1878, Marriage at St Giles, of John Pickett, aged 27 of Lower White Cross Street to Alice Mereday, aged 21 of 82 Coleman Street. Parents are John Pickett, Boot maker and Joseph Mereday, Licensed Victualler.

1881/Joseph Mereday/Beer House Keeper/56/Coggeshall, Essex/Census
1881/Jane Mereday/Wife/56/Coggeshall, Essex/Census
1881/Ellen Mereday/Daughter/16/Whitechapel, Middlesex/Census

12 July 1883. Administration of the Personal Estate of Joseph Mereday late of the Shakespeare Beerhouse, bakers Row, Whitechapel in the county of Middlesex Beer Retailer who died 14 may 1883 at the Shakespeare was granted at the Principal Registry to Alice Piggott (Wife of John Piggott) of the Shakespeare the daughter and one of the next of kin/Wills

1891/John Piggott, Beer Retailer, 16 Bakers Row/../../Post Office Directory

1891/John Piggott/Licensed Victualler/35/Dunmow, Essex/Census
1891/Alice Piggott/Wife/29/Whitechapel, London/Census
1891/John Piggott/Son/13/Whitechapel, London/Census
1891/Lily Piggott/Daughter/11/Whitechapel, London/Census
1891/Sarah Barker/General Servant/19/Whitechapel, London/Census

1895/Henry Bailey/Beer Retailer, 16 Bakers Row/../../Post Office Directory

1899/Wm Geo Jones/Beer Retailer, 16 Vallance Road/../../Post Office Directory

1901/William G Jones/Beer House Keeper/25/Bethnal Green, London/Census
1901/Jennie Jones/Wife/22/Bethnal Green, London/Census
1901/Violet W Jones/Daughter/4/Bethnal Green, London/Census
1901/William H Jones/Son/3/Whitechapel, London/Census
1901/Thomas P Jones/Son/4 months/Whitechapel, London/Census
1901/Marion Curtiss/Aunt, Widow/60/Whitechapel, London/Census
1901/Anne Warren/Domestic Servant/21/Bethnal Green, London/Census

1901/William George Jones/../../Electoral Roll

Sarah Mary Oakman (nee Daniels), was my great aunt and married William George Oakman in the Parish Church in West Ham on 18 September 1898. Electoral registers up until 1927 show William Oakman at 16 Vallance Road, and his wife up to 1925 before she died in 1926. William seems then to have moved to live with relatives and died in 1928. *

My aunt - Violet Stanton - worked at the pub as a very young girl, I think behind the bar. Sarah Mary Oakman was known as 'Aunt Molly'. *

1910/William George Oakman/Beer Retailer, 16 Vallance Road/../../Post Office Directory

1911/William Oakman/Beer Retailer/37/Middlesex/Census
1911/Sarah Oakman/Wife, Assistant/39/Middlesex/Census
1911/George Oakman/Son, Vanguard/17/Essex/Census
1911/William Oakman/Son/10/Essex/Census
1911/Dorothy Oakman/Daughter/8/Middlesex/Census
1911/Henry Oakman/Son/7/Middlesex/Census
1911/Annie Oakman/Daughter/6/Middlesex/Census
1911/Albert Oakman/Son/5/Middlesex/Census
1911/Sophie Rose/Servant/19/Middlesex/Census

1915/William George Oakman/../../Electoral Roll

1921/William George Oakman/Beer Retailer, 16 Vallance Road/../../Post Office Directory

1925/William George Oakman/16 Vallance Road/../../Electoral Register *
1925/Sarah Oakman/16 Vallance Road/../../Electoral Register

1927/William George Oakman/16 Vallance Road/../../Electoral Register *



* Provided By Janet Mutch

** Provided By Stephen Harris