Search London wiki and Pub wiki history sites
All public house, restaurants, bars etc closed for the forseeable future from 20th March 2020, but this is a history site.
Sir Sidney Smith, 22 Dock street, Whitechapel E1
Whitechapel index
Named the Sir Sidney Smith before 1910; and for a brief period in the 1980s and 1990s before being re-named Pepper Pot in 1998 ** The address is given as 11 Dock Street in the 1869 and earlier, prior to street renumbering. *
Historical London public houses, Taverns, Inns, Beer Houses and Hotels.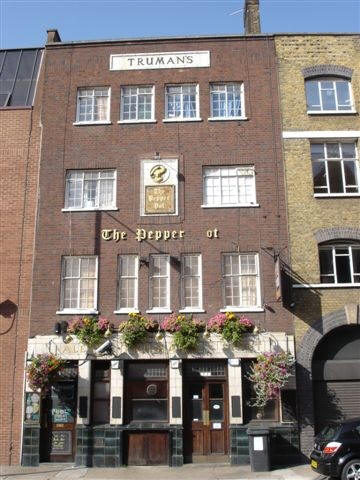 Pepper Pot, 22 Dock Street - in September 2006
Kindly provided by Stephen Harris
Residents at this address.
1816/Henry Mogge/Victualler/../../Sun Fire Office records, held at Guildhall Library **

1825/George Snow / Waiter /../../Proceedings of the Old Bailey **

1839/Hy. Moggee/../../../Pigotís Directory **

1841/Henry Mogge/../../../P.O. Directory **

1842/H Mogge/../../../Robsonís Directory **

1848/Chas. F. Taylor/../../../Post Office Directory *

1851/Henry Mogge/../../../Kelly's Directory

1851/Maria Mogge/Annuitant (Widow)/60/London, Middlesex/Census *
1851/Henry Mogge/Son, Publican/30/London, Middlesex/Census
1851/Mary Perry/Daughter (Widow), Annuitant/36/London, Middlesex/Census
1851/Maria Perry/Daughter/13/London, Middlesex/Census
1851/Mary Ann Perry/Daughter/11/London, Middlesex/Census
1851/Margaret Altridge/House Servant/22/Cork, Ireland/Census
1851/William Blandford/Waiter/37/Stepney, Middlesex/Census

1856/H Mogge/../../../Post Office Directory

1861/Maria Mogge/Retired Publican (Widow)/70/Middlesex WC/Census *
1861/Henry Mogge/Son, Victualler/40/Middlesex WC/Census
1861/Elizabeth Ann Wright/Daughter/47/Aldgate, Middlesex/Census
1861/Mary Ann Perry/Daughter/46/Aldgate, Middlesex/Census
1861/Mary Ann Dobney/House Servant/19/Wapping, Middlesex/Census
1861/John Rearden/Waiter/19/Ireland/Census
1861/Thomas Bownes/House Servant/16/Enfield, Middlesex/Census

January 1863/Henry Moggs/Outgoing Licensee/../../Era Newspaper

January 1863/Nicholas Pollyblank/Incoming Licensee/../../Era Newspaper

July 1864/Nicholas Pollyblank/Outgoing Licensee/../../Era

July 1864/James Richard Andrews/Incoming Licensee/../../Era

November 1866/James Richard Andrews/Outgoing Licensee/../../Era

November 1866/Thomas Gooding/Incoming Licensee/../../Era

1869/Thomas Gooding/../../../Post Office Directory

1871/Edward Banks/Licensed Victualler/34/Essex/Census
1871/Lydia Banks/Wife/34/Kent/Census
1871/Laura C Banks/Daughter/10/Dorset/Census
1871/Annie E Banks/Daughter/8/Dorset/Census
1871/Ronald E Banks/Son/5/Dorset/Census
1871/William H Banks/Son/3/Surrey/Census
1871/Lydia L Banks/Daughter/6/Dorset/Census
1871/Jesse J Banks/Daughter/2/Surrey/Census
1871/Frederick M Banks/Nephew, Messenger/17/Essex/Census
1871/Emma A Drew/Servant/13/Essex/Census

30th September 1871/Edward Banks/Outgoing Licensee/../../East London Observer +

30th September 1871/John Mann/Incoming Licensee/../../East London Observer +

January 1873/John Mann/Outgoing Licensee/../../East London Observer

January 1873/Edward Beaumont Cranfield/Incoming Licensee/../../East London Observer

August 1874/Edward Beaumont Cranfield/Outgoing Licensee/../../East London Observer

August 1874/George Devison/Incoming Licensee/../../East London Observer

6th March 1875/George Davison/Outgoing Licensee/../../East London Observer +

6th March 1875/Henry white/Incoming Licensee/../../East London Observer +

August 1875/Henry White/Outgoing Licensee/../../East London Observer

August 1875/Charles Bigg/Incoming Licensee/../../East London Observer

1881/Charles Bigg/Licensed Victualler/37/Poplar, Middlesex/Census
1881/Catherine Bigg/Wife/32/Bristol/Census
1881/Alfred Burton/Potman/28/Tickhill, York/Census
1881/Emily Cooper/Servant Domestic/11/Poplar, Middlesex/Census

1882/Charles Bigg/../../../Post Office Directory

1884/Charles Bigg/../../../Post Office Directory *

1891/Charles Bigg/../../../Post Office Directory

1891/James Wead/Manager Publican/35/Rickmansworth, Herts/Census
1891/Elizabeth Wead/Wife/37/Glemsford, Suffolk/Census
1891/Emily Wead/Daughter/7/Kilburn, London/Census
1891/William Wead/Son/5/Kilburn, London/Census
1891/Percy Cole/Potman/19/Peckham, London/Census

1895/Charles Bigg/../../../Post Office Directory

1899/Charles Bigg/../../../Post Office Directory

1906/Abraham Harris/../../../P.O. Directory **

1910/Harry Hewlett/../../../Post Office Directory

1911/Harry Hewlett/Licensed Victualler/44/Edmonton, Middlesex/Census
1911/Annie Hewlett/Wife/29/Dublin, Ireland/Census
1911/Elizabeth Golding/Domestic Servant, Widow/45/St Georges East/Census
1911/William Hall/Potman/32/Clapham/Census
1911/Bert Brown/Barman/21/Whitechapel/Census
1911/Charlie Salter/Boarder, Clerk/47/Stepney/Census

1915/Harry Hewlett/../../../Post Office Directory *

1921/Harry Hewlett/../../../Post Office Directory

1934/William Charles Harling/../../../Kelly's Directory

1938/William Charles Harling/../../../Post Office Directory

1944/William Charles Harling/../../../Post Office Directory *




+ Provided by Friends of Tower Hamlets Cemetery Park

* Provided By Ewan

** Provided By Stephen Harris