Search London wiki and Pub wiki history sites
All public house, restaurants, bars etc closed for the forseeable future from 20th March 2020, but this is a history site.
Black Lion, 11 Whitefriars Street, Whitefriars Precinct
Whitefriars index
This inn was present by 1721 and is now long-demolished. ** It is listed as the Black Lion, 10 Water lane in the early 1840s.
Historical London public houses, Taverns, Inns, Beer Houses and Hotels.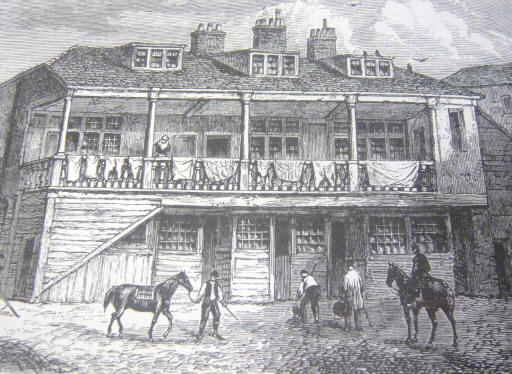 Black Lion, 10 Whitefriars Street, EC4 - an engraving showing the innís courtyard published in 1859
Kindly provided by Stephen Harris
Residents at this address.
1801/Mr Haylett / Public House Keeper/../../Proceedings of the Old Bailey **

1805/William Haylett, Black Lion, Water lane, Fleet street/../../Holdens Directory

1808/Robert Cooper/../../../Sun Fire Office records held at Guildhall Library **

1810/Robert Cooper / Innkeeper/../../Sun Fire Office records held at Guildhall Library **

1814/Robert Cooper / Inn Keeper/../../Sun Fire Office records held at Guildhall Library **

1815/Robert Cooper / Innkeeper/../../Sun Fire Office records held at Guildhall Library **

1822/Robert Cooper / Innholder/../../Sun Fire Office records held at Guildhall Library **

1823/Robert Cooper / Coffee House Keeper & Innkeeper/../../Sun Fire Office records held at Guildhall Library **

1833-34/Robert Cooper/Black Lion, 10 Water lane, Fleet street/../../Pigots Directory

1839/Robert Cooper/Black Lion, 10 Water lane, Fleet street/../../Pigotís Directory **

1843/James Penfold/Black Lion, 10 Water lane, Fleet street /../../Post Office Directory

1851/Henry Hook/Victualler/44/Datchett, Buckinghamshire/Census
1851/Ellen Hook/Wife/40/Bromley, Middlesex/Census
1851/Elizabeth Wilson/Servant/25/Camberwell, Surrey/Census

1854/William Groombridge / Former Livery Stable Keeper, now in the Debtorsí Prison for London and Middlesex /../../London Gazette, 28 November 1854 **

1856/Hen Hook/../../../Post Office Directory

1861/Henry Hook/Licensed Victualler/56/Datchett, Buckinghamshire/Census
1861/Ellen Hook/Wife/50/Bow, Middlesex/Census
1861/Susan Martin/Barmaid/24/Buxton, Surrey/Census
1861/Harriet Stimson/Domestic Servant/27/Westminster, Middlesex/Census
1861/Alfred Tayman/Domestic Servant/22/Clerkenwell, Middlesex/Census

1869/Benjamin Prior/../../../Post Office Directory

1874/W T Mason/../../../H.D. Miles London & Suburban Licensed Victuallers' Directory **

1875/Wm. Thos. Mason/../../../P.O. Directory **

1881/John Causton/Publican/41/London, Middlesex/Census
1881/Harriett Causton/Wife/40/London, Middlesex/Census
1881/Harriett Causton/Daughter/18/London, Middlesex/Census
1881/James Causton/Son/17/London, Middlesex/Census
1881/Henrietta Causton/Daughter/10/London, Middlesex/Census
1881/George Causton/Son/7/London, Middlesex/Census
1881/Richard Causton/Son/5/London, Middlesex/Census
1881/Walter Causton/Son/3/London, Middlesex/Census
1881/Alice Causton/Daughter/1/London, Middlesex/Census
1881/Marian Andrews/General Servant/16/London, Middlesex/Census
1881/Ada Stavely/General Servant/17/London, Middlesex/Census
1881/Elizabeth Brown/General Servant/48//Census

1882/John Causton/../../../Post Office Directory

1884/James Causton/../../../Business Directory of London **

1886/James Causton/../../../Business Directory of London **

1899/Edgar Edmund Bigg/../../../Post Office Directory

1906/Sarah Lavell/../../../Morrisí Business Directory of London **



** Provided By Stephen Harris