Feathers, 36 Tudor Street / 22 Temple Street, Whitefriars EC4
Whitefriars index
Ex-Watney Combe Reid. Rebuilt in the late 19th century and again in 1974. Recently (2018) rebranded as a branch of Jamie's wine bars. *** Noted as Temple Rest, 36 Tudor street in the 1911 census; this makes sense as it is referred to as Temple Restaurant between 1899 and 1944, for example.
Historical London public houses, Taverns, Inns, Beer Houses and Hotels.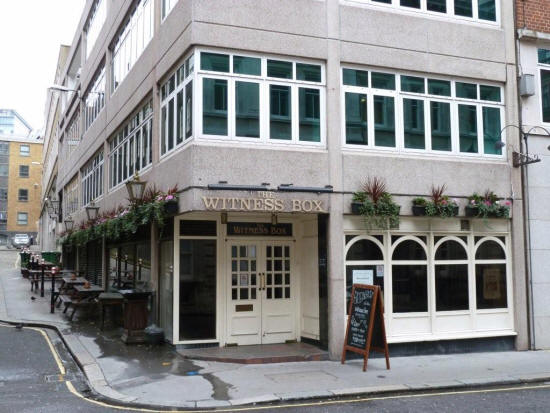 Feathers, 36 Tudor Street EC4 - in February 2011
Kindly provided by Stephen Harris
The Feathers early address according to trade directories is the Feathers, 22 Temple Street; but at the same time it is listed (un-named) in the 1851 and 1861 census at 1 Temple Lane. This pub was rebuilt in 1895 and in around this year it also took the alternative name of Temple Restaurant. It was again rebuilt in 1974 and is now called the Witness Box. **
Residents at this address.
1793/Vass / Victualler /../../Sun Fire Office records held at Guildhall Library **

1830/Robert William Atkinson / Victualler /../../Sun Fire Office records held at Guildhall Library **

1836/Robert William Atkinson / Victualler /../../Sun Fire Office records held at Guildhall Library **

1842/John Palmer/../../../Robson's Directory **

1848/John Palmer/../../../Post Office Directory

1851/Samuel Thurlow/../../../Kellys Directory

1851/Samuel Thurlow/Publican/40/Fulham, Middlesex/Census
1851/Jemima Thurlow/Wife/31/Westminster, Middlesex/Census
1851/John W Thurlow/Son/9/Clerkenwell, Middlesex/Census
1851/Sara L Thurlow/Niece, Barmaid/28/Marylebone, Middlesex/Census
1851/Robert Turner/Waiter, Widow/41/Wiltshire/Census

1852/Samuel Thurlow/../../../Watkins Directory **

1854/Mr C E Meades / formerly Landlord /../../The Friendly Societies' and Licensed Victuallers' Journal – October 1854 **

1856/John Boulter/../../../Post Office Directory

1861/John Jeffereys/Licensed Victualler/31/Bishops Stortford, Hertfordshire/Census
1861/Emma Jeffereys/Wife/28/St Georges, Middlesex/Census
1861/John Jeffereys/Son/8/Islington, Middlesex/Census
1861/Charles Jeffereys/Visitor/17/Bishops Stortford, Hertfordshire/Census
1861/Eliza Osborn/Domestic Servant/25/Felsham, Surrey/Census
1861/Louisa Edgerton/Domestic Servant/32/Southwark, Surrey/Census
1861/Henry Goater/Waiter/22/Shoreditch, London/Census

1866/William Edwards/../../../Post Office Directory **

1869/William Edwards/../../../Post Office Directory

1899/Thomas Cox, Temple Restaurant, 36 Tudor street EC/../../Post Office Directory **

1906/Thomas Cox, Temple Restaurant, 36 Tudor street EC/../../Post Office Directory

1908/Thomas Cox / Licensed Victualler /../../London Gazette, 27 September 1910 **

1911/Victor Charles Weyers/Manager Hotel/38/Cavendish square/Census
1911/Kathleen Emily Weyers/Wife, Manageress/36/Tunbridge Wells/Census
1911/Milly May Lincoln/Housemaid/19/Attleboro, Norwich/Census
1911/Gertrude Woodward/Barmaid/28/Tarwell, NOrthampton/Census
1911/Dorothy Fox/Barmaid/18/Kilburn/Census
1911/Rhoda Hawkin/Barmaid/23/Yeovil, Somerset/Census

1921/A C Leighton & Co, Temple, 36 Tudor street EC4/../../Hughes Directory

1938/William. James Leighton, Temple Restaurant, 36 Tudor street EC4/../../Post Office Directory

1940/William. James Leighton, Temple Restaurant, 36 Tudor street EC4/../../Post Office Directory

1944/William. James Leighton, Temple Restaurant, 36 Tudor street EC4./../../Post Office Directory **

1983/../Witness Box, 36 Tudor street EC4 : Watneys/../../Pub Directory

1991/../Witness Box, 36 Tudor street EC4 : Grand Met-Watneys/../../Pub Directory



** Provided By Stephen Harris

*** Provided By Tris