Search London wiki and Pub wiki history sites
All public house, restaurants, bars etc closed for the forseeable future on 20th March 2020, but this is a history site. But how about the landlords give their tenants a break, no business, then please charge them no rent.
White Lion, 290 High Street, Acton W3
Acton pub history index
In the 1891 census, the address is at Acton Hill. This pub is now called the Chatsworth (2010). **
A listing of historical public houses, Taverns, Inns, Beer Houses and Hotels in Middlesex. The Middlesex listing uses information from census, Trade Directories and History to add licensees, bar staff, Lodgers and Visitors.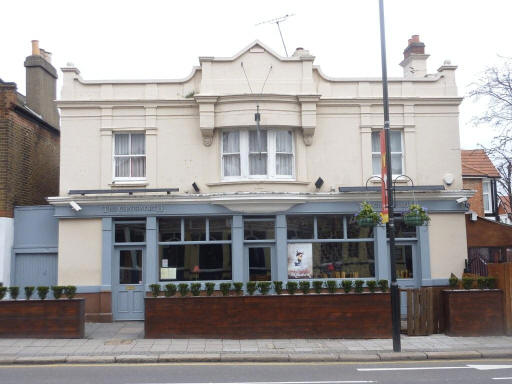 White Lion, 290 High Street, Acton - in March 2010
Kindly provided by Stephen Harris
Residents at this address
1881/John Mace/Beer House Keeper/44/Ilmington, Warwick/Census
1881/Henrietta Mace/Wife/40/Stratford On Avon, Warwick/Census
1881/Eliza A Mace/Daughter, Dressmaker/17/Ilmington, Warwick/Census
1881/Alfred R Mace/Son/10/Chipping Campden, Gloucester/Census
1881/Alfred R Davies/Lodger, Brick Moulder/32/Shaftesbury, Worcester/Census
1881/Daniel Bond/Lodger, General Labourer, Deaf & Dumb/35/Charney, Berkshire/Census

1882/John Mace/Beer Retailer, High street/../../Post Office Directory

1889/George Dunkley / Beer Retailer/../../Kelly's Directory for Ealing, Acton, etc... 1889/90 **

1891/William Lambkin/Beer House Keeper/38/Dartford, Kent/Census
1891/Matilda Lambkin/Wife/33/Deptford, Kent/Census
1891/Alice M Lambkin/Daughter/12/Dartford, Kent/Census
1891/William A Lambkin/Son/4/Stepney, Middlesex/Census
1891/Frederick G Lambkin/Son/1/Canning Town, Essex/Census
1891/Lilie Butcher/Visitor/15/Lowestoft, Suffolk/Census
1891/Daniel Band/Boarder, General Labourer/40/Reading, berkshire/Census
1891/Frederick Parish/Boarder, General Labourer/28/Oxford/Census

1893/William Lamkin / Beer Retailer/../../Kelly's Directory for Ealing, Acton, etc... 1893/94 **

1896/Edward W Gibbs/Beer Retailer/../../Post Office Directory

1914/Mrs Rosa Knott/Beer Retailer/../../Post Office Directory

1926/Albert Danvers/Beer Retailer/../../Post Office Directory

1934/Albert Danvers/Beer Retailer/../../Post Office Directory

1938/Albert Danvers/Beer Retailer/../../Post Office Directory



** Provided By Stephen Harris