Search London wiki and Pub wiki history sites
All public house, restaurants, bars etc closed for the forseeable future on 20th March 2020, but this is a history site. But how about the landlords give their tenants a break, no business, then please charge them no rent.
William IV, 14 Market Place, Acton W3
Acton pub history index
At Horn Lane in 1890 & earlier; This pub is now called the Sheepwalk Tavern (2010). **
A listing of historical public houses, Taverns, Inns, Beer Houses and Hotels in Middlesex. The Middlesex listing uses information from census, Trade Directories and History to add licensees, bar staff, Lodgers and Visitors.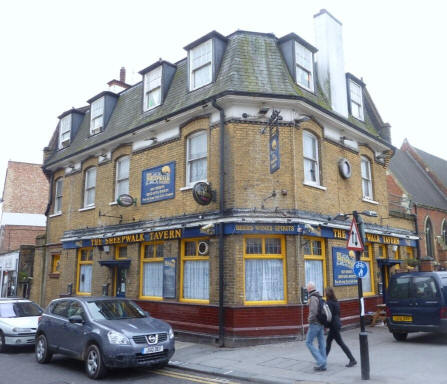 William IV, 2 Market Place, Acton - in March 2010
Kindly provided by Stephen Harris
Residents at this address
My ancestor Robert James Acton seemed to have owned it from the 1841 census - 1871 census. He is listed as a victualler, builder and bricklayer. He seems to have also been a constable in the "village" of Acton and latterly the Church Warden and appeared at a House of Commons enquiry into the setting up of a national police force - having taking it upon himself to set up a small private force for their own town which had proved very successful. ***

1839/Robert James Acton/../../../Pigots Directory

1847/Robert James Acton, William IV/../../Post Office Directory

1855/Robert James Acton / & Carpenter & Builder/../../Post Office Directory **

1866/J Cobb/../../../Post Office Directory

1881/Ann Stent/Licensed Victualler, Widow/37/Bramley, Surrey/Census
1881/Thomas Stent/Son/7/Acton, Middlesex/Census
1881/William Stent/Son/5/Acton, Middlesex/Census
1881/Agnes A Stent/Niece/29/Frozle, Hampshire/Census

1882/James Thomas Skeggs/../../../Post Office Directory

1890/James Thomas Skeggs/../../../Post Office Directory

1891/James T Skeggs/Publican, widow/55/Marylebone, Middlesex/Census
1891/Louisa A M Skeggs/Daughter, Elementary School Teacher/27/Birkenhead, Cheshire/Census
1891/James T Skeggs/Son, Railway Clerk/25/Birkenhead, Cheshire/Census
1891/Mary S Skeggs/Daughter, Assistant/23/Carshalton, Surrey/Census
1891/Henry G Skeggs/Son/13/Acton, Middlesex/Census
1891/Ellen Saunders/Wifes Aunt/69/Burnham, Buckinghamshire/Census

1894/James Thomas Skeggs/../../../Post Office Directory

1899/James Thomas Skeggs/../../../Post Office Directory

1914/James Thomas Skeggs/../../../Post Office Directory

1926/James Thomas Skeggs/../../../Post Office Directory

1938/Frederick William Skeggs/../../../Post Office Directory

1944/Mrs Grace S Skeggs/../../../Post Office Directory



** Provided By Stephen Harris

*** Provided By Heather Martin