Search London wiki and Pub wiki history sites
All public house, restaurants, bars etc closed for the forseeable future from 20th March 2020, but this is a history site.
Burlington Arms, Church street, Chiswick W4
Chiswick pub history index
This pub was established in around 1550 and closed in 1924. It is also sometimes referred to as the Old Burlington. Now in private residential use. **
A listing of historical public houses, Taverns, Inns, Beer Houses and Hotels in Middlesex. The Middlesex listing uses information from census, Trade Directories and History to add licensees, bar staff, Lodgers and Visitors.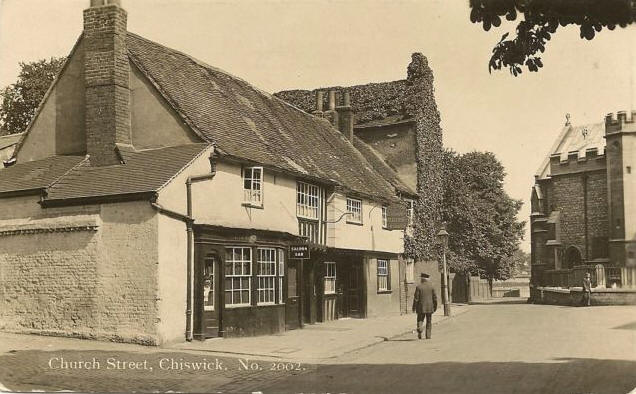 Burlington Arms, Church Street, Chiswick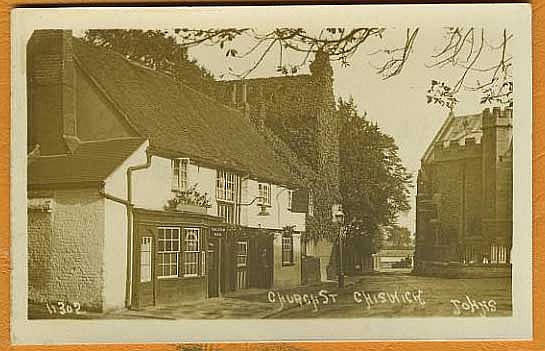 Burlington Arms, Church Street, Chiswick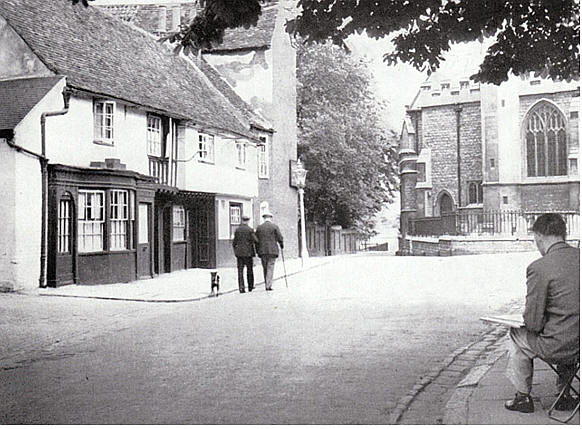 Burlington Arms, Church Street, Chiswick
Kindly provided by Colleen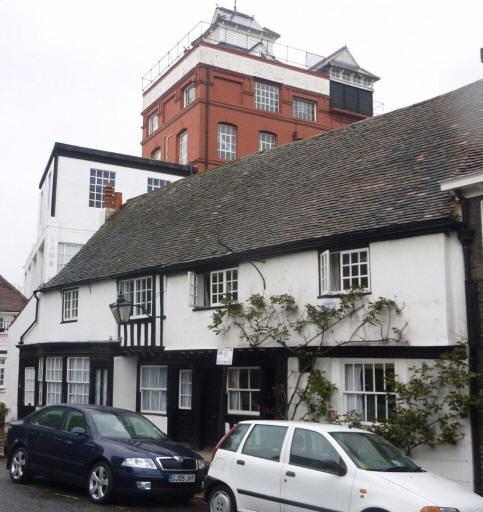 Burlington Arms, Church Street, W4 - in April 2010
Kindly provided by Stephen Harris
Residents at this address
1826/Jane Mayne, Burlington Arms, Church Street/../../Middlesex Directory

1839/James Woodhall, Burlington Arms, Church Street/../../Pigots Directory

1841/James Woodhall/Victualler/45/../Census
1841/Mary Woodhall/../50/../Census
1841/James Woodhall/Carpenter/15/Middlesex/Census
1841/Edward Woodhall/../14/Middlesex/Census
1841/Abraham Brian/Boat Builder/45/Middlesex/Census
1841/James Greaves/Fisherman/25/Middlesex/Census

1851/J Vellenoweth/../../../Post Office Directory

1851/James Vellenoweth/Licensed Victualler/56/Chiswick, Middlesex/Census
1851/Caroline Vellenoweth/Wife/33/Tunbridge, Kent/Census
1851/Emily Vellenoweth/Daughter/7/Chiswick, Middlesex/Census
1851/Eliza Vellenoweth/Daughter/6/Chiswick, Middlesex/Census
1851/Eleanor Vellenoweth/Daughter/1/Chiswick, Middlesex/Census
1851/Sarah Swan/House Servant/13/Chiswick, Middlesex/Census

1855/Richard John Morgan/../../../Post Office Directory **

May 1855/Richard John Morgan/Outgoing Licensee/../../Era

May 1855/George McNoughton/Incoming Licensee/../../Era

November 1856/Mary Ann More/Outgoing Licensee/../../Era Newspaper

November 1856/Robert James Seymour/Incoming Licensee/../../Era Newspaper

September 1860/Timothy Lambourn/Outgoing Licensee/../../Era

September 1860/George Jessett/Incoming Licensee/../../Era

October 1865/George Jessett/Outgoing Licensee/../../Era Newspaper

October 1865/William Breach/Incoming Licensee/../../Era Newspaper

1866/W Breach/../../../Post Office Directory

September 1870/Joshua Bailey/Outgoing Licensee/../../Era Newspaper

September 1870/James Smith/Incoming Licensee/../../Era Newspaper

1871/James Smith/Publican/33/Sussex/Census
1871/Jane Smith/Wife/35/Sussex/Census
1871/James Larkin/Brother in Law, Barman/22/Sussex/Census
1871/Henry Pain/Boarder, Brewers Servant/29/Sussex/Census

7th May 1872/Transfer of licence from James Smith to William Joseph Bull ***

1874/James Smith/../../../Post Office Directory

1878/William Joseph Ball/../../../Post Office Directory

1881/Henry Longstaff/Licensed Victualler/41/Whitburn, Durham/Census
1881/Ann Longstaff/Wife/39/St Pancras, Middlesex/Census
1881/Kate Woodhouse/General Servant/16/St Pancras, Middlesex/Census

1889/George Reed/../../../Kelly's Directory for Ealing, Acton, etc.. 1889-1890 **

1890/George Reed/../../../Post Office Directory

1894/T Hutchinson/../../../Post Office Directory

1896/Thomas Hutchinson/../../../Post Office Directory

1899/T Hutchinson/../../../Post Office Directory

1901/Thomas Hutchinson/Licensed Victualler/42/Staffordshire/Census
1901/Olive M Hutchinson/Wife/37/Surrey/Census
1901/Florence V M Hutchinson/Daughter/9/Surrey/Census
1901/Jessy I D Hutchinson/Daughter/6/Surrey/Census
1901/Edgar Vic T Hutchinson/Son/7/Surrey/Census
1901/Olea I D Hutchinson/Daughter/4/Surrey/Census
1901/Annie Hutchinson/Visitor, Housemaid/23/Staffordshire/Census

1914/Arth C Crane/../../../Post Office Directory



** Provided By Stephen Harris