Search London wiki and Pub wiki history sites
All public house, restaurants, bars etc closed for the forseeable future from 20th March 2020, but this is a history site.
Lamb Tap, Church street, Chiswick W4
Chiswick pub history index
This pub was established in around 1732 and was the brewery tap for Sich's Lamb Brewery (part of the former brewery can be seen in the photograph). It closed in 1909 and is now in private residential use. **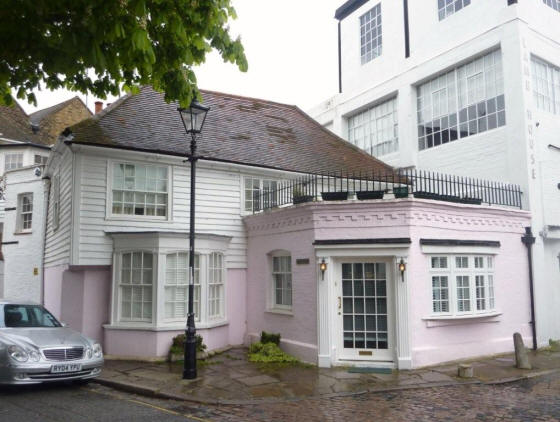 Lamb Tap, Church Street, W4 - in April 2010
Kindly provided by Stephen Harris
A listing of historical public houses, Taverns, Inns, Beer Houses and Hotels in Middlesex. The Middlesex listing uses information from census, Trade Directories and History to add licensees, bar staff, Lodgers and Visitors.
Residents at this address
1826/James Peek, Lamb, Church Street/../../Middlesex Directory

1839/William King, Lamb, Chiswick/../../Pigots Directory

1841/William King/Licensed Victualler/50/../Census
1841/Mary King/../40/../Census
1841/Annis King/../15/Middlesex/Census
1841/Mary King/../13/Middlesex/Census
1841/Esther King/../11/Middlesex/Census
1841/Sarah King/../7/Middlesex/Census
1841/James Asteley/Male Servant/14/Middlesex/Census

1851/George Tarbatt/Licensed Victualler/22/Shoreditch, Middlesex/Census
1851/Mary Tarbatt/Wife/23/Chiswick, Middlesex/Census
1851/Ester King/Sister in Law/20/Chiswick, Middlesex/Census
1851/Alfred Brown/Servant/15/Chiswick, Middlesex/Census

1855/Henry Matthews/../../../Post Office Directory **

1866/T W Goford/../../../Post Office Directory

1871/Emma Goford/Publican, Widow/34/Somerset/Census
1871/Thomas W Goford/Son/10/Somerset/Census
1871/Benjamin Goford/Son/7/Chiswick/Census
1871/Mary Ann Goford/Daughter/3/Chiswick/Census
1871/Emma Goford/Daughter/3/Chiswick/Census
1871/Fanny Dowsett/Sister, Servant/36/Somerset/Census
1871/Mary Ann Dowsett/Niece/10/London/Census
1871/Frederick Evans/Pot Boy/16/Chiswick/Census
1871/Henry J Spragg/Lodger, Carpenter/35/Cambridgeshire/Census

1874/Mrs Emma Goford/../../../Post Office Directory

1878/Mrs Emma Goford/../../../Post Office Directory

1881/Emma Gofford/Licensed Victualler, Widow/43/Road, Somerset/Census
1881/William T Gofford/Son, Pattern Maker/22/Road, Somerset/Census
1881/Benjamin Gofford/Son/17/Chiswick, Middlesex/Census
1881/Mary A Gofford/Daughter/13/Chiswick, Middlesex/Census
1881/Emma Gofford/Daughter/13/Chiswick, Middlesex/Census
1881/Henry J Spray/Manager, widow/45/March, Cambridge/Census
1881/Francis Riddle/Potman/17/Road, Somerset/Census
1881/Alice Richmond/General Domestic/16/Road, Somerset/Census
1881/James Richmond/Brother In Law, Carman/35/Trowbridge, Somerset/Census
1881/Mary Richmond/Sister/35/Road, Somerset/Census

1889/Henry J Spray/../../../Kelly's Directory for Ealing, Acton, etc.. 1889-1890 **

1890/Henry Johnson Spray/../../../Post Office Directory

1899/Edward Wm Nash/../../../Post Office Directory

1901/Charles Foreman/Licensed Victualler/38/Kensington, London/Census
1901/Henrietta Foreman/Wife/38/Kensington, London/Census
1901/Henrietta Foreman/Daughter/15/Hammersmith, London/Census
1901/Henry Charles Foreman/Son/13/Hammersmith, London/Census
1901/Elizabeth Foreman/Daughter/12/Hammersmith, London/Census
1901/Annisa Foreman/Daughter/6/Acton, Middlesex/Census
1901/Fredrick Wernham/Barman/20/Fulham, London/Census



** Provided By Stephen Harris