Pub history and pub wiki
Roebuck, 122 High Road, Chiswick W4 1PU
Chiswick pub history index
At Turnham Green in 1878 & earlier. It is still trading in 2018.
A listing of historical public houses, Taverns, Inns, Beer Houses and Hotels in Middlesex. The Middlesex listing uses information from census, Trade Directories and History to add licensees, bar staff, Lodgers and Visitors.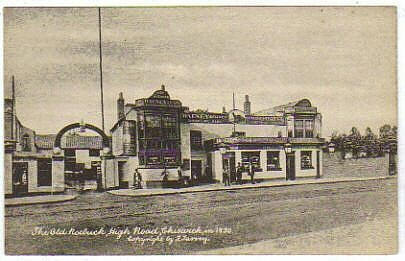 The Old Roebuck, High Road, Chiswick
Kindly provided by Colleen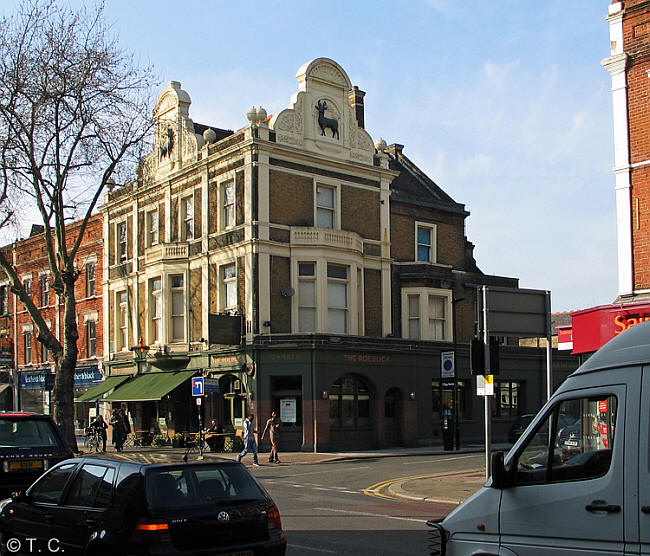 Roebuck, 122 Chiswick High Road, Chiswick W4 - in March 2014
Kindly provided by Tris
The following entries are in this format:
Year/Publican or other Resident/Relationship to Head and or Occupation/Age/Where Born/Source.
1826/Henry Gough, Roe Buck, Turnham Green/../../Middlesex Directory

1839/George Ball, Roe Buck, Turnham Green/../../Pigots Directory

1841/George Balls/Publican/55/../Census
1841/Elizabeth Balls/../60/../Census
1841/Betsey Balls/../35/../Census
1841/Grace Balls/../25/../Census
1841/George Mumford/../5/Middlesex/Census
1841/Jephoel Grain/Ostler/20/../Census
1841/George Boyd/Traveller/30/Middlesex/Census
1841/Edward Brown/Waiter/55/../Census

1851/G Bull/../../../Post Office Directory ****

1851/George Ball/Victualler/61/Oakhampton, Devon/Census
1851/Elizabeth Ball/Wife/75/Bicester, Oxfordshire/Census
1851/Betsy Ball/Niece/46/Devon/Census
1851/George J Mumford/Grand Nephew/15/Stepney, Middlesex/Census
1851/Alex Rassell/Visitor, Ag Labourer/52/Scotland/Census
1851/Samuel Dawkins/Ostler/31/Stapleford, Essex/Census
1851/John Belfit/Potman/24/Egham, Surrey/Census
1851/Ann Bull/Servant/18/Chiswick, Middlesex/Census

1861/Betsey Ball/Inn Keeper/55/Blackdown, Devon/Census
1861/George J Mumford/Nephew, Inn Keeper/25/Mile End, Middlesex/Census
1861/Grace Ball/Niece/13/Blackdown, Devon/Census
1861/Edward Eldrid/Boarder, Retire Merchant/56/London, Middlesex/Census
1861/John Foogly/Porter Servant/55/Wantage, Berkshire/Census
1861/Jane Lawrence/House Servant/18/Brentford, Middlesex/Census

1866/G J Mumford/../../../Post Office Directory ****

1871/George J Mumford/Licensed Victualler/25/Mile End, Middlesex/Census
1871/Elizabeth Jane Ball/Cousin, Housekeeper/21/Blackdown, Devon/Census
1871/Jane A Latter/Cook/27/East Peckham, Kent/Census
1871/Charlotte Grant/General Servant/26/Turnham Green, Middlesex/Census
1871/William J Leverton/Bar Lad/17/London, Middlesex/Census
1871/Henry Barker/Pot Boy/18/London, Middlesex/Census
1871/Henry White/Pot Boy/17/Devizes, Wiltshire/Census

1874/George Joseph Mumford/../../../Post Office Directory ****

1878/Thomas Secker/../../../Post Office Directory ****

1881/Alfred Secker/Publican/34/Highgate, Middlesex/Census
1881/Louisa Secker/Wife/34/(City), Middlesex/Census
1881/Alfred Secker/Son/15/Highgate, Middlesex/Census
1881/May Secker/Daughter/10/Holloway, Middlesex/Census
1881/Robert Secker/Son/9/Hornsey, Middlesex/Census
1881/Blanche Secker/Daughter/8/Hornsey, Middlesex/Census
1881/Walter Secker/Son/6/(City), Middlesex/Census
1881/Herbert Secker/Son/4/(City), Middlesex/Census
1881/Lilian Secker/Daughter/3/(City), Middlesex/Census
1881/Amelia Secker/Daughter/2/Turnham Green, Middlesex/Census
1881/Maud Secker/Daughter/3 months/Turnham Green, Middlesex/Census
1881/Frank Patrick/Servant/21/Tottenham, Middlesex/Census
1881/Elizabeth Bird/Servant/21/(City), Middlesex/Census
1881/Amelia Secker/Sister/36/Highgate, Middlesex/Census
1881/Clara Marriott/Servant/21/Colney Hatch/Census

1890/Edward Cox/../../../Post Office Directory ****

1894/Ernest E Henry/../../../Post Office Directory ****

1899/Frederick Jas Harris/../../../Post Office Directory ****

1901/Fred J Harris/Licensed Victualler/39/Kensington, Middlesex/Census ****
1901/Emily Harris/Wife/36/Woolwich, Kent/Census
1901/William F Harris/Son/13/Kensington, Middlesex/Census
1901/Lilian E Harris/Daughter/10/Kensington, Middlesex/Census
1901/Elsie May Harris/Daughter/8/Kensington, Middlesex/Census
1901/Violet E Harris/Daughter/6/Kensington, Middlesex/Census
1901/Ivy Rose Harris/Daughter/5/Kensington, Middlesex/Census
1901/George J Harris/Son/3/Chiswick, Middlesex/Census
1901/Cecil Ed Harris/Son/1/Chiswick, Middlesex/Census
1901/Nellie E L Hutton/Barmaid/30/City, London/Census
1901/Charles A Goodhew/Barman/18/Sittingbourne, Kent/Census
1901/Charles H Nicholson/Barmman/18/Chiswick, Middlesex/Census
1901/Lizzie Cook/General Servant/48/Ivenhoe, Buckinghamshire/Census
1901/Lizzie Willis/General Servant/18/Covent Garden, London/Census
1901/Elizabeth W Henche/Niece, Barmaid/30/Greenwich, Kent/Census

1914/Frederick Jas Harris/../../../Post Office Directory ****

1926/Sydney Allsup Mordaunt/../../../Post Office Directory ****

1938/A E Robson & Mrs N Perry/../../../Post Office Directory ****

1944/Harry Stebbing/../../../Post Office Directory ****



* Provided By Tris

**** Provided By Kevan
Search for a pub, an address or person
And Last updated on: Wednesday, 03-Jul-2019 19:46:19 BST