Bell Inn, 53 The Mall, Ealing W5
The address varies between the Mall and Uxbridge Road, then early in 1866 it is at Ealing Common. This pub has been rebuilt at the foot of a modern building and is recently renamed Lodge Tavern. **
Ealing pub history index
A listing of historical public houses, Taverns, Inns, Beer Houses and Hotels in Middlesex. The Middlesex listing uses information from census, Trade Directories and History to add licensees, bar staff, Lodgers and Visitors.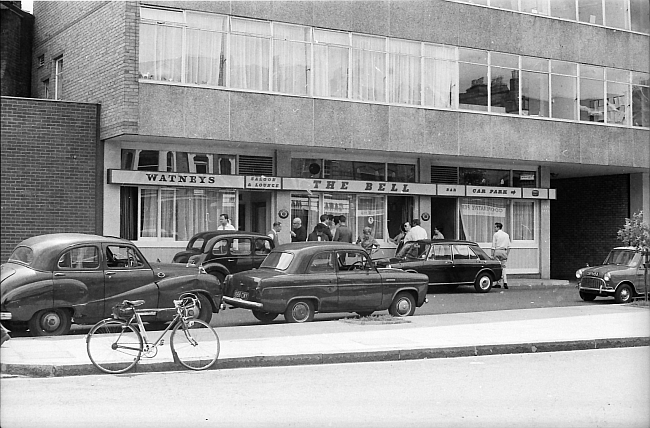 The Bell, 53 The Mall, Ealing - in 1965
Kindly provided by Artley Pickup, australia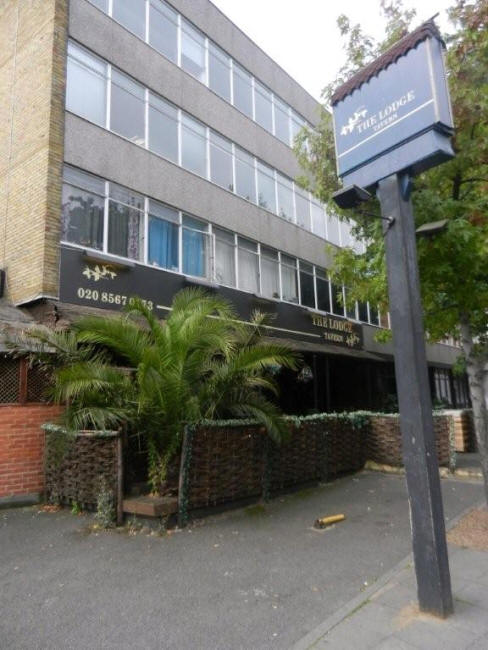 Bell, 53 The Mall, Ealing, W5 - in August 2011
Kindly provided by Stephen Harris
Residents at this address.
1805/John Atkins/victualler and brewer/../../Sun Fire Office records held at the London Metropolitan Archives *

1826/William Williams/../../../Pigot's Directory *

1839/William Williams/../../../Pigot's Directory *

1851/William Williams/../../../Post Office Directory *

1851/William Williams/Licensed Victualler, Widow/67/Croydon, Surrey/Census
1851/William Williams/Son, Assistant/31/Ealing, Middlesex/Census
1851/Elizabeth Williams/Daughter/35/Ealing, Middlesex/Census
1851/Lucy Williams/Daughter/27/Ealing, Middlesex/Census
1851/Marie Grainger/Niece, House Servant/15/Camden Town, Middlesex/Census
1851/William Seymour/Ostler/32/Penn, Buckinghamshire/Census
1851/Edward George/Pot Boy/17/Brentford, Middlesex/Census
1851/Thomas Read/Ostler/37/Greenford, Middlesex/Census

1855/William Williams/../../../Post Office Directory **

1861/Robert Williams/Licensed Victualler/40/Ealing, Middlesex/Census
1861/Elizabeth Williams/Wife/29/Ealing, Middlesex/Census
1861/Elizabeth Williams/Daughter/11 months/Ealing, Middlesex/Census
1861/William Granger/Nephew, Ag Labourer/23/Ealing, Middlesex/Census
1861/Maria Granger/Niece/21/Ealing, Middlesex/Census
1861/Robert Granger/Nephew, Ag Labourer/18/Ealing, Middlesex/Census

August 1861/George Williams and Maria Johns/Outgoing Licensee/../../Era

August 1861/Robert Willards/Incoming Licensee/../../Era

1866/G Tilbury/../../../Post Office Directory

1874/George Tilbury/../../../Post Office Directory

1878/George Tilbury/../../../Post Office Directory

1881/George Tilbury/Inn Keeper/59/Chilbolton, Hampshire/Census
1881/Fanny Elizabeth Tilbury/Wife/53/Hayes, Middlesex/Census
1881/Sarah Coppard/Niece, Assistant, Widow/39/Chilbolton, Hampshire/Census
1881/Elizabeth Cole/Niece, Assistant/20/Chilbolton, Hampshire/Census
1881/Catherine Evelyn Dedman/Barmaid/23/Bromley, Kent/Census
1881/John Francis Walker/Lodger, M A Lecturer Mat Soc Cambridge/41/York/Census
1881/Martha Munday/Housemaid/27/Chilbolton, Hampshire/Census
1881/Isabel Jackman/Ciik/25/Booker, Buckingham/Census
1881/Walter Hilliard/Potman/21/Chilbolton, Hampshire/Census

1890/Arthur Brownlow/../../../Post Office Directory

1894/C L Bance/../../../Post Office Directory

1896/Charles L. Bance/../../../Kelly's Directory *

1899/C L Bance/../../../Post Office Directory

1907/Charles Lewis Bance/../../../Kelly's Directory *

1914/Chas Lewis Bance/../../../Post Office Directory

1926/Ringwoods Ltd/../../../Post Office Directory

1933/Ringwoods Ltd/../../../Kelly's Directory *




* Provided By Ewan

** Provided By Stephen Harris