Search London wiki and Pub wiki history sites
Castle Inn, 36 St Marys Road, Ealing
Ealing pub history index
A listing of historical public houses, Taverns, Inns, Beer Houses and Hotels in Middlesex. The Middlesex listing uses information from census, Trade Directories and History to add licensees, bar staff, Lodgers and Visitors.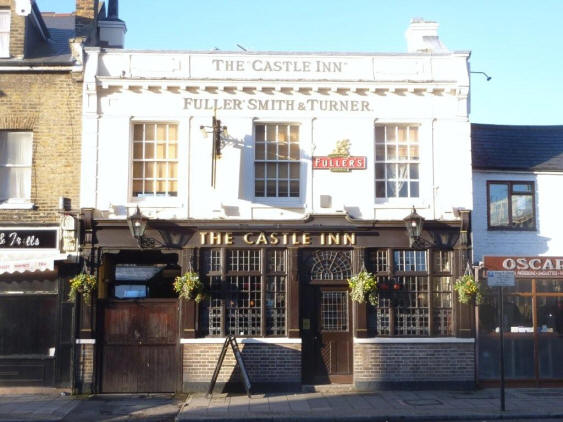 Castle, 36 St Mary's Road, Ealing, W5 - in January 2010
Kindly provided by Stephen Harris
Residents at this address.
1787/Mary Thirkell of Kew / Owner/../../Fullers Brewery records held at London Metropolitan Archives **

1787/Thomas Stump of Brentford / Lessee / Brewer/../../Fullers Brewery records held at London Metropolitan Archives **

1826/James Griest/../../../Pigot's Directory *

1839/John Tickner/../../../Pigot's Directory *

1851/George Sims/../../../Post Office Directory *

1851/Jane Sims/Licensed Victualler, Widow/38/St James Westminster, Middlesex/Census
1851/Emma Sims/Daughter/13/Hammersmith, Middlesex/Census
1851/George Sims/Son/11/Hammersmith, Middlesex/Census
1851/Edward Sims/Son/7/Chelsea, Middlesex/Census
1851/Jane Barry/Visitor/12/Fulham, Middlesex/Census
1851/Mary Neighbour/Visitor/14/Ealing, Middlesex/Census
1851/George Davis/Lodger, Builder Journeyman/34/London, Middlesex/Census
1851/George Maclean/Lodger, Traveller/27/Scotland/Census
1851/Alfred Allen/Lodger, Bricklayers Journeyman/32/Ealing, Middlesex/Census
1851/Ellen Blagrove/Servant/22/Ealing, Middlesex/Census
1851/William Marsh/Servant/23/Richmond, Surrey/Census

1855/James Mitchell/../../../Post Office Directory **

1861/Joseph Field/Victualler/45/Tunbridge Wells, Kent/Census
1861/Eliza Field/Wife/35/Reigate, Surrey/Census
1861/Joseph Field/Son/1/Ealing, Middlesex/Census
1861/Mary Haswell/Wifes Sister/48/Reigate, Surrey/Census
1861/Richard Reynolds/Pot Boy/16/Ealing, Middlesex/Census

1866/J Field/../../../Post Office Directory

January 1871/Eliza Field and William Moore, executors of Joseph Field/Incoming Licensee/../../Era

1874/Mrs Eliza Field/../../../Post Office Directory

1878/John Johnson/../../../Post Office Directory

1881/John Johnson/Licensed Victualer/47/Witham, Essex/Census
1881/Emma Johnson/Wife/47/Gosport, Hampshire/Census
1881/Emma F Butler/Niece, Barmaid/14/Gosport, Hampshire/Census
1881/William Dovey/Potman/33/Uxbridge, Middlesex/Census
1881/Mark Cockerton/Lodger, Carpenter/29/Baildon, York/Census
1881/William Legg/Lodger, Labourer/26/Dowdswell, Gloucester/Census
1881/John Harry/Lodger, Miner/25/Maidford, Northampton/Census
1881/Charles Legg/Lodger, Labourer/30/Sevenhampton, Gloucester/Census
1881/Herbert A Antler/Lodger, Labourer/28/Beldon, York/Census

1889/J Johnson/../../../Kelly's Ealing & Acton Directory, 1889-90 **

1890/John Johnson/../../../Post Office Directory

1894/John Johnson/../../../Post Office Directory

1896/John Johnson/../../../Kelly's Directory *

1899/John Johnson/../../../Post Office Directory

1907/Mrs Florence Mary Johnson/../../../Kelly's Directory **

1914/Mrs F M Johnson/../../../Post Office Directory

1926/Mrs F M Lakeman/../../../Post Office Directory

1933/Arthur Barnett/../../../Kelly's Directory *

1937/Arthur Barnett/../../../Post Office Directory



* Provided By Ewan

** Provided By Stephen Harris