Search London wiki and Pub wiki history sites
Coach & Horses, 84 Uxbridge Road, Ealing
This pub was rebuilt in the 1960s and in 2004 was renamed the Castlebar. **
Ealing pub history index
A listing of historical public houses, Taverns, Inns, Beer Houses and Hotels in Middlesex. The Middlesex listing uses information from census, Trade Directories and History to add licensees, bar staff, Lodgers and Visitors.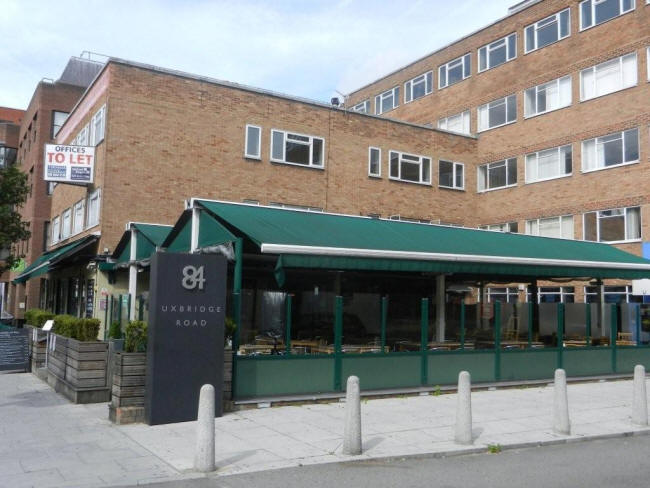 Coach & Horses, 84 Uxbridge Road, Ealing, W13 - in August 2011
Kindly provided by Stephen Harris
Residents at this address.
1839/John Dalton/../../../Pigot's Directory *

1851/John Dalton/../../../Post Office Directory *

1855/John Dalton sen./../../../Post Office Directory **

1861/Amelia Dalton/Coach & Horses, Widow/60/Hedgerley, Buckinghamshire/Census
1861/James Dalton/Son/23/Ealing, Middlesex/Census
1861/Joseph Charles Dalton/Son/18/Ealing, Middlesex/Census
1861/John Edward Dalton/Son/16/Ealing, Middlesex/Census
1861/Thomas Dalton/Son/14/Ealing, Middlesex/Census
1861/Sarah Rouse/Servant/17/Hayes, Middlesex/Census
1861/Thomas Wingrave/Lodger/60/Wooburn, Buckinghamshire/Census
1861/Edward Alfred Dalton/Son/11/Ealing, Middlesex/Census

1866/S J Dalton/../../../Post Office Directory

1874/Samuel James Dalton/../../../Post Office Directory

1878/Samuel James Dalton/../../../Post Office Directory

1881/Samuel J Dalton/Licensed Victualler, Widow/43/Ealing, Middlesex/Census
1881/Henry Dalton/Brother, Licensed Victualler/41/Ealing, Middlesex/Census
1881/John Dalton/Nephew, Barman/24/Ealing, Middlesex/Census

1889/S J Dalton/../../../Kelly's Directory of Ealing & Acton **

1890/Samuel James Dalton/../../../Post Office Directory

1893/S J Dalton/../../../Kelly's Directory of Ealing & Acton **

1894/S J Dalton/../../../Post Office Directory

1896/James Dalton/../../../Kelly's Directory *

1899/S J Dalton/../../../Post Office Directory

1901/Jonathan E Dalton/Licensed Victualler/56/Ealing, Middlesex/Census
1901/Charlotte Dalton/Wife/50/Westley, Suffolk/Census
1901/John W Dalton/Nephew, Manager Public House/44/Ealing, Middlesex/Census
1901/Arthur H Evans/Barman/29/Avenbury, Herefordrshire/Census
1901/Annie Dovey/Domestic Servant/20/Linton, Herefordrshire/Census

1907/Jonathan Edward Dalton/../../../Kelly's Directory *

1911/Jonathan Edward Dalton/Licensed Victualler/66/Ealing, Middlesex/Census
1911/Charlotte Dalton/Wife/60/Westley, Suffolk/Census
1911/Henrietta Sarah Dalton/Daughter, Assistant/32/Ealing, Middlesex/Census
1911/Charles Edward Dalton/Son, Assistant/27/Ealing, Middlesex/Census
1911/Agnes Pound/General Servant/26/Tenbury, Worcestershire/Census
1911/Joseph Hook/Barman/23/Cheltenham, Gloucestershire/Census
1911/William George Philpott/Barman/18/Bromyard, Herefordrshire/Census

1914/J E Dalton/../../../Post Office Directory

1914/John Edward Dalton/../../../Kelly's Directory **

1926/J E Dalton/../../../Post Office Directory

1933/Jonathan Edward Dalton/../../../Kelly's Directory *

1937/C E Dalton/../../../Post Office Directory




* Provided By Ewan

** Provided By Stephen Harris