New Inn, 62 St Marys Road, Ealing W5
This pub was rebuilt in its present form in 1897. **
Ealing pub history index
A listing of historical public houses, Taverns, Inns, Beer Houses and Hotels in Middlesex. The Middlesex listing uses information from census, Trade Directories and History to add licensees, bar staff, Lodgers and Visitors.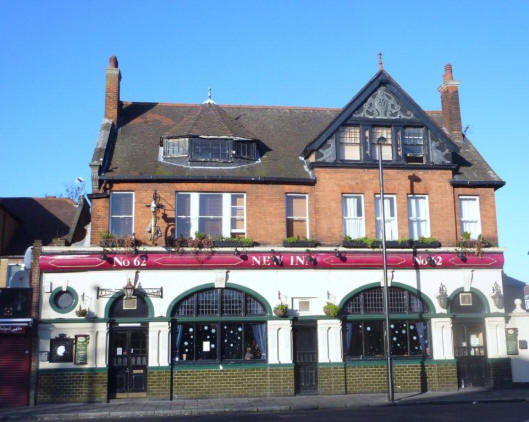 New Inn, 62 St Mary's Road, Ealing, W5 - in January 2010
Kindly provided by Stephen Harris
Residents at this address.
1825/Henry Wyatt/../../../Property documents held by London Metropolitan Archives **

1826/Mr Soyles/posting house/../../Pigot's Directory *

1839/John Skoyles/posting house/../../Pigot's Directory *

1851/James William Giles/../../../Post Office Directory *

1851/James W Giles/Licensed Victualler/40/Suzford, Somerset/Census
1851/Margaret E Giles/Wife/41/Chiswick, Middlesex/Census
1851/William G Giles/Son, Plumbers Apprentice/17/Uxbridge, Middlesex/Census
1851/Henry S Giles/Son/8/Uxbridge, Middlesex/Census
1851/Joseph Sach/Ostler/19/Ealing, Middlesex/Census

1855/Mrs Margaret Giles/../../../Post Office Directory **

1861/Isaac Punchard/Victualler/51/Ipswich, Suffolk/Census
1861/Harriet G Punchard/Wife/50/Long Melford, Suffolk/Census
1861/Charles Punchard/Son, Wine Merchants Clerk/18/Kentish Town, Middlesex/Census
1861/John Rumble/Potman/50/Brentford, Middlesex/Census
1861/Jane Knowles/General Servant/15/Brentford, Middlesex/Census

1866/T Hanney/../../../Post Office Directory

1874/Thomas Hanney/../../../Post Office Directory

1878/Thomas Hanney/../../../Post Office Directory

1881/Thomas Hanney/Licensed Victualler/72/Barking, Suffolk/Census
1881/Sarah Hanney/Wife/69/Barnes, Surrey/Census
1881/Thos junr Hanney/Son/38/Sunningdale, Berkshire/Census
1881/Sophia L Hanney/Daughter/33/Sunningdale, Berkshire/Census
1881/James Hanney/Son, Assistant/27/Sunningdale, Berkshire/Census
1881/Edward Flat/Ostler/22/Great Missenden, Buckingham/Census

1889/Thos. Hanney/../../../Kelly's Ealing & Acton Directory, 1889-90 **

1890/Thomas Hanney/../../../Post Office Directory

1893/Mrs Blanche Hanney/../../../Kelly's Ealing & Acton Directory, 1893-94 **

1894/Mrs Blanche Hanney/../../../Post Office Directory

1896/Mrs Blanche Hanney/../../../Kelly's Directory *

1899/Albert Stops/../../../Post Office Directory

1907/Herbert Platt/../../../Kelly's Directory **

1914/H Platt/../../../Post Office Directory

1926/G H Towers/../../../Post Office Directory

1933/John Edward T. James/../../../Kelly's Directory *

1937/Walter Jn Butt../../../Post Office Directory



* Provided By Ewan

** Provided By Stephen Harris