Search London wiki and Pub wiki history sites
Plough, 297 Northfield Avenue, Ealing W13
At Little Ealing up until 1914
Ealing pub history index
A listing of historical public houses, Taverns, Inns, Beer Houses and Hotels in Middlesex. The Middlesex listing uses information from census, Trade Directories and History to add licensees, bar staff, Lodgers and Visitors.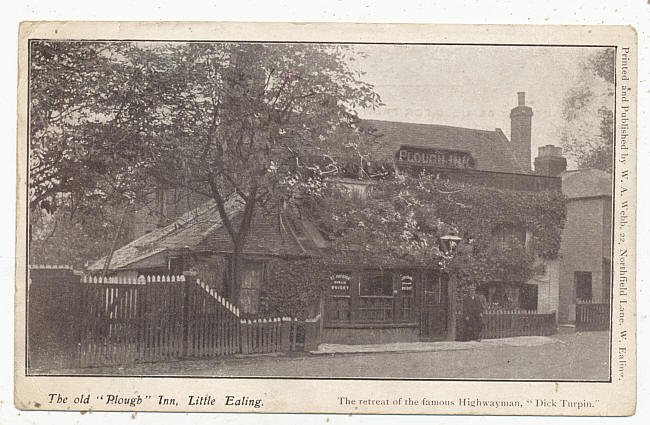 Old Plough Inn, Little Ealing - The retreat of the famous Highwayman, Dick Turpin
Kindly provided by Roger Williams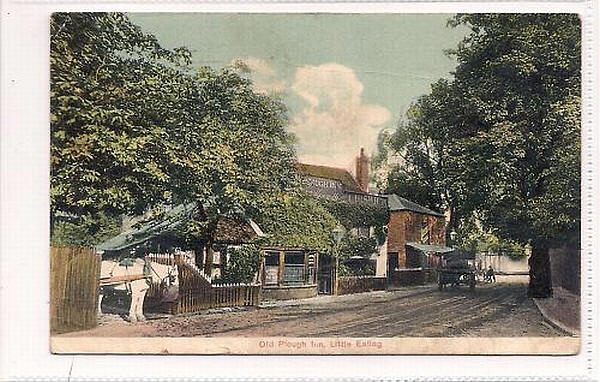 Old Plough Inn, Little Ealing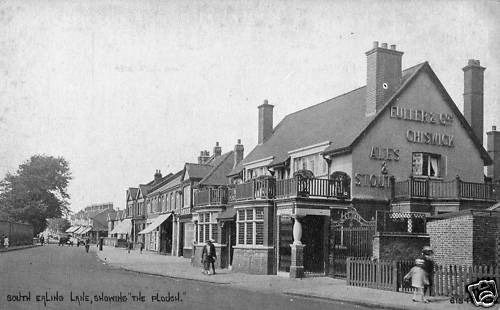 Plough, Little Ealing
Both kindly provided by Colleen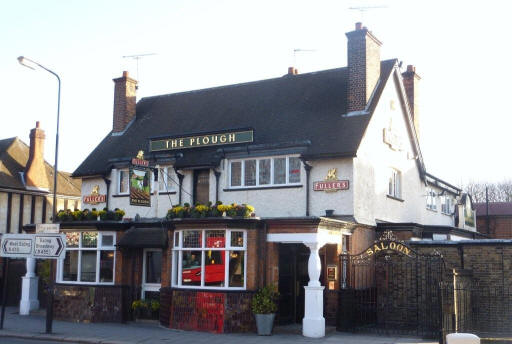 Plough, 297 Northfield Avenue, Ealing - in April 2010
Kindly provided by Stephen Harris
Residents at this address.
1826/Alexander Hanson/../../../Pigot's Directory *

The Pigot's Directory of 1839 gives my great-great grand-uncle, Treyer Evans, as the licensee of The Plough, Little Ealing. **

Treyer Fettice Evans (1817 - 1876) went on to run: 'The Green Man' at 1 Beaufort Street, Chelsea (Post Office Directory 1849); 'The White Hart', Park-side, Knightsbridge (1851 Census and PO Directory 1852); and 'The Lord Rodney's Head' at 138 Whitechapel Road. **

1839/Treyer Evans/../../../Pigot's Directory *

1851/John Goult/../../../Post Office Directory *

September 1853/John Goult/Incoming Licensee/../../Era

September 1853/William South/Incoming Licensee/../../Era **

1866/Mrs E Weeden/../../../Post Office Directory

January 1872/Elizabeth Weedon /Outgoing Licensee/../../Era

January 1872/William Kates/Incoming Licensee/../../Era

1874/William Kates/../../../Post Office Directory

1878/William Kates/../../../Post Office Directory

1881/William Yeates/Publican/41/Brentford, Middlesex/Census
1881/Ellen Yeates/Wife/40/Halford, Middlesex/Census
1881/William Yeates/Son/14/Brentford, Middlesex/Census
1881/Charles Yeates/Son/12/Brentford, Middlesex/Census

1890/William James Benn/../../../Post Office Directory

1894/William James Benn/../../../Post Office Directory

1896/William James Benn/../../../Kelly's Directory *

1899/Mrs Julia A Benn/../../../Post Office Directory

1907/Mrs Julia Ann Benn/../../../Kelly's Directory *

1914/Edwin & Miss Rosetta Benn/../../../Post Office Directory

1926/Edward & Miss Rosetta Benn/../../../Post Office Directory

1933/Edward Benn & Miss Rosetta Benn/../../../Kelly's Directory *

1937/E & R Benn/../../../Post Office Directory



* Provided By Ewan

** Provided By Andrew Evans