Prince Arthur, 123 Uxbridge Road, Ealing, W13
Looking at the census returns, the beer house run by Thomas Deacon on Uxbridge Road in 1871 (and as a grocer in 1861) appears to be in the same location as the Prince Arthur (named in the 1881 census). CAMRA's WhatPub website indicates the pub was built in 1878, so it may have been rebuilt at that time (or of course Mr Deacon's beer house may have been a slightly different location). * This pub was rebuilt in its present form in 1919 and is now renamed Ashby's. **
Ealing pub history index
A listing of historical public houses, Taverns, Inns, Beer Houses and Hotels in Middlesex. The Middlesex listing uses information from census, Trade Directories and History to add licensees, bar staff, Lodgers and Visitors.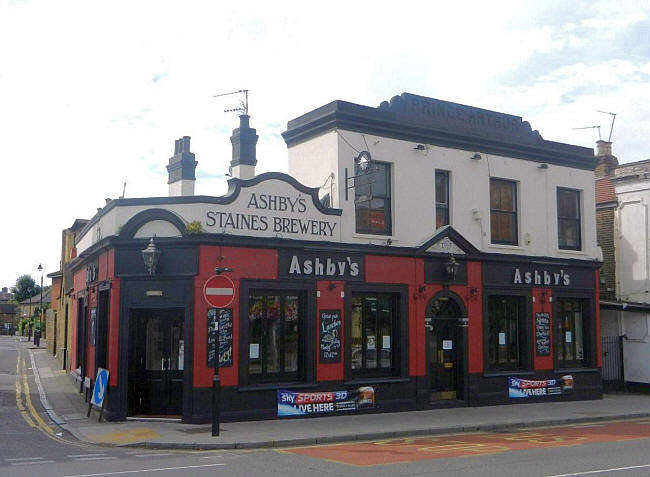 Prince Arthur, 123 Uxbridge Road, Ealing, W13 - in August 2011
Kindly provided by Stephen Harris
Residents at this address.
1861/Thomas Deacon/Grocer/62/Eastcott, Middlesex/Census *
1861/Mary Deacon/Wife/53/Fulham, Middlesex/Census

1866/Thomas Deacon/beer retailer/../../Post Office Directory *

1871/Thomas Deacon/Beer House/70/Eastcote, Middlesex/Census *
1871/Mary Deacon/Wife/64/Fulham, Middlesex/Census
1871/William Garrat/Lodger, Gardener/53/Ealing, Middlesex/Census

1874/William Down/beer retailer/../../Post Office Directory *

1878/William Down/beer retailer/../../Post Office Directory *

1881/Emma Bowles/Beer Seller, Widow/49/Walthamstow, Essex/Census
1881/Olivia Bowles/Daughter/12/Ealing, Middlesex/Census
1881/George Bowles/Son/9/Ealing, Middlesex/Census
1881/Charles Skillman/Boarder, Carpenter, Widow/48/Hendon, Middlesex/Census
1881/James Brown/Boarder, Plasterer/21/Little Marlow, Buckingham/Census

1889/Alfred Twigg/../../../Kelly's Directory of Ealing & Acton **

1890/Alfred Twigg/beer retailer/../../Kelly's Directory *

1893/Alfred Twigg/../../../Kelly's Directory of Ealing & Acton **

1896/Alfred Twigg/beer retailer/../../Kelly's Directory *

1907/Alfred Edwin Ades/../../../Kelly's Directory *

1914/Edward Filewood/../../../Kelly's Directory **

1926/Arthur Herbert Newman/../../../Kelly's Directory *

1933/Douglas B. Cockman/../../../Kelly's Directory *

1937/John Hill Gunning/../../../Kelly's Directory *



* Provided By Ewan

** Provided By Stephen Harris